Adam, Eve, and the Serpent: Sex and Politics in Early Christianity (Paperback)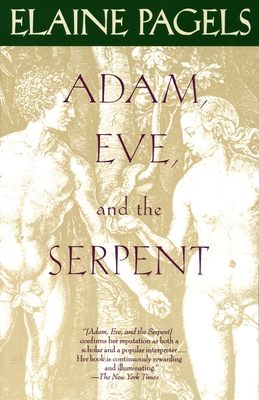 $16.00
Email orders@greenlightbookstore.com for information about this item.
Description
---
A National Book Award winner and New York Times bestselling author deepens and refreshes our view of early Christianity while casting a disturbing light on the evolution of the attitudes passed down to us. 

"Confirms her reputation as both a scholar and a popular interpreter.... Continuously rewarding and illuminating." —The New York Times

How did the early Christians come to believe that sex was inherently sinful? When did the Fall of Adam become synonymous with the fall of humanity? What turned Christianity from a dissident sect that  championed the integrity of the individual and the idea of free will into the bulwark of a new imperial order—with the central belief that human beings cannot not choose to sin?  In this provocative masterpiece of historical scholarship Elaine Pagels re-creates the controversies that racked the early church as it confronted the riddles of sexuality, freedom, and sin as embodied in the story of Genesis.  And she shows how what was once heresy came to shape our own attitudes toward the body and the soul.
About the Author
---
ELAINE PAGELS is the Harrington Spear Paine Professor of Religion at Princeton University and the author of Reading Judas, The Gnostic Gospels—winner of the National Book Critics Circle Award and the National Book Award—and the New York Times bestseller Beyond Belief. She lives in Princeton, New Jersey.
Praise For…
---
"A stunning book ... [that] refreshes our view of early Christianity." —Christian Science Monitor

"[Adam, Eve, and the Serpent] confirms her reputation as both a scholar and a popular interpreter.... Her book is continuously rewarding and illuminating." —The New York Times

"This virtuoso study may disquiet some readers and refresh other; the debate it opens is not likely to leave any reader unmoved." —The New Yorker

"Ms. Pagels has taken a complex and seemingly arcane subject and made it fascinating and accessible.... Any scholarly author who has ever tried to do that will recognize the brilliance of her achievement."  —Wall Street Journal