Not Made by Slaves: Ethical Capitalism in the Age of Abolition (Paperback)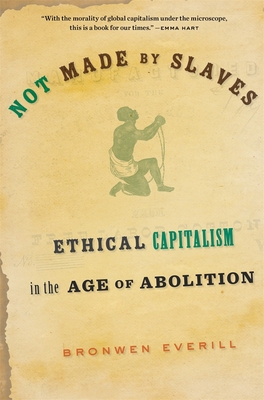 $19.95

Available In Store Now (while supplies last)
Description
---
"Impressive... Readers] will be rewarded with greater understanding of historical developments that changed the relationship between consumers and producers in a global economy in ways that reverberate to this day."
--Wall Street Journal
"Everill repositions West Africa as central to the broader Atlantic story of 18th and 19th century economic morality, its relationship with commercial ethics, and the expansion of capitalism."
--
Financial Times
"Offers a penetrating new perspective on abolition in the British Empire by spotlighting a particular cast of characters: the commercial abolitionists in West Africa who fashioned a consumer-focused, business-friendly antislavery ethics. These figures sought to prove the moral and economic superiority of non-slave labor while profiting from the transition away from slavery...Impressive."
--
Jacobin
"East India Sugar Not Made By Slaves." With these words inscribed on a sugar bowl, nineteenth-century consumers were reminded of their power to change the global economy. Determined to strike at the heart of the slave trade, abolitionist businesses throughout the Atlantic used new ideas of supply and demand, consumer credit, and branding to make the case for ethical capitalism. Consumers became the moral compass of capitalism as companies in West Africa, including Macaulay & Babington and Brown & Ives, developed clever new tactics to make "legitimate" commerce pay. Yet ethical trade was not without its problems. The search for goods "not made by slaves" unwittingly expanded the reach of colonial enterprises in the relentless pursuit of cheap labor.
Not Made by Slaves
captures the moral dilemmas roiling the early years of global consumer society and is a stark reminder of the unintended consequences of relying on consumer self-interest to transform global capitalism.