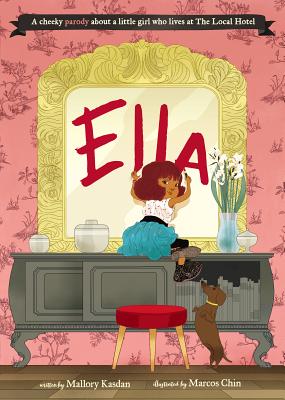 $17.99
Email orders@greenlightbookstore.com for information about this item.
Description
---
A clever parody about a little girl living in a hipster hotel.

This is ELLA. She is six years old. She lives at the Local Hotel. She has a nanny called Manny. He has tattoos for sleeves and he might go in with some guys to buy a grilled cheese truck. Sometimes Ella weaves purses out of Ziploc bags and reclaimed twine. (She is artsy of course.) She has a dog named Stacie and a fish named Rasta and a scooter which is important for getting everywhere she needs to be. Altogether she has been to 62 events including that Hillary Clinton fundraiser. She is NEVER bored. If Ella and Kay Thompson's Eloise got together for a play date, they would have a very good time indeed.
About the Author
---
Mallory Kasdan is a writer and voice actor. She writes about parenting and pop culture, and does voiceovers for television and radio. ELLA is her first book.  Mallory lives in Brooklyn with her family--unfortunately NOT in a hotel. Read her essays and listen to her voice work at www.mallorykasdan.com.
 
Marcos Chin is an illustrator living in Brooklyn. His drawings have appeared in magazines, book covers, and advertisements in the USA and around the world. Whenever possible he tries to sneak his two dogs, Shalby and Rita, into his drawings. Marcos teaches illustration at the School of Visual Arts, in New York. Visit him at marcoschin.com.
Praise For…
---
Praise for Ella

"A twist on the classic Eloise, Ella's hipster-chic hotel adventures are full of modern-day trappings--from Manny, her sleve-tatted male nanny, to Zumba classes and Wi-Fi issues. The playful illustrations, drawn by Marcos Chim, will have you checking in again and again."--Entertainment Weekly

"What would Eloise at the Plaza do in modern-day New York? Try yoga, join drum circles and visit food trucks. For more on the 60-year-old kiddie icon's hipster makeover, check out Ella."--TIME Magazine

"Captures our current cultural moment."--Los Angeles Times

"There's a new room-service baby in town."—New York Post
 
"A sort of Eloise for the hipster generation, Ella is full of cheeky references to the millennial set… Its charming illustrations by Marcos Chin, accompanied by Kasdan's clever captions, also make it a fun read for kids and their parents."—Vogue.com

"If you're an Eloise fan, you must take a peek at this parody. . . . Share it with your favorite hip parents. Keep it for yourself. Whatever you do, just get it."--Bustle

"An entertaining spoof."--School Library Journal

"Ella's mischief and cadence (and Kasdan's minimal punctuation) ring thrillingly familiar. . . . Her self-descriptions are hilarious; the text winks with merry self-awareness. . . . For hipsters of all ages."--Kirkus Reviews

"Kasdan name checks urban standbys from edamame to Zumba, while fellow first-timer Chin's funny full-color vignettes of a multicultural downtown scene and a heedlessly energetic child are loving tributes to Hilary Knight's originals."--Publishers Weekly

"Ella is a superb sendup, with pacing and a narrative that nicely mirrors the classic Eloise, while adding up to a very funny look at modern-day urban childhood all on its own. This one's a keeper."—CoolMomPicks.com
 
"Illustrator Marcos Chin did a beautiful job creating [Ella's] world."—Gothamist 
 
"Ella is adorable and her book might be worth buying just for the illustrations alone, because they are absolutely gorgeous."—Mommyish.com

"A witty and wonderful parody…These delightful bits of hipster detritus are there for the adult companion reader but won't diminish a child's enjoyment whatsoever…The illustrations by Marcos Chin are gorgeous and, much like Hilary Knight's beloved art for Eloise, are layered with humor, enriching the text with a ton of memorable detail."—Café.com