Tell the Wolves I'm Home (Prebound)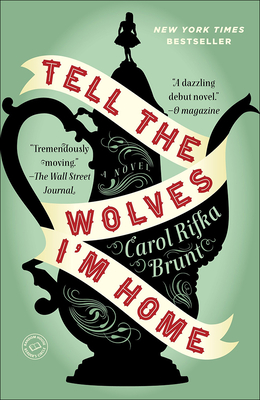 $30.65
Email orders@greenlightbookstore.com for information about this item.
Staff Reviews
---
June is 14 years old, precocious, isolated, and grieving the loss of her Uncle Finn who she loved more than anything. Her mother and older sister are cagey to say the least about how he died. Something to do with AIDS, something to do with Toby, Finn's "special friend." When Toby begins reaching out to June (and she responds--both in an attempt to keep the memory of Finn near), a questionable, but lovely friendship forms. For over half the book you're not sure exactly where anything is headed, and that's okay. With Tell the Wolves I'm Home, Brunt makes you feel all the things you're suppose to feel with good fiction, and reminds you of all the warmness and love that can emerge from a single page.
— Ikwo
Description
---
NAMED ONE OF THE BEST BOOKS OF THE YEAR BY
"The Wall Street Journal - O: The Oprah Magazine - BookPage - Kirkus Reviews - Booklist - School Library Journal"
" "
NAMED A FAVORITE READ BY GILLIAN FLYNN
WINNER OF THE ALEX AWARD
In this striking literary debut, Carol Rifka Brunt unfolds a moving story of love, grief, and renewal as two lonely people become the unlikeliest of friends and find that sometimes you don't know you've lost someone until you've found them.
1987. There's only one person who has ever truly understood fourteen-year-old June Elbus, and that's her uncle, the renowned painter Finn Weiss. Shy at school and distant from her older sister, June can only be herself in Finn's company; he is her godfather, confidant, and best friend. So when he dies, far too young, of a mysterious illness her mother can barely speak about, June's world is turned upside down. But Finn's death brings a surprise acquaintance into June's life--someone who will help her to heal, and to question what she thinks she knows about Finn, her family, and even her own heart.
At Finn's funeral, June notices a strange man lingering just beyond the crowd. A few days later, she receives a package in the mail. Inside is a beautiful teapot she recognizes from Finn's apartment, and a note from Toby, the stranger, asking for an opportunity to meet. As the two begin to spend time together, June realizes she's not the only one who misses Finn, and if she can bring herself to trust this unexpected friend, he just might be the one she needs the most.
An emotionally charged coming-of-age novel, "Tell the Wolves I'm Home" is a tender story of love lost and found, an unforgettable portrait of the way compassion can make us whole again.
Praise for "Tell the Wolves I'm Home"
"A dazzling debut novel."--"O: The Oprah Magazine"
"This compassionate and vital novel will rivet readers until the very end. . . . The narrative is as tender and raw as an exposed nerve, pulsing with the sharpest agonies and ecstasies of the human condition."--"BookPage"
" "
"Tremendously moving."--"The Wall Street Journal"
"Transcendent . . . Peopled by characters who will live in readers' imaginations long after the final page is turned, Brunt's novel is a beautifully bittersweet mixture of heartbreak and hope."--"Booklist" (starred review)
"Carol Rifka Brunt establishes herself as an emerging author to watch."--Minneapolis" Star Tribune"
"Touching and ultimately hopeful."--"People
"
Look for special features inside. Join the Random House Reader's Circle for author chats and more.
About the Author
---
Carol Rifka Brunt's work has appeared in several literary journals, includin"g North American Review" and "The Sun." In 2006, she was one of three fiction writers who received the New Writing Ventures award and, in 2007, she received a generous Arts Council grant to write "Tell the Wolves I'm Home, " her first novel. Originally from New York, she currently lives in England with her husband and three children.