Magic: The Gathering 1,000-Piece Puzzle: War of the Spark: A Magic: The Gathering Jigsaw Puzzle: Jigsaw Puzzles for Adults (Game)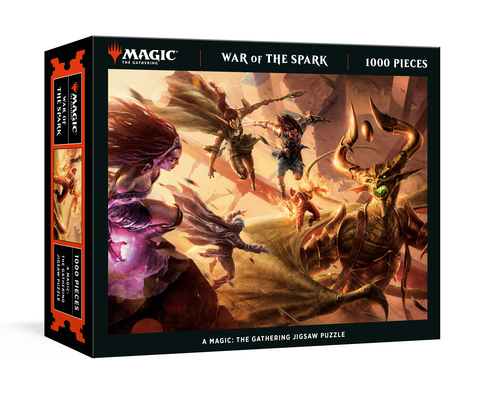 $19.99

Available In Store Now (while supplies last)
Description
---
Featuring an iconic image from the world's largest trading card game, Magic: The Gathering, this officially licensed puzzle will thrill and challenge fans worldwide.

This 1,000-piece puzzle features an iconic image of The Gatewatch engaged in a battle with the infamous elder dragon and fallen Planeswalker known as Nicol Bolas, from the mythical world of Magic: The Gathering. This seminal art offers a colorful and dynamic challenge for fans, commemorating thirty years of their favorite strategy-based card game. With a finished size of 20 x 27 inches, this intricately designed jigsaw puzzle promises hours of fun.
About the Author
---
Magic: The Gathering's compelling characters, fantastic worlds, and deep strategic gameplay have entertained and delighted fans for more than twenty-five years. Fans can experience Magic through the tabletop trading card game, the new digital game Magic: The Gathering Arena, a New York Times bestselling novel, a critically acclaimed comic book series, and a professional esports league. With over forty million fans to date, Magic is a worldwide phenomenon published in eleven languages in over seventy countries.