Land of Milk and Honey: A Novel (Hardcover)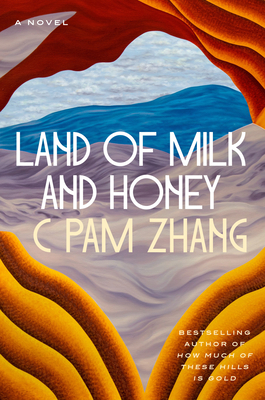 $28.00

Available In Store Now (while supplies last)
September 2023 Greenlight First Editions Club Pick
October 2023 Indie Next List
---
"Zhang's gorgeous prose sets a stark contrast between a world destroyed and a seemingly pristine utopia. While darkness pervades this literary thrill ride, thoughtful questions about humanity save the reader from total madness."
— Page Berger, Barrett Bookstore, Darien, CT
Description
---
NATIONAL BESTSELLER

A NEW YORK TIMES NOTABLE BOOK 

NAMED A BEST BOOK OF THE YEAR BY NPR, HARPER'S BAZAAR, KIRKUS REVIEWS, ESQUIRE, ELECTRIC LITERATURE, AND SCIENTIFIC AMERICAN!

"One of the most pleasurable, inventive reads of the year… fiendishly, deliciously fun."—San Francisco Chronicle

"A profound exploration of human nature, the allure of pleasure and the choices we make in the face of adversity."—NPR, "Books We Love"

"It's rare to read anything that feels this unique." –GABRIELLE ZEVIN, New York Times bestselling author of Tomorrow and Tomorrow and Tomorrow

"Land of Milk and Honey is truly exceptional."–ROXANE GAY, New York Times bestselling author of Bad Feminist

"A sharp, sensual piece of art."–RAVEN LEILANI, New York Times bestselling author of Luster

The award-winning author of How Much of These Hills Is Gold returns with a rapturous and revelatory novel about a young chef whose discovery of pleasure alters her life and, indirectly, the world

A smog has spread. Food crops are rapidly disappearing. A chef escapes her dying career in a dreary city to take a job at a decadent mountaintop colony seemingly free of the world's troubles.

There, the sky is clear again. Rare ingredients abound. Her enigmatic employer and his visionary daughter have built a lush new life for the global elite, one that reawakens the chef to the pleasures of taste, touch, and her own body.

In this atmosphere of hidden wonders and cool, seductive violence, the chef's boundaries undergo a thrilling erosion. Soon she is pushed to the center of a startling attempt to reshape the world far beyond the plate.

Sensuous and surprising, joyous and bitingly sharp, told in language as alluring as it is original, Land of Milk and Honey lays provocatively bare the ethics of seeking pleasure in a dying world. It is a daringly imaginative exploration of desire and deception, privilege and faith, and the roles we play to survive. Most of all, it is a love letter to food, to wild delight, and to the transformative power of a woman embracing her own appetite.
About the Author
---
C Pam Zhang is the author of How Much of These Hills Is Gold, winner of the Academy of Arts and Letters Rosenthal Award and the Asian/Pacific American Award for Literature[CE1] , long-listed for the Booker Prize, a finalist for the PEN/Hemingway Award and the National Book Critics Circle John Leonard Prize, and one of Barack Obama's favorite books of the year. She is a National Book Foundation 5 Under 35 honoree and a New York Public Library Cullman Fellow.
Praise For…
---
Praise for Land of Milk and Honey:

"Dwells with keen intelligence and rich insight at this nexus of food, pleasure, privilege and catastrophe, offering a mouthful of nectar that tastes faintly of blood." —The New York Times

"Gloriously lush. Zhang's sensuous style makes us see, smell and, above all, taste the lure of that sun-dappled mountain enclave. . . An atmospheric and poetically suspenseful novel about all manner of appetites: for power, food, love, life."—NPR/Fresh Air

"Haunting. . .[Foodies] will find Land of Milk and Honey a gourmand's dream. . .tense, unnerving and creepy. . .an extremely atmospheric novel about the interplay of environmental destruction and class. The bittersweet aftertaste will leave you considering what you'd be willing to do — or resist doing — to experience the most essential pleasure." —Ron Charles, The Washington Post

"A sensory fantasia, rich in luscious descriptions of food, sex, and nature. In these beguiling pages, Zhang tells a powerful story about the thorny intersections of privilege and pleasure."—Esquire

"Mesmerizing. . .A bold encouragement to dwell within our desires, even if we ultimately decide that the consequences do not justify the pursuit. [Zhang's] message is an addendum to the two stark words—'she wants'—that ended her first novel. Now she seems to be saying: She wants so that she may live." —The Atlantic  

"Richly lyrical and chillingly propulsive. . .With sentences as decadent as the meals they describe, C Pam Zhang brilliantly exposes how, in a climate of scarcity, sensuous indulgence always comes with a side of moral complication." —Oprah Daily

"Zhang's formidable talents in world-building sparkle. . .Zhang beholds the world through a lens that's far from despairing. By sprinkling her fiction with smart, speculative touches, she reveals that we as humans can still imagine better, more brilliant outcomes when looking toward the past, present and future. And for Zhang and her readers, taking this route can be fiendishly, deliciously fun."—San Francisco Chronicle

"The most breathtakingly beautiful dystopian novel since Station Eleven." —Los Angeles Times

"Sensuous and sharp in its critique, Land of Milk and Honey delivers a powerful rebuke of how far the privileged will go to retain a level of comfort amid climate catastrophe. . .A knotty read from start to finish, C Pam Zhang's latest is sure to stay with you for a long time." —Chicago Review of Books

"[A] fresh and ultimately hopeful take on one vision of climate change and how humanity might persevere." —Good Housekeeping, October Feel Good Book Club Pick

"Deeply original and provocative."—Town & Country

"[A] sensuous, gutting novel." —Vanity Fair

"Gorgeously written and deeply unsettling." —Shondaland

"C Pam Zhang's lush but precise descriptions and inventive premise create a thought-provoking fusion of the sensory and the speculative."—Scientific American, "Best of the Year"

"Utterly haunting, important and—in spite of the fact that it's a dystopian novel about climate change—it never loses its sense of hope. . . a fascinating look at the choices we make."—San Antonio Magazine

"Majestic . . .Zhang may be one of the first novelists to devote serious attention to the ways that the climate crisis may disrupt the world's food supply. . .Zhang reframes the urgency of this disaster in a way that even the finest journalistic or academic work cannot, evoking the day-by-day human experience of inhabiting a dying planet and attempting to obtain pleasure wherever one can find it." —New Republic

"Exquisite and seductive. . .Emotionally captivating and raw, this masterpiece will be enjoyed to the last bite."—Publishers Weekly, STARRED review

"Reminds us of what it's like to be embodied and living on Earth with sumptuous scenes of food and sex. . .Mournful and luscious, [Land of Milk and Honey is] a gothic novel for the twilight of the Anthropocene Era."—Kirkus, STARRED review

"Sensuous, surprising, and alluring."—Electric Literature, "Electric Lit's Best Novels of 2023"

"Land of Milk and Honey is a lush, sensual story that revels in food and pleasure—and, at the same time, casts light on who gets and doesn't get the privilege of indulging in such experiences." —Bon Appetite

"A sumptuous — and at times, unsettling — exploration of pleasure."—Eater

"Inventive and original exploration...a sensual love letter to food itself."—W Magazine

"This unique take on contentment, privilege and survival is entrancing from beginning to end." —Artful Living Magazine

"[Zhang's] prose. . .mirrors the sensual pleasures of a fine meal."—theSkimm

"Establishes [Zhang] as a literary force."—KMUW

"A book of appetite, rich with ideas and emotion. Zhang possesses a wonderfully bold and playful imagination; this novel is further proof of her extraordinary talent." —Katie Kitamura, bestselling author of Intimacies

"The way Zhang writes about food and desire and human failings is exquisite—sensually detailed, at times visceral. This is a tremendous novel that explores the way people will break when the world itself is broken. Land of Milk and Honey is truly exceptional." —Roxane Gay, New York Times bestselling author of Bad Feminist

"It's rare to read anything that feels this unique. A richly imagined, ambitious, and haunting novel that is striking for its deft juxtaposition of small, human moments with larger concerns about the world." —Gabrielle Zevin, New York Times bestselling author of Tomorrow and Tomorrow and Tomorrow

"A sharp, sensual piece of art…This is an incredible exploration of whether it is possible to preserve one's art when answering to a master that is not yourself. When I read I'm always searching for pleasure, for the want, and this book helped me feel something." —Raven Leilani, New York Times bestselling author of Luster

"No one writes like C. Pam Zhang. Ferocious, sensual, and all consuming, Land of Milk and Honey is both a heartsick elegy for a world we are on the verge of losing and vibrant homage to pleasure and appetite. This book swallowed me whole and spit me out changed in the best way: buzzing, astonished, and alive." —Rachel Khong, author of Goodbye, Vitamin

"A brilliant, all-too-prescient novel. Extraordinary in its prose, vision, and power, Land of Milk and Honey is a triumph of a book to devour now and to treasure through the ages."—R.O. Kwon, bestselling author of The Incendiaries

"A twelve-course feast for the senses and intellect. C Pam Zhang is one of the most talented novelists writing today, and she has given us a novel that is original and painful and sensuous, a honey-and-acid tasting menu exploring pleasure, loss, sex, power, and resurrection." —Sarah Thankam Mathews, author of National Book Award Finalist All This Could Be Different

"A dazzling, virtuosic meditation on seeking joy amid tragedy, beauty amid ruin. As hypnotic as it is profound, Land of Milk and Honey showcases C Pam Zhang's singular talent." —Kirstin Chen, New York Times bestselling author of Counterfeit
 
"Gorgeous. What a delicious world Zhang has created—full of so much wonder. I'll be thinking for a long time about what this novel says about desire and morality; what it means to try to stave off extinction of oneself and world; what happens when we are forced to reckon with the lies we've spent years telling ourselves." —Kat Chow, author of Seeing Ghosts

"C Pam Zhang is an intoxicating and fearless prose stylist who seems to invent a new language with each book. . . the incantatory rhythms of desire that power [the novel] serve us horror and pleasure in each bite." —Meng Jin, author of Little Gods
 
"Intoxicating, timely, and beautifully written. Pam Zhang's exquisite prose and prodigious talents are pushed to their brink in her new, dazzling novel." —Jamil Jan Kochai, author of National Book Award Finalist The Haunting of Hajji Hotak

"A brilliant, near-future fairytale, Land of Milk and Honey is the most sensuous novel about food I've ever read."—Emma Donoghue, bestselling author of Room

"Deeply humane and fiercely political, this book is feast of delights, of appetites denied and realised, surfeit and sacrifice, scarcity and want, passing and vulnerability, luxury and the quotidian, the terrifying, vertiginous workings of the hyper-wealthy, and how we might ground ourselves and continue to exist in a broken world.  I adored it."—Helen Macdonald, New York Times betselling author of H is for Hawk and Prophet