Obie Is Man Enough (Paperback)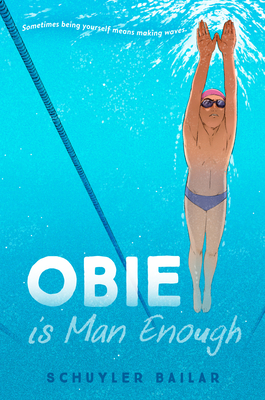 $8.99

Available In Store Now (while supplies last)
Description
---
A coming-of-age story about transgender tween Obie, who didn't think being himself would cause such a splash. For fans of Alex Gino's George and Lisa Bunker's Felix Yz.

Obie knew his transition would have ripple effects. He has to leave his swim coach, his pool, and his best friends. But it's time for Obie to find where he truly belongs.
 
As Obie dives into a new team, though, things are strange. Obie always felt at home in the water, but now he can't get his old coach out of his head. Even worse are the bullies that wait in the locker room and on the pool deck. Luckily, Obie has family behind him. And maybe some new friends too, including Charlie, his first crush. Obie is ready to prove he can be one of the fastest boys in the water—to his coach, his critics, and his biggest competition: himself.
About the Author
---
Schuyler Bailar is an internationally renowned inspirational speaker, inclusion advocate, and diversity advisor. He holds a degree in cognitive neuroscience and evolutionary psychology from Harvard University, where he was also the first transgender athlete to compete in any sport on an NCAA Division I men's team. He was one of the USA's top 15-year-old breast-strokers. By 17, he set a USA national age-group record. In college, he finished in the top 15% of all collegiate athletes in his event. Schuyler's difficult choice--to transition while potentially giving up the prospect of being a champion swimmer as a female--was historic and timely. His story appeared everywhere from 60 Minutes to The Ellen Show. Schuyler's tireless advocacy of inclusion through public speaking and social media (@pinkmantaray) has earned him numerous notable honors. His corporate clients include Microsoft, Qualcomm, Capital One, American Eagle, Monte Nido & Affiliates, and many more.
Praise For…
---
"A thoughtful, eventually triumphant story." -Publishers Weekly

"Energizing and compassionate." –Kirkus Reviews

"Extremely well done and will be a valuable reading experience for all." –Booklist

A heartfelt coming-of-age tale about a young trans athlete; ­readers will be rooting for ­every one of Obie's wins, in and out of the pool." –School Library Journal

"I just met Obie, and I love him SO MUCH. He shows us all how to face our scariest challenges with resolve, humor, grace, and help from those who care about us."  —Linda Sue Park, Newbery Medalist and New York Times bestselling author

"Bailar writes with assurance and beauty... His story had me laughing, crying and cheering, sometimes all at once." —Peggy Orenstein, author of Girls & Sex and Boys & Sex

"I guarantee Obie is Man Enough will help countless Youth feel not only valid in their experiences, but also be able to leverage the strength Obie has within their own lives." –Aydian Dowling, transgender activist
 
"This book will make you laugh, break your heart, and flinch with recognition. I couldn't root hard enough for Obie Chang, a character who stayed with me long after the book was done." —Marie Myung-Ok Lee, author of The Evening Hero
 
"A story which hooks you from its first sentence.  A bold, honest, and deeply human journey of identity with characters you will fall in love with.  Powerful and brave.  Everyone should read this book." —Diane Paulus, Tony Award-winning Director and the Terrie and Bradley Bloom Artistic Director of the American Repertory Theater at Harvard University
 
"Once I started reading, I couldn't stop. Obie Is Man Enough is an amazing narrative that also provides important education on the transgender experience. .. I strongly encourage all people, including advocates who don't identity within the LGBTQ+ community, to read this book!" —Sander Jennings, he/him, Media Personality & Jazz Jennings's brother