The Wills and the Won'ts (Hardcover)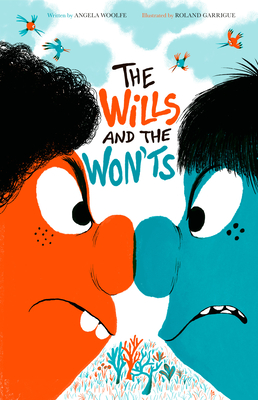 $17.99

Available In Store Now (while supplies last)
Description
---
Dr. Seuss's The Sneetches and Other Stories meets The Wall in the Middle of the Book in this pitch perfect, rhyming story about breaking down barriers and embracing our differences.

An angry old Won't and a cheerless young Will
lived next to each other, on top of a hill.
They squabbled and quarrelled, did nothing but fight.
If one said, "It's day," said the other, "It's night."
"Your dog wrecked my roses!" "Your trees are too tall!"
"There's one way to end this:
WE'RE BUILDING A WALL!"

The Wills and the Won'ts can't seem to agree on anything, so they build a wall to keep the other out. Until a hopeful young May realizes that perhaps they can find some common ground, if only they work together.

A fantastically timely and timeless read-aloud with the bouncing rhyme of Dr. Seuss and a message that will resonate with readers of all ages: Tolerance and togetherness put us all on the same side.
About the Author
---
Angela Woolfe (she/her) is the author of the Avril Crump trilogy for Egmont. She is married with one young daughter who is even more obsessed with fairy tales than she is.

Roland Garrigue (he/him) is a prolific children's book illustrator from Paris, France. From kindergarten to today, he has never ceased drawing. As a child he read his favorite books hundreds of times over, and became inspired by the work of Tomi Ungerer, Colin Hawkins, and Quentin Blake. He attended art school in Strasbourg, and became a children's illustrator himself. He loves to draw fantastic universes and surreal situations, populating his books with characters from all walks of life--monsters, vampires, witches, pirates, aliens, children, and all the strange creatures he can dream up. Roland loves to travel and explore foreign cities and countries, and he hopes his stories can transport his readers to equally exciting places. His illustrations may feature absurd scenarios and bizarre creatures, but at its heart, his work expresses truths and experiences about the world we live in.
Praise For…
---
Praise for The Wills and the Won'ts:

"The rhyming text keeps the Seussian tale moving, and Garrigue's characters' facial expressions and body language are easy to read, and his scenes are full of whimsical details. Timely and important." –
Kirkus

"Garrigue's acrylic and digital paintings effectively visualize the divide between the Wills and the Won'ts...the catchy, rhythmic rhyming of Woolfe's text makes this an easy storytime pick...and invites young listeners to consider the problematic real-world walls we keep building."  –
The Bulletin of the Center for Children's Books