A Time Outside This Time: A novel (Hardcover)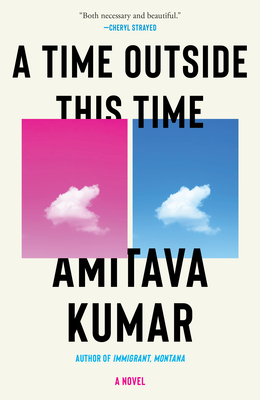 $27.00

Not In Store / Available To Order (allow for shipping time to bookstore or direct-to-home)
Description
---
A blistering novel about a writer's creative response to the daily onslaught of fake news, memory, and the ways in which truth gives over to fiction

"An absorbing portrait of an inspired artist in the midst of our maddening cultural moment" —Ayad Akhtar, author of Homeland Elegies

When Satya, a professor and author, attends a prestigious artists' retreat to write, he finds the pressures of the outside world won't let up: the president rages online; a dangerous virus envelops the globe; and the twenty-four-hour news cycle throws fuel on every fire. For most of the retreat fellows, such stories are unbearable distractions, but for Satya, who sees them play out in both America and his native India, these Orwellian interruptions begin to crystallize into an idea for his new novel, Enemies of the People, about the lies we tell ourselves and one another. Satya scours his life for instances in which truth bends toward the imagined and misinformation is mistaken as fact.

Mixing Satya's experiences—as a father, husband, and American immigrant—with newspaper clippings, the president's tweets, and observations on famous works of art, A Time Outside This Time captures a feverish political moment with intelligence, beauty, and an eye for the uncanny. It is a brilliant interrogation on life in a post-truth era and an attempt to imagine a time outside this one.

About the Author
---
AMITAVA KUMAR is a writer and journalist. He was born in Ara, India, and grew up in the nearby town of Patna, famous for its corruption, crushing poverty, and delicious mangoes. Kumar is the author of the novel Immigrant, Montana, as well as several other books of nonfiction and fiction. He lives in Poughkeepsie, New York, where he is Professor of English on the Helen D. Lockwood Chair at Vassar College.
Praise For…
---
"Kumar's prose is magnetic. Using a sparse but intimate telling, Kumar's writing enraptures the reader with each turn of Satya's investigations."
—Sara Webster, Chicago Review of Books

"As Satya uncovers the 'truth of fiction,' Kumar provides a shimmering assault on the Zeitgeist."
—The New Yorker

"Kumar's marvelous book channels Orwell in its outline of our dilemmas with disinformation. Sensuous and searching, this is an absorbing portrait of an inspired artist in the midst of our maddening cultural moment."
—Ayad Akhtar, author of Homeland Elegies

"In this age of lies, can we rely on fiction to cover the facts? Amitava Kumar's entertaining and incisive A Time Outside This Time provides a convincing answer. This novel is both necessary and beautiful."
—Cheryl Strayed, author of Brave Enough

"A brilliant, expansive account of one man's attempt to follow his moral compass through a maze of disinformation and discord. Kumar has an uncanny ability to find and illuminate the radiance that remains in our half-ruined world."
—Jenny Offill, author of Weather

"Amitava Kumar has the precious ability to write across borders and cultures. This brilliant, anguished novel offers an essential vantage point to our agitated and bewildering world."
—Joseph O'Neil, author of Netherland

"Why write when things are falling apart? More importantly: how to write when the might of fiction is abused by the worst, when lies are eating through what seemed like reality just a moment ago? These are perennial novelist questions, and A Time Outside This Time confronts them head on. Amitava Kumar's prose is beautiful, deft and full of memorable details; his narration is marked by immense curiosity, kindness and clarity of thought. He seems to be writing in real time, trying to comprehend, with admirable hope and patience, how to retain faith in literature, in democracy, in the kindness of others. A Time Outside This Time is a courageous book, incredibly relevant for the present moment and crucial for imagining a better future."
—Aleksandar Hemon, author of The Lazarus Project