Dyscalculia: A Love Story of Epic Miscalculation (Hardcover)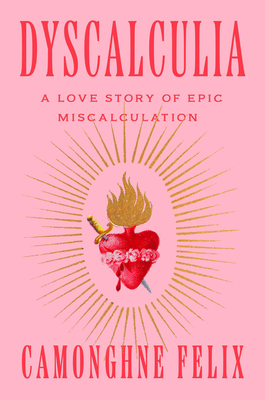 $27.00

Available In Store Now (while supplies last)
February 2023 Greenlight First Editions Club Pick
Description
---
"Powerful . . . a poetic meditation on how love or attempts at loving can drive us to madness."—The Boston Globe
 
"We learn about the cracks in Felix's upbringing, the hurt from the breakup itself, and a pain that spans a lifetime, all through a sharp millennial voice."—Time (Best Books of the Year)

A CHICAGO PUBLIC LIBRARY BEST BOOK OF THE YEAR

When Camonghne Felix goes through a monumental breakup, culminating in a hospital stay, everything—from her early childhood trauma and mental health to her relationship with mathematics—shows up in the tapestry of her healing. In this exquisite and raw reflection, Felix repossesses herself through the exploration of history she'd left behind, using her childhood "dyscalculia"—a disorder that makes it difficult to learn math—as a metaphor for the consequences of her miscalculations in love. Through reckoning with this breakup and other adult gambles in intimacy, Felix asks the question: Who gets to assert their right to pain?
 
Dyscalculia negotiates the misalignments of perception and reality, love and harm, and the politics of heartbreak, both romantic and familial.
About the Author
---
Camonghne Felix, poet and essayist, is the author of Build Yourself a Boat, which was longlisted for the National Book Award in Poetry, shortlisted for the PEN/Open Book Award, and shortlisted for the Lambda Literary Awards. Her poetry has appeared in or is forthcoming from Academy of American Poets, Freeman's, Harvard Review, LitHub, The New Yorker, PEN America, Poetry Magazine, and elsewhere. Her essays have been featured in Vanity Fair, New York, Teen Vogue, and other places. She is a contributing writer at The Cut.
Praise For…
---
"Powerful . . . a poetic meditation on how love or attempts at loving can drive us to madness— [Dyscalculia is] the perfect antidote to the pressure, societal or personal, to perform love or even lust . . . Felix's voice is confident and uninhibited, so direct and full of candor . . . Felix captures the essence of emotional unraveling with raw, heartbreaking beauty . . . Dyscalculia describes emotional miscalculation with precision."—Boston Globe

"Stunning . . . gorgeous."—BookRiot, 10 Riveting New Nonfiction Books to Read in February 2023

"We learn about the cracks in Felix's upbringing, the hurt from the breakup itself, and a pain that spans a lifetime, all through a sharp millennial voice."—TIME, Here Are the 12 New Books You Should Read in February

"[An] extraordinary volume reckoning with intimacy, healing, perception, love and loss."—Ms. Magazine, Most Anticipated Feminist Reads of 2023

"If you're into poetic, rigorous personal narratives (think Elissa Washuta and Ocean Vuong), you'll want this one on your list."—Literary Hub, Most Anticipated Books of 2023

"Enchanting . . . Leaping seamlessly between the abstraction of formulas and the honest, verbose mess of a break-up, Dyscalculia pushes the metaphor of loss as a math problem in imaginative new directions."—Bustle, The Most Anticipated Books of 2023

"I'm not sure I've ever read something that's so ferocious and measured as Dyscalculia."—Purse Book

"Dyscalculia is a frank exploration of pleasure, heartbreak, and reclamation. It makes a case for softness, for lostness, for black girlhood, that rejects containment and asks instead for care."—Raven Leilani, author of Luster

"Dyscalculia took my breath, grabbed my heart, and made me see. It brought me back to every heartbreak I've ever endured, and I marveled at Camonghne Felix's deep knowing and even deeper articulation of the pain of loss . . . This book is a gift and a miracle."—Deesha Philyaw, author of The Secret Lives of Church Ladies

"I am deeply shaken by the profound singularity of Dyscalculia. Felix manages to cast, and really conjure, a new portal into the agony of miscalculating love and the pain one can experience in loving relationships."—Kiese Laymon, author of Heavy

"Devoured it in one sitting–[I was] riveted, propelled, rearranged."—Leslie Jamison

"Felix's narrative is as much about the wounds and scars of what it means to love as it is about self-preservation as a political act for Black women."—Public Books

"Visceral and radiant, this soul-searching self-interrogation resonates."—Publishers Weekly

"A wildly smart, singular redemption story that is greater than the sum of its parts."—Kirkus Reviews