Dream of the Divided Field: Poems (Paperback)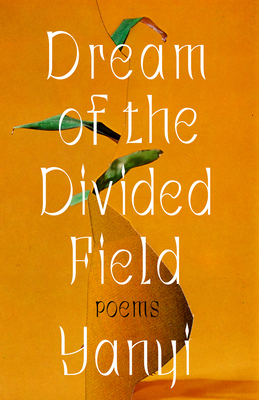 $16.00

Not In Store / Available To Order (allow for shipping time to bookstore or direct-to-home)
Description
---
From an award-winning poet comes a collection on heartbreak and transitions, written with a piercing lyric ferocity. 

FINALIST FOR THE NEW ENGLAND BOOK AWARD FOR POETRY • "Written with great tenderness and intimacy, Dream of the Divided Field reveals what we do (and do not) owe to others, and what we owe to ourselves."—Poets & Writers

The poems in Yanyi's latest book suggest that we enter and exit our old selves like homes. We look through the windows and recognize some former aspect of our lives that is both ours and not ours. We long for what we had even as we recognize that we can no longer live there. Yanyi conjures the beloved both within and without us: the beloved we believe we know, the beloved who is never the person we imagine, and the beloved who threatens to erase us even as we stand before them. 

How can we carry our homes with us? Informed by Yanyi's experiences of immigration, violent heartbreak, and a bodily transition, Dream of the Divided Field explores the contradictions that accompany shifts from one state of being to another. In tender, serene, and ethereal poems, Dream of the Divided Field examines a body breaking down and a body that rebuilds in limitless and boundary-shifting ways. These are homes in memory—homes of love and isolation, lust and alienation, tenderness and violence, suffering and wonder. 
About the Author
---
Yanyi is a writer and critic. He is the author of The Year of Blue Water, winner of the 2018 Yale Series of Younger Poets Prize. His work has been featured on NPR's All Things Considered, in Tin House, Granta, and A Public Space, and at the New York Public Library, and he has received fellowships from the Asian American Writers' Workshop and Poets House. Currently, he is poetry editor at Foundry and is giving creative advice at The Reading.
Praise For…
---
"Dream of the Divided Field . . . is a broad, existential meditation on the past—specifically, how the past is always present. It's about life as we've lived it, and how that affects the life we've yet to live and the people we've yet to meet. [Yanyi's] works are philosophical and lyrical, personal essay and fiction, and fuse binaries and trinaries together as one unit. . . ."—Electric Lit

"In the way that bright lights hurt tired eyes, these poems carve from their raw material an aching tenderness of similarly piercing quality. They occupy the dreamlike space where memories dwell, where hopes and reveries reside as well. Dealing in the duality, and often cyclicality, of death and (re)birth, past and future, visibility and invisibility—and all the beauty and violence that falls in between these two moving points—Yanyi, with his razor-sharp lyricism, sculpts skin-like truths within the marble of the page."—Literary Hub

"What does it mean, for each of us to be housed in a body? Yanyi contends with what disappears and what stays, where we inhabit, where we can find safety, and where we can be found. A beautiful book that brings you in, that holds you close."—Fatimah Asghar, author of If They Come for Us

"Yanyi knows intimately that as with the inconstancy of the lyric thinking and feeling open us to the unknown and to others. To love is to be inside and outside the self, to enter the world and let the world enter you, and how glorious it is to read a book that so bravely takes you everywhere."—Jennifer Chang, author of Some Say the Lark

"Yanyi charts in his tremendous second book new paths for a poetry both embodied and metaphysical. Taking up one of the oldest aims of poetry, Dream of the Divided Field casts from its first pages a distinctive spell."—Maureen N. McLane, author of Some Say and This Blue

"The poems are translucent, each informs the next and echoes back—concealment followed by joyous visibility, division followed by integration, and ultimately grief transformed into a luminous reconfiguration of the self."—Samuel Ace, author of Meet Me There

"In poems that are simultaneously spare and teeming, determined and soft, Yanyi does the patient, transcendent work of building a life larger than its loss."—TC Tolbert, co-editor of Troubling the Line: Trans and Genderqueer Poetry and Poetics

"The kaleidoscopic vision of the poems creates a disorienting logic that animates and transforms the ordinary world, investigating the limits and multiplicities of a self."—Saskia Hamilton, editor of The Dolphin Letters, 1970–1979

"In this tender second collection… the speaker rebuilds himself, reconciling memories, stories, and dreams, each imparting a different kind of truth. . . . A doubleness runs through the book as Yanyi shows how an abusive relationship can be destabilizing."—Publishers Weekly