For All Who Hunger: Searching for Communion in a Shattered World (Hardcover)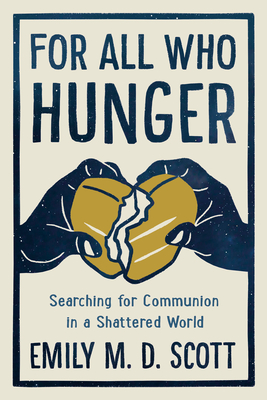 $25.00
Email orders@greenlightbookstore.com for information about this item.
Description
---
Emily Scott never planned on becoming a pastor. But when she started a church for misfits that met over dinner in Brooklyn, she discovered an unlikely calling—and an antidote to modern loneliness.
 
"I absolutely devoured this exquisitely written memoir."—Nadia Bolz-Weber, New York Times bestselling author of Shameless

As founding pastor of St. Lydia's in Brooklyn, New York, where worship takes place over a meal, Emily M. D. Scott spent eight years ministering to a scrappy collective of people with different backgrounds, incomes, and levels of social skills. Each week they broke bread, sang hymns, made halting conversation with strangers, then did the dishes. In a city where everyone lives on top of each other yet everyone is lonely, these gatherings around a table offered connection and solace that soon would become their lifelines.   
 
When Hurricane Sandy slams into the coast of New York, Scott and her church members are faced with a disorienting crisis. Startled by the impact of the storm on their more vulnerable neighbors, they learn to work alongside one another, bailing water out of basements and canvassing emptied apartment buildings. Every week, they return to those steady, strong tables at Dinner Church. Together, they find community, even in the midst of disaster. Scott discovers how small acts of connection hold more power than we realize in a time when our differences are being weaponized, and learns to create activism and justice work fueled by empathy and relationship.
 
With tenderness and humor, Scott weaves stories and reflections from the life of her unlikely congregation while articulating the value of church as a place where people can hear not only that they are loved but that they are good.
 
For All Who Hunger is a story about a God whose love has no limits and a faith that opens our eyes to the truth. There's a place for you at the table.


Praise for For All Who Hunger

"In this intimate and openly heartfelt debut memoir, Scott explores the power of faith and community as strength-building resources for navigating difficult times. . . . A moving personal memoir and an accessibly reverent meditation on finding faith through unconventional acts of worship. Highly inspiring for anyone seeking solace in our modern world."—Kirkus Reviews (starred review)

"Lutheran pastor Scott asks in her exceptional debut: if you strip from church all 'the creeds and the chasubles,' what would be left? The answer, for her, became St. Lydia's Dinner Church in New York City, which she founded in 2008 as a place for queer, marginalized, artistic, nerdy, and often lonely lovers of God to gather for bread, wine, and the words of Jesus . . . Scott's writing is leavened by a healthy dose of self-awareness, and her stories capture the humanity of her mission and community with a light sacramental touch." —Publishers Weekly (starred review)
About the Author
---
Emily M. D. Scott founded St. Lydia's Dinner Church, a progressive, LGBTQ+-affirming congregation in Brooklyn, New York, where worship takes place around the dinner table. A Lutheran pastor (ELCA), Scott is a graduate of Yale Divinity School and the Institute of Sacred Music. Her writing has appeared in The New York Times, and her work at St. Lydia's, which sparked a wider Dinner Church movement, has been featured in The Wall Street Journal and The Atlantic. After serving eight years at St. Lydia's, Scott is now creating a new church community, Dreams and Visions, in Baltimore, Maryland.
Praise For…
---
"For All Who Hunger is so full of heart and wisdom, curiosity and kindness, that it seems not of this world. Perhaps it isn't, and that's a very good thing. Emily Scott envisions a radically welcoming and nurturing space of community that speaks directly to my soul. This book is sharply observed and bursting with generous portraits of real people seeking connection. It is a story and a sermon and a gift."—R. Eric Thomas, author of Here for It

"In an era of increasing division and existential loneliness, Scott manages to do the one thing Christians and seekers have been trying to do for two thousand years: She captures community. For All Who Hunger is raw, authentic, freshly prepared, and ready to be broken into pieces like the communion she so beautifully shares."—Lenny Duncan, author of Dear Church

"Conversion—which is to say, the revelation of the whole real world with God in it—is at the heart of this honest, intelligent, and generous book. Scott is called and accompanied by the strangers she meets on so many roads. She stumbles alongside them, carrying her people's failures and fears. And as night falls, this awkward, faithful pastor invites us all in, so that one more time our eyes may be opened in the breaking of bread."—Sara Miles, author of Take This Bread

"You may have no interest in religion or church or the like, but even then, the beauty and humanity of this book will make you want to read, and to read slowly, as if you're savoring a meal spiced with love."—Brian D. McLaren, author of The Great Spiritual Migration

"While church leaders asked 'How can we get our message out into the world?,' Scott went out into the world and asked 'How can I bring this back into church?' Her haunting memoir tells the story of how she created a place for those who never felt at home in church and how her unlikely congregants, in turn, helped her rediscover the heart of her own faith."—Jacob Slichter, author of So You Wanna Be a Rock & Roll Star

"In a time when we each have endeavored to make sense of ourselves in a world broken by structures and by people, we have each stepped into the eternal search for joyful belonging. For All Who Hunger helps map a way for us to find one another along our path of becoming, and actually embody joyful belonging. Read this book, then get your hands dirty in this broken world!"—Robyn Henderson-Espinoza, author of Activist Theology
 
"How do we worship God and love others when the world is harsh and fragmented? . . . Scott's theology is practical, leavened with grace and humor, and this would make a great next read for fans of Rachel Held Evans and Nadia Bolz-Weber."—Booklist (starred review)
 
"Throughout, Scott explores vignettes of real life shared over meals that bring hope, healing, and most of all, connectedness in a fractured world . . . A thought-provoking and inspiring memoir that reflects real-life frustrations and fears, while hope ultimately prevails in the end."—Library Journal