In That Endlessness, Our End (Paperback)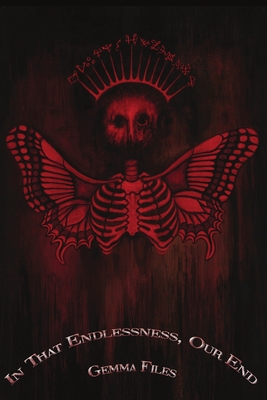 $20.00

Not In Store / Available To Order (allow for shipping time to bookstore or direct-to-home)
Staff Reviews
---
As the staff Scary Reads Expert, I agonized over my choice--trust that I picked a good one. Files short story collection is in the vain of The Twilight Zone. In one story, one third of a throuple notices that a house keeps getting closer and closer, changing its position on the street. In another, a woman is trying to install lights in her apartment where there is no electrical current, yet if you hold a bulb to the wall it gives out light. In another story a married couple expecting a baby are bothered by the noise of their neighbors living in an unoccupied apartment next to them. 
These stories are set in our world or maybe not. Reading these is the equivalent of rushing to get out of the house: Your alarm didn't go off, you are late to meet your a family gathering, you scramble to get dressed, you brush your teeth for long enough, you grab keys, and then you realize that the external walls are gone. You simply walked through a door you could have gone around. Nothing is threatening you but your mind tries to find the point where Something Went Wrong; the precise moment when nature erred, reality glitched, your mind started deteriorating. Files assures us that what we fear is happening is really happening. How will you handle it?
— Danni
Description
---
Winner of the 2021 Bram Stoker Award for Superior Achievement in a Fiction Collection
COME CLOSER, FRIEND. LET ME TELL YOU A STORY.
Heard the one about the Airbnb that eats your dreams or the iron-crowned king who preys on his own bloodline from the air, still smoldering centuries after being burnt alive? How about the cloudy antique bottle you can wish your excess rage inside, or that crooked alley down which something waits to replace your disappointing child with a far more pleasant facsimile? We all know the truth, especially in times like these-in an anxiety-ridden, sleepless world such as ours, it's only ever our very worst dreams that come true. Here streets empty out and people pull themselves apart like amoebas, breeding murderous doppelgangers from their own flesh; houses haunt, ideas possess and a cold and alien moon stares down, whispering that it's time to spawn. New myths rise and ancient evils descend. From the seemingly mundane terrors of a city just like yours to all the most dark and distant places of a truly terrible universe, nothing is as it seems...not even that dimly-recalled cinematic memory you've been chasing all these years, the one you think might be just something you stumbled upon while flipping through channels after midnight. The one that still disturbs you enough to raise a cold sweat all over your body, whenever you try to will its details clear.
Hot on the heels of her 2018 This Is Horror Award-winning short story collection Spectral Evidence, critically horror author Gemma Files compiles fifteen more of her most startling recent nightmares-a creepily seductive downward spiral of dark poetry and existential dread, entirely suitable to the slow apocalypse going on all around us. So take your mind off your troubles and send it somewhere the rules still operate, if only to punish those who violate them.