Thinking Like a Director: A Practical Handbook (Paperback)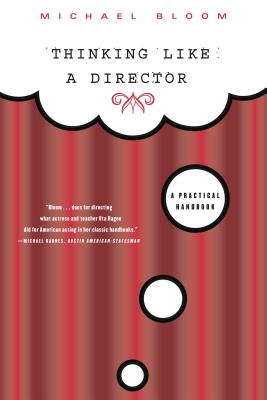 $18.00
Email orders@greenlightbookstore.com for information about this item.
Description
---
Bloom draws on nearly twenty years of directing and teaching experience to convey the full experience of directing for the stage, as well as the mindset that all successful directors possess. More than a mere set of guidelines, Thinking Like a Director details a technique that covers every facet of theatrical production, from first reading through final rehearsals. The key to directorial thinking, Bloom asserts, is a dual perspective--an ability to focus on both the internal lives of the play's characters and the external elements of the play's structure. In this illuminating, engaging, and accessible handbook, the art of dramatic interpretation and the craft of working with actors are integrated into a single, unified method.
About the Author
---
In addition to directing throughout the United States and Japan, Michael Bloom is head of directing at the University of Texas at Austin. His writing on the stage has appeared in The New York Times and American Theatre magazine. Bloom directed the premiere of Donald Margulies's Pulitzer Prize-winning play Dinner with Friends at the Actors Theatre of Louisville, and he also directed premieres by Don DeLillo, Ariel Dorfman, David Hare, and David Lodge. He won the Elliott Norton Award for Directing for his production of Gross Indecency, and was nominated for a Drama Desk for Sight Unseen at Manhattan Theatre Club and the Orpheum Theatre. He lives in Austin, Texas.
Praise For…
---
"More engaging than a textbook, Thinking Like a Director is a concise and highly practical guide to the craft. It's a required reading for young stage and film directors, students, and anyone who wants to know what a skillful professional director does." —Gilbert Gates, Producing Director of the Geffen Playhouse and Producer of the Academy Awards Show

"It's rare for a 'how-to' book to be at the same time so practical and so literate." —Robert Brustein, Artistic Director, American Repertory Theatre

"Thinking Like a Director helps fill the void of practical handbooks that are available to theater directors. It is smart and lucidly written and should prove to be an invaluable guidebook for students and emerging directors." —Donald Margulies

"Bloom's deeply instructional and encouraging primer takes the mystery out of the art of directing without taking out the joy. I've never seen anything quite like it." —Mariette Hartley

"A lucid, concise, and admirably undogmatic manual for aspirant directors, from which writers, actors, and ordinary theatergoers will also learn much about the complex business of putting on plays." —David Lodge

"With a relaxed, informal style, Thinking Like a Director captures the experience of stage directing as well as any book I can think of. Its section on working with living playwrights is a welcome addition to the literature, useful to playwrights as much as directors, and Bloom's writing on language will be highly informative for actors, too." —Arthur Kopit

"I very much enjoyed Michael Bloom's Thinking Like a Director. A taste for directing is like a taste for pickled herring--those that like it seem to like it a lot. For those who've tried it and liked it, I think this book has some pretty good ideas." —David Mamet