Widow Basquiat: A Love Story (Paperback)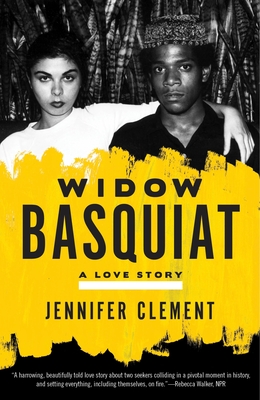 Description
---
The beautifully written, deeply affecting story of Jean-Michel Basquiat's partner, her past, and their life together

An NPR Best Book of the Year Selection

New York City in the 1980s was a mesmerizing, wild place. A hotbed for hip hop, underground culture, and unmatched creative energy, it spawned some of the most significant art of the 20th century. It was where Jean-Michel Basquiat became an avant-garde street artist and painter, swiftly achieving worldwide fame. During the years before his death at the age of 27, he shared his life with his lover and muse, Suzanne Mallouk.

A runaway from an unhappy home in Canada, Suzanne first met Jean-Michel in a bar on the Lower East Side in 1980. Thus began a tumultuous and passionate relationship that deeply influenced one of the most exceptional artists of our time.

In emotionally resonant prose, award-winning author Jennifer Clement tells the story of the passion that swept Suzanne and Jean-Michel into a short-lived, unforgettable affair. A poetic interpretation like no other, Widow Basquiat is an expression of the unrelenting power of addiction, obsession and love.
About the Author
---
Jennifer Clement is the author of multiple books, including Widow Basquiat and Gun Love. She was awarded the NEA Fellowship for Literature and the Sara Curry Humanitarian Award for Prayers for the Stolen. The president of PEN International, she currently lives in Mexico City.
Praise For…
---
"Stunningly lyrical . . . Original, insightful, and engrossing. . . . While filled with pop culture anecdotes art fans might seek—Andy Warhol and Rene Ricard both make appearances, for instance—Clement's account is an honest love story above all else."—Publishers Weekly

"Sublime, poetic…[Clement] chronicles her close friend Suzanne Mallouk's love affair with Basquiat in elegant, spare, riveting prose…A powerful female coming of age story…A harrowing, beautifully told love story about two seekers colliding in a pivotal moment in history, and setting everything, including themselves, on fire."—Rebecca Walker for NPR

"Magical…. Widow Basquiat conjures real characters, a real time and real place.  It's not theory – it's representation. … The life of Basquiat … is a joyous lightning bolt when it is described in true detail, as it is in Clement's extraordinary as-told-to poem."—Glenn O'Brien, Artforum

"Provocative...With short, episodic chapters, Clement (Prayers for the Stolen, 2014, etc.) delivers real insight into the life of the brilliant artist as well as the glittering—but ultimately chaotic—world that consumed him...Disturbing and poetic."—Kirkus

"A beautifully evocative, poetic memoir ... Basquiat was aware of the criteria with which posterity would judge him. Widow Basquiat should be part of those criteria." -The Herald
 
"An engrossing narrative... Clement offers far more clues to the cryptic symbols which litter his [Basquiat's] paintings than any art critic could." -The Times
 
"A brilliant account of the relationship between Basquiat and his muse and lover ... a compelling book that leaves a giant sized lump in the throat ... Clement hypnotises us with a vivid portrait of Basquiat, powerfully evoking his inventiveness as an artist." -Independent on Sunday