The Complete Adventures of Curious George: 70th Anniversary Edition (Hardcover)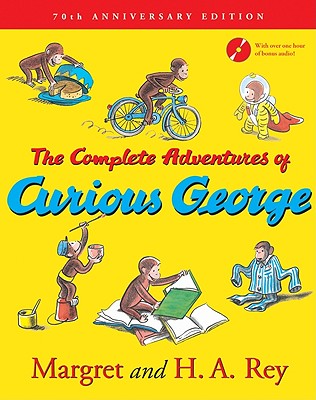 Click on "Ask A Bookseller" to contact us via email for more information about this title.
Out of Print / Unavailable
Description
---
"This is George. He lived in Africa. he was a good little monkey, and always very curious."
With these words, H.A. and Margret Rey introduced the world to Curious George, and the world has loved him ever since. The tales of this cheerful and resilent little heror have kept generations of readers enthralled and entertained. This lavish edition includes an introduction by Leonard S. Marcus, Publisher's Perspective by Anita Silvey, retrospective essay by Dee Jones with photographic album of Margaret and H. A. Rey, and the seven original tales of Curious George: Curious George, Curious George Gets a Medal, Curious George Flies a Kite, Curious George Rides a Bike, Curious George Goes to the Hospital, Curious George Takes a Job, and Curious George Learns the Alphabet.   This volume also includes two audio CDs with recordings of the seven stories--more than one hour of storytelling!
The Complete Adventures of Curious George will be treasured by George's many fans, young and old.
About the Author
---
Hans and Margret Rey created many books during their lives together, including Curious George, one of the most treasured classics of all time, as well as other favorites like Spotty and Pretzel. But it was their rambunctious little monkey who became an instantly recognizable icon. After the Reys escaped Paris by bicycle in 1940 carrying the manuscript for the original Curious George, the book was published in America in 1941. More than 200 Curious George titles followed, with 75 million books sold worldwide. Curious George has been successfully adapted into a major motion picture and an Emmy-winning television show on PBS.