Captain Underpants and the Tyrannical Retaliation of the Turbo Toilet 2000 (Captain Underpants #11) (Hardcover)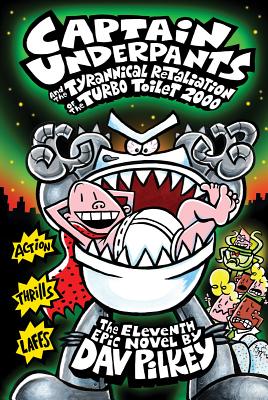 Click on "Ask A Bookseller" to contact us via email for more information about this title.
Not In Store / May Not Be Available To Order (email orders@greenlightbookstore.com for details)
Description
---
Laugh out loud with Captain Underpants, the #1 New York Times bestselling series from Dav Pilkey, the creator of Dog Man!Just when you thought it was safe to flush, the Turbo Toilet 2000 strikes back! The carnivorous commode known for devouring everything in its path has built up a real appetite... for REVENGE! Luckily, the fate of humanity is once again in the hands of George and Harold and their annoying nemesis Melvin Sneedly. Will Wedgie Power prevail? Or will the amazing Captain Underpants be flushed away forever?
About the Author
---
DAV PILKEY is the creator of many acclaimed children's books, including Dogzilla, Kat Kong, god bless the gargoyles, and the bestselling Captain Underpants series. His book The Paperboy received a Caldecott Honor. He lives in the Pacific Northwest. www.pilkey.com

DAV PILKEY is the creator of many acclaimed children's books, including Dogzilla, Kat Kong, god bless the gargoyles, and the bestselling Captain Underpants series. His book The Paperboy received a Caldecott Honor. He lives in the Pacific Northwest. www.pilkey.com
Praise For…
---
The critics are CRAZY about UNDERPANTS!"Irresistible." -- Entertainment Weekly"Call Pilkey... the savior of the 'reluctant reader.'" -- USA Today"So appealing that youngsters won't notice that their vocabulary is stretching." --School Library Journal"Pilkey's sharp humor shines, and is as much fun for parents as their young readers."-- Parents' Choice Foundation"Combines empowerment and empathy with age-appropriate humor and action." --Booklist"Celebrates the triumph of the good-hearted." -- The Educational Book and MediaAssociation

The critics are CRAZY about UNDERPANTS!"Irresistible." -- Entertainment Weekly"Call Pilkey... the savior of the 'reluctant reader.'" -- USA Today"So appealing that youngsters won't notice that their vocabulary is stretching." --School Library Journal"Pilkey's sharp humor shines, and is as much fun for parents as their young readers."-- Parents' Choice Foundation"Combines empowerment and empathy with age-appropriate humor and action." --Booklist"Celebrates the triumph of the good-hearted." -- The Educational Book and MediaAssociation