Go to Sleep, Little Farm (Hardcover)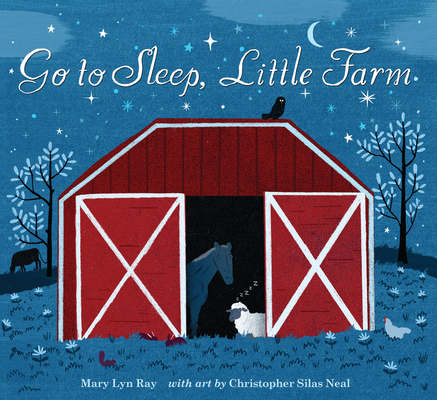 $16.99
Available at our distributor; usually ships in 1-5 days
Description
---
     In the tradition of Margaret Wise Brown, Mary Lyn Ray presents a hushed picture book about the rhythm of the natural world on a small farm as all creatures prepare for sleep. Artist Christopher Silas Neal's classic illustrations quiet even the most restless little night owls with familiar childlike imagery and the comforts of routine. All is well, it reminds them. Now is the time for dreams.
Praise For…
---
* "Repeated, pleasingly surreal lines of verse convey the sense of drifting into slumber...a keeper."
—Publishers Weekly, starred review
"A quiet book for sharing in a cozy setting."
—School Library Journal
 
"The blue-hued mixed-media illustrations soothingly depict a farm as it moves from dusk to night and bring a hush to the book—and no doubt its readers as well."
—Booklist
"Christopher Silas Neal's lovely and serene illustrations, in matte twilight hues of blue and rose, suggest a sparkling nighttime world that is simultaneously vast and cozy. Clearly Ray has worked to make her language dense and [Margaret Wise] Brown-like, and at times you can feel a gentle incantatory force."
—The New York Times
"The book begins at dusk, the sky slowly going from pink to blue to black and starry, the shadowy gray tones of the illustrations a consummate match for the restful mood of the text."
—Horn Book Magazine