Under the Udala Trees (Hardcover)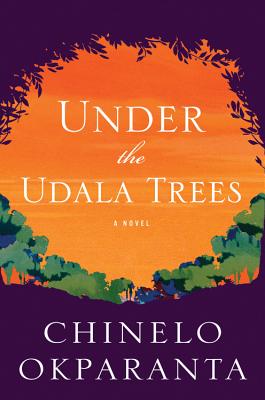 Click on "Ask A Bookseller" to contact us via email for more information about this title.
Staff Reviews
---
In Udala Trees, two girls fall in love in a country at war with itself, where such a thing could cost them their lives. Ijeoma and Ndidi are children from different tribes when they meet during the Nigerian civil war. All too soon, they find themselves having to submit to familial and societal pressures, and the cost of doing so or not. These pages are drenched with emotion, and every sentence will rip you from your reality. I'm a sucker for a coming-of-age story, and even more so for a love story, and this book is no exception.
Picked by Ikwo in Prospect Lefferts Gardens
Description
---
Inspired by Nigeria's folktales and its war, Under the Udala Trees is a deeply searching, powerful debut about the dangers of living and loving openly.
Ijeoma comes of age as her nation does; born before independence, she is eleven when civil war breaks out in the young republic of Nigeria. Sent away to safety, she meets another displaced child and they, star-crossed, fall in love. They are from different ethnic communities. They are also both girls. 
When their love is discovered, Ijeoma learns that she will have to hide this part of herself. But there is a cost to living inside a lie.     
As Edwidge Danticat has made personal the legacy of Haiti's political coming of age, Okparanta's 
Under the Udala Trees 
uses one woman's lifetime to examine the ways in which Nigerians continue to struggle toward selfhood. Even as their nation contends with and recovers from the effects of war and division, Nigerian lives are also wrecked and lost from taboo and prejudice. This story offers a glimmer of hope — a future where a woman might just be able to shape her life around truth and love. 
Acclaimed by 
Vogue,
the 
Financial Times,
 and many others, Chinelo Okparanta continues to distill "experience into something crystalline, stark but lustrous" (
New York Times Book Review
). 
Under the Udala Trees
 marks the further rise of a star whose "tales will break your heart open" (
New York Daily News
). 
About the Author
---
One of Granta's six New Voices for 2012, CHINELO OKPARANTA grew up a Jehovah's Witness. She lived in Nigeria until the age of ten, when her family came to the United States. A graduate of the Iowa Writers' Workshop, she has also taught middle school, high school, and college. 
Praise For…
---
Winner of the Lambda Literary Award for Lesbian Fiction
Winner of the 2016 Jessie Redmon Fauset Book Awards—Fiction
Nominated for the NAACP Image Awards, "Outstanding Literary Work—Fiction"
Nominated for the Hurston/Wright Legacy Awards, Fiction
Nominated for the International Dublin Literary Award 2017
Finalist for the Ferro-Grumley Award for LGBT Fiction
Long-listed for the 2015 Center for Fiction First Novel PrizeLong-listed for the 2016 Chautauqua Prize
Semifinalist for the VCU Cabell First Novelist AwardA New York Times Book Review Editors' Choice
New York Times Book Review Paperback RowOne of NPR's "Best Books of 2015"One of Buzzfeed's "The 24 Best Fiction Books of 2015"
One of Bustle's "2015's 25 Best Books, Fiction Edition"
Included on the Los Angeles Times's "Holiday Books Roundup"One of the Wall Street Journal's "15 Books to Read This Fall
"
One of Buzzfeed's "19 New Books You Need to Read This Fall
"
One of Bustle's "Best Books of September 2015"A Shelf Awareness "Best Book of 2015"One of the Sun Herald's "Ten noteworthy fiction and nonfiction titles on the way"One of Gawker's "9 Must-Reads" for FallOne of Publishers Lunch's "Favorite Books of 2015, From the News Editor"One of Buzzfeed UK's "27 Brilliant Books You Must Read This Winter"
"Under the Udala Trees
is a gripping story of love, faith, and turmoil in post–civil war Nigeria. When Ijeoma falls in love with another girl, she must come to terms with who she is in a society that refuses to accept her. A heartbreaking and moving account of Ijeoma's coming-of-age, as well as the story of a country during a time of great disturbance,
Under the Udala Trees
will affect you deeply."—Buzzfeed, "The 24 Best Fiction Books of 2015"
"Ijeoma is a young girl growing up in the difficult years following Nigeria's 1967 Biafran War. But coming of age in a war-torn country isn't her only challenge: She's also struggling to balance her taboo same-sex relationship with her mother's (and her society's) expectations. Chinelo Okparanta's writing is so immersive that even readers who have nothing in common with Ijeoma will feel like they've lived her experience. I couldn't put the book down and even pulled an all-nighter to finish it (then was a zombie at work the next day). Plan your schedule around this binge read!"—NPR, "Our Guide To 2015's Great Reads"
"At the height of the Biafran war, two Nigerian girls fall in love. The romance is brief, but for Ijeoma, the narrator of this début novel, it is the beginning of years of pain...The love story has hypnotic power...Details of disco-era Nigeria—jerricans filled with palm wine, a suitor in bell-bottom trousers—suggest Okparanta's skill and promise."—
The New Yorker
, "Briefly Noted"
"One of the most talked about debuts this fall."—
The Wall Street Journal
, "15 Books to Read This Fall"
"[Okparanta] is a natural storyteller, and her words carry a graceful, folkloric quality. Unlike myths, though, this young writer is doing the worthy work of openly revealing the suppression that Nigerian LGBTQ people continue to face daily.
Under the Udala Trees
is an important and timely read, imbued with both political ferocity and mythic beauty."
—
Bustle

"If you've ever wondered if love can conquer all, read Ijeoma's story, set in Nigeria—her falling in love with another girl is problematic, if not illegal. The result: a stunning coming-of-age debut."—Marie Claire, "What We're Reading"

"Okparanta [is] a graceful and precise writer."—New York Times Book Review

"Remarkable…Timely…Under the Udala Trees confirms [Okparanta's] talent, recalling the work of Chimamanda Ngozi Adichie in its powerful interweaving of the personal and the political. Okparanta's simple, direct prose is interspersed with the language of allegory and folklore and is scattered with biblical references. The dizzying scope of her storytelling keeps you gripped to the end."—Financial Times

"Gripping...Okparanta deftly negotiates a balance between a love story and a war story...Udala Trees serves as a sobering reminder that despite the legality of gay marriage in much of the western hemisphere and in Europe and the US, not too far away LGBT communities endure government-sanctioned terror and brutality. Okparanta exquisitely captures this disparity through an undaunted Ijeoma, who in pursuit of seeking a fulfilling, joyful life gains an insightful awareness about the relationship between hatred and persecution – one that extends well beyond Nigeria's borders."—The Guardian

"A real talent. [Under the Udala Trees is] the kind of book that should have come with a cold compress kit. It's sad and sensual and full of heat."—John Freeman, Electric Lit

"She had me at 'inspired by Nigeria's folktales…', but I stayed for a story that should be told far more often than it is: That of a same-sex couple (two girls, in this case) who fall in love very young and keep their bond through the ravages of war, cultural ignorance, time, and fate. Ijeoma and Amina are born into a 1960s world of conflict, and while the decades may change, the conflicts continue, especially for the couple themselves. As Ijeoma tells us, 'If I had not met Amina, who knows, maybe there would be no story to tell.' That's the simple but deep truth at the heart of every love story, especially a love story between two girls whose skin happens to be dark."—Literary Hub, "10 Overlooked Novels by Women of Color in 2015"

"Okparanta's narrative style is graceful and understated. It reflects Ijeoma's youth, and naivete, and it characterizes her thoughts and actions as she matures. In Ijeoma, Okaparanta has created a victim who survives two different wars— one waged against her cultural identity and one waged against her sexual orientation. Both are life-threatening, and both teach her how to live with scars."—The Rumpus

"Rich in complexity, compassionate in the treatment of political violence and flagrant oppression...Okparanta's prose feels natural, effortless. She renders the Nigerian landscape in lyrical bursts...and, as in her short stories, the rhythms slide seamlessly into intimate, conversational tones, equal parts folk tale and confessional. Throughout the book, many characters pound yams at the kitchen counter, echoing the constantly beating drums in Chinua Achebe's Things Fall Apart. The hearts of the people beat in unison, the symbol seems to say — as do the hearts of literary forefathers and descendants."—Star Tribune

"Chinelo Okparanta's stunning debut novel, Under The Udala Trees, is an epic story of love in the face of despair. Set in post-Civil War Nigeria, young Ijeoma comes of age in a country where following her heart may get her killed. Despite this reality, and the confounding religious principals she is raised with, Ijeoma's story is one of tremendous hope."—Lambda Literary

"My heart broke over and over while reading this splendid, tragic, garment-rending novel, as much about doomed love as it is about religion, shame, and wanting badly to fit into a culture that won't fit around you."—Sarah Weinman, Publishers Lunch, "Favorite Books of 2015, From the News Editor"
"Okparanta dexterously layers her story with historical events and Nigerian folktales to give a fuller picture of both the beauty and conflict of the country and its cultures...[she] manages to leave readers hopeful for a better future through love and courage." —Shelf Awareness, starred review
"I have never seen or read anything quite like
Under the Udala Trees
. Debut novelist Chinelo Okparanta (remember that name) blends traditional storytelling with a knockout plot."
—
Essence
"Courageous and heartbreaking and multifaceted."
—
Refinery 29
"A unique story told in a distinctive, lyrical voice."—Newsday
"[
Under the Udala Trees
], though firmly rooted in time and place, adds up to a universally salient and timely story of love against all odds."—The Rumpus
"[Chinelo Okparanta is] one of the rising stars of current African fiction...the emotional honesty that drives [
Under the Udala Trees
] is devastating."—
Christian Science Monitor
"Powerful and heartbreaking,
Under the Udala Trees
is a deeply moving commentary on identity, prejudice, and forbidden love."—Buzzfeed, "19 New Books You Need to Read This Fall"
"Elegant and serious prose...Ijeoma is a narrator who reveals herself as the story develops, strong-willed, witty and unforgettable...It's no small feat that a novel so weighed with heartbreak can end in a place of hope for the future."
—
Lambda Literary
"Chinelo Okparanta's debut novel eloquently advocates resisting the narratives handed down by previous generations, and the unadorned eroticism of Ijeoma's relationships with other women is a powerful rebuke to the religious doctrine that condemns them as an 'abomination'. Okparanta takes comfort in the seemingly endless capacity for people and the world to change, but her postscript is poignant: in 2014, Nigeria criminalised the very relationships she portrays with such thoughtfulness and integrity."—
Observer
(UK)
"[A] striking debut novel...The scenes of war are rich in devastating detail, and Ijeoma's relationships with her parents are nuanced and affecting. Amina and Ijeoma's first love is sweetly, heartbreakingly portrayed...[The] novel stands as a necessary and important testament to the fact that lesbian, gay, bisexual and transgender people continue to face life-threatening challenges."—Cleveland.com
"[Okparanta] is unafraid to write about everything. Her prose is clear and beautifully paced."—
The Recorder
, A Staff Pick
"During the Biafra war of the late '60s, Ijeoma's world is transformed forever when her father is killed and she is separated from her grief-stricken mother. Lost and alone, she meets another young girl, Amina, and the two become inseparable. Their relationship will shake Ijeoma's faith and test her resolve."—Buzzfeed UK, "27 Brilliant Books You Must Read This Winter"
"Give[s] voice to the often voiceless, offer[s] the outside world a window into their lives, and provide[s] a glimmer of hope for change."
—The Globe and Mail
"The journey to self-acceptance, and love – more difficult, the author reminds us, at other times, and in other places during our time, when same-sex love seems alluringly, misleadingly secure – is charted in minute steps in this wise-beyond-its-years novel...In an arresting understatement near the end of her novel, Okparanta writes, 'Some things can't easily be explained.' But they can be written about. Told. And you can tell someone. And really, you must."—Bay Area Reporter Online
"Powerful and extremely heartbreaking, this debut novel from Okaparanta explores themes of identity, forbidden love and prejudice and is sure to keep you gripped over the winter."—Pop Crunch
"Okparanta's novel is full of heart, and it's incredibly smart — 
Under the Udala Trees
 is a must-read this fall."—Hello Giggles
"
Under the Udala Trees
is written in a folkloric cadence, a music that echoes the many Nigerian war stories and songs that are woven into the book.
..
[It] is a novel as much about queer experience as it is about origin and incidence, a story of war, of purpose and fate and accident...Clearly in the tradition Chinua Achebe, Wole Soyinka, Edwidge Danticat, and others whom Okparanta calls in her acknowledgements 'my predecessors, my guiding lights,'
Under the Udala Trees
does something further. Here we have a narrative of war, of LGBTQ Nigerians, and of Nigerians of faith. Ijeoma's faith, her war-torn childhood, and her sexuality are not politized items, but deeply felt...But the power of
Under the Udala Trees
, a book that is both rich in history and magnificently felt, comes not from its panoramic displays of violence and terror, but from its nuanced refusals of grandiosity, its steady and elegant churn...
Under the Udala Trees
is unrelentingly a novel of hope...What is most surprising in this book, which, by description, is a story of LGBTQ rights and experience against the backdrop of Civil War, is that it is not a work of agitation. But this may be Okparanta's sly shattering, a hopeful fracturing that allows for change."—Literary Hub
"[
Under the Udala Trees
] speaks of the emotional and spiritual fertility that comes only when you are true to yourself...Stark, evocative prose...To the eyes of much of Nigeria, same-sex love is unnatural, to Okparanta unnatural love is the one that doesn't set you free to be fully yourself."—
Business Day
UK  
"Okparanta is masterful at articulating the pressures living through endless violence has on each of her characters' psyches...Here is writing rich in the beautiful intimacies of people who love each other—and wise about the importance of holding onto those precious connections in a world that is, more often than not, dangerous and cold. Written with courage and compassion, this debut novel by Okparanta stunningly captures a young girl's coming of age against the backdrop of a nation at war. "—
Kirkus
, starred review
"[A] deeply affecting debut novel...This is a remarkable portrait of a young woman's coming-of-age in a society where rigid interpretations of the Bible label same-sex relationships as an 'abomination,' and where violence is all too often part of the 'solution.' The fact that Nigeria criminalized same-sex marriages in 2014 makes Okparanta's tale that much more sobering and urgent. It is especially gratifying that one of the defining tag lines of the feminist movement, 'a woman without a man,' just might be co-opted here in another time and place."—
Booklist
"This absorbing story parallels the ongoing struggle for equality in Nigeria and is a powerful contribution to LGBT and African literature. Readers will finish the book hoping that every however-flawed character will find his or her own version of happiness."—
Library Journal
"Exceeding the extraordinary promise of
Happiness Like Water
, her stunning story collection, Chinelo Okparanta has written a remarkable and exquisite first novel about wars--both external and internal--endurance, survival, and love. A coming of age story that demands not just to be not just read, but felt,
Under the Udala Trees
, wraps us in the spell of an exceptionally talented writer and storyteller." – Edwidge Danticat, author of
Claire of the Sea Light
and many others
 "Chinelo Okparanta is major new voice not only because of her mesmerizing storytelling, but for her bravery and originality. She is a truth teller and soothsayer. In this debut novel, she brings us two unforgettable heroines, exposes the past-- with a lens both panoramic and kaleidoscopic-- and predicts a future heavy with struggle yet glowing with hope.
Under the Udala Trees
is breathtaking, rich with history and heart."– Tayari Jones, author of
Silver Sparrow
and others
"
Under the Udala Trees
is my favorite debut novel of the year -- gorgeous, moving, and entirely hopeful. I wept through the final pages of this beautifully written, extremely necessary book."– Jami Attenberg, author of
Saint Mazie, The Middlesteins
, and others
"
Under the Udala Tree
s is an evocative, fiercely told story about a woman's life, about family and love, and about becoming who you are meant to be. Chinelo Okparanta is an incendiary, essential voice."– Justin Torres, author of
We the Animals
"Boldly unadorned and utterly heartbreaking—Okparanta dares to tell a story that the world desperately needs to hear. Almost fable-like in its simplicity,
Under the Udala Trees
interrogates constructions of womanhood, of nationhood, and of sexuality. In these elegant folds of restrained prose lies a searing condemnation: of violence, religion and patriarchy in modern day Nigeria. Raw, emotionally intelligent and unflinchingly honest,
Under the Udala Trees
is a triumph." – Taiye Selasi, author of
Ghana Must Go
"
Under the Udala Trees
has all the ingredients of a great novel: set against the backdrop of war, it tells a story of loss, forbidden love, and one woman's fight against tradition on her journey to becoming who she really is. An African bildungsroman, its direct and folkloric prose captures the spirit and mood of its time and place. This is a brave and timely achievement." – Helon Habila, author of
Measuring Time
"Chinelo Okparanta tells a unique and devastatingly hopeful story about the paradox of love: Even in the midst of war, and in a world dominated by violence and prejudice, still, love transcends." – Mia Couto, author of
Sleepwalking Land
and others  
"With this novel, Chinelo Okparanta has firmly placed her name amongst the ranks of some of our most talented and unflinching writers. Using words with both precision and sensitivity, Okparanta tells a tale of conflict and compromise, of love and power, and of family - those we are born into, and those we make for ourselves. A stunning book. Unforgettable."–Maaza Mengiste, author of 
Beneath the Lion's Gaze
"A searing, yet delicately nuanced, story of an age of innocence first shattered by the vulgarity of war and its aftermath, and then by forbidden desire and religious intolerance.
Under the Udala Trees
is narrated in lyrical and lucid prose, in a wise and compassionate voice." – Zakes Mda, author of
The Heart of Redness
and others
Coverage from NPR