Say Say Say: A novel (Hardcover)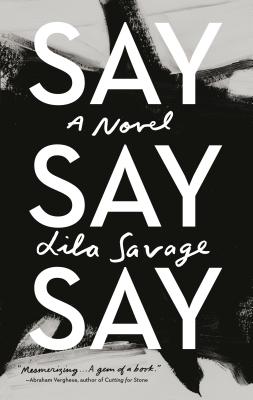 $24.00
Email orders@greenlightbookstore.com for information about this item.
Staff Reviews
---
"Lila Savage drew on her decade of experience as a caregiver for her fantastic debut novel Say Say Say. This is a warm and empathetic book with a well-drawn interiority for its millennial caregiver protagonist Ella. It's a procedural but for emotional labor, the kind of book where the decision whether or not to read the newspaper at work can be gripping and relatable.
— Matt
July 2019 Indie Next List
---
"Say Say Say is a small and subtle debut novel that packs an emotional wallop. Lila Savage's writing is so beautiful and vulnerable it's impossible to put down. This is the kind of novel that shines with such honestly and compassion you feel the need re-evaluate your life right along the main character, Ella. I eagerly await reading anything else Savage writes."
— Katerina Argyres, Bookshop West Portal, San Francisco, CA
Description
---
One of the The Wall Street Journal's 10 Best Fiction Books of 2019 

"A gem of a book . . . lyrical, tender, and profoundly insightful."--Abraham Verghese, author of Cutting for Stone

A beautiful, bracingly honest debut novel about the triangle formed between a young woman and the couple whose life she enters one transformative year: a story about love and compassion, the fluidity of desire, and the myriad ways of devotion.

Ella is nearing thirty, and not yet living the life she imagined. Her artistic ambitions as a student in Minnesota have given way to an unintended career in caregiving. One spring, Bryn--a retired carpenter--hires her to help him care for Jill, his wife of many years. A car accident caused a brain injury that has left Jill verbally diminished; she moves about the house like a ghost of her former self, often able to utter, like an incantation, only the words that comprise this novel's title.

As Ella is drawn ever deeper into the couple's household, her presence unwanted but wholly necessary, she is profoundly moved by the tenderness Bryn shows toward the wife he still fiercely loves. Ella is startled by the yearning this awakens in her, one that complicates her feelings for her girlfriend, Alix, and causes her to look at relationships of all kinds--between partners, between employer and employee, and above all between men and women--in new ways.

Tightly woven, humane and insightful, tracing unflinchingly the most intimate reaches of a young woman's heart and mind, Say Say Say is a riveting story about what it means to love, in a world where time is always running out.
About the Author
---
LILA SAVAGE is originally from Minneapolis. Prior to writing fiction, she spent nearly a decade working as a caregiver. She lives in San Francisco.
Praise For…
---
"Quietly wonderful . . . a rare novel.  Ella [is] an unforgettable main character. Ms. Savage stages an inquiry into the conundrum of goodness in an age that does so little to reward it, yet needs it desperately. Where, she wonders, do you draw a line between selflessness and servility? The questions deepen in profundity and emotional power . . . Say Say Say will likely make you cry, but in [this] novel such responses feel clean and ennobling, free from manipulation. It is a book written for the better angels of our nature. 'Wasn't there beauty in the practice of love and the roll and sweep of it?' Ella thinks. Yes yes yes." —Sam Sacks, The Wall Street Journal

"Riveting, subversive . . . Familial tensions feed Ella's richly articulate consciousness [in this] meditation on work, loss, intimacy, and desire." —Ottessa Moshfegh, GQ

"Vivid; quietly radical—a wise, understated novel exploring the thoughts and feelings of a young carer as she steps into the crucible of other people's suffering. The work is 'pink collar'; the labor emotional and well as physical. Say Say Say is an intensely serious and careful book, which grapples with an unfashionable subject: the drive to be a good person, while wittily weighing human fallibility. The novel is particularly interesting about sexual politics and the romantic self: as a woke, young bisexual woman, Ella knows the effects of living in a patriarchy, but doesn't know how to circumvent the damage. In the novel's open-eyed, open-hearted curiosity, it illuminates both the intimate dramas usually hidden behind closed doors, and the shifting mysteries of personality and relationship." —Justine Jordan, The Guardian

"Lyrical, deeply felt but unsentimental . . . Say Say Say explores the charged dynamic between a paid companion and the couple she serves--a knotty web of emotion and obligation. Ella finds herself at the apex of a triangle of compassion and confusion. Savage's insight comes through on every page in incisive and beautiful language . . . the narration is intensely reflective and psychologically revelatory. As the assignment draws Ella into Bryn and Jill's orbit, she has to revise her own notions about duty and love. And in this deceptively simple book, the reader, too, receives an honest and empathetic opportunity to consider loneliness and the people whose labor gets bought to alleviate it." —Kathleen Rooney, Minneapolis Star Tribune
 
"Brisk, intimate—traces the complicated interior life of a young woman who works as a caregiver."
—New York Times Book Review, "New and Noteworthy"
 
"Poetic, elegant. . . Lila Savage's novel Say Say Say transport[s] you—and it teaches several valuable lessons: How to be present with grace and dignity. How not to look away. How life goes on. It begins when Ella, a Minnesota-artist-turned caregiver in her 20s is hired by a retired carpenter to take care of his wife, Jill, who suffered a head injury. Ella is well trained in the awkward two-step of gently inserting herself into a family at its most difficult time. Savage follows the opposite arcs of these two women with such kindness (that's the only word for it), even the most difficult moments of the story feel buffered by grace." —Elisabeth Egan, San Francisco Chronicle 

"Poignant, moving…What distinguishes Say Say Say is the clear-eyed, straight-faced approach Lila Savage takes to material that could be overcooked, mawkish or misdirected… Say Say Say is the antidote to the arch and ironic in literature, to books that hide their emotion behind layers of cynicism. It is not escapism—the place it takes us to is our own collective future—but its humane journey into other lives provides a consolation of its own." —John Self, The Times (London)

"A visceral story with a philosophical heart: Savage writes from an unusual perspective with clarity and intelligence, giving this novel about a young care worker and the two people she becomes involved with an astute and questioning voice. Ella cares for 60-year-old Jill whilst developing a friendship with Jill's husband Bryn, once a carpenter but who now labours under years of care and solitude. In Ella's daily tasks are brutal revulsions, and tender ministrations of love. Bryn and Ella's relationship examines not only ageing and desire, but loneliness, and all the ways in which we try to alleviate it, through sex, companionship, religion." —Ruth McKee, Irish Times

"A bright spot in the maelstrom: a book called Say Say Say. It's a smooth and assured portrait of a character's interior world, as well as a meditation on our assumptions about care work, and heterosexual relationships." —Emily Gould, author of Friendship

"I was hungry for this novel before I knew it existed. Here is a book that does not chase hot-button issues of our day, yet feels timely and crucial—a book not held hostage to plot, but whose drama involves the highest stakes. The moment Ella steps into [Jill and Bryn's] house, she is swept into a world of extraordinary intimacies. Say Say Say gives us a close-up look at the work of caregiving, and how physically caring for another human being can be simultaneously monotonous and momentous. In the process, it also explores societal stratification—particularly of gender and class—but resists easy commentary. Instead, the novel is full of complexity, and page after page of piercing insights. . . A gorgeous book." —Chia-Chia Lin, Electric Literature
 
"A breakthrough in women's fiction. . . What Lila Savage has created is extremely rare in contemporary fiction: a millennial woman narrator whose mind is not broken. Women with psychologies bent out of shape are the rage right now, delivering nihilism through pursed lips. In contrast, Ella is a young woman, knocking on thirty, who spends months taking care of Jill—a task that could not be more unglamorous, self-effacing, and heartfelt. Savage weaves a second story, about Ella's complicated, quasi-romantic relationship with Jill's husband. Savage takes ordinary human suffering as her subject, told by a pretty woman who does not hate herself. She gazes intently at Ella's labor, both emotional and literal; slowly, we learn how this dense, difficult work has illuminated corners of Ella's soul—the place where love touches hate, where language has broken down and only feeling remains. Savage creates new configurations of women's self-love, based on human connection." —Jo Livingstone, The New Republic
 
"Inspiring, truly memorable—beautifully drawn; intellectually and emotionally gripping. . . Savage brings insight. One of the many wonders of this novel is her anatomy of how caregivers respond to the issues they face and how they cope. Incidents form a kind of river of episodes and commentary that carries readers forward on a flow of vivid and entrancing prose.. . . Say Say Say is perceptive in its commentary, and edifying in its humanity." —Claire Hopley, The Washington Times

"An emotional masterpiece . . . Bryn, a retired carpenter, hires Ella, an artist in her late 20s, to take care of his wife. In their house, Ella witnesses a level of love and passion she's been bereft of in her day-to-day life. Say Say Say is a heartbreaking book [told in] bracingly honest, unflinching prose . . . it meditates on empathy and finding human connection even in the worst of circumstances." --Liz Moody, Mind Body Green

"A gem of a book. A lyrical, tender, and profoundly insightful dive into the act of caregiving and its highly charged nexus of love, duty, and longing. Lila Savage is an enormous talent; Say Say Say is a mesmerizing tour de force." —Abraham Verghese, author of Cutting for Stone

"Say Say Say is something quite special, unlike anything else I've ever read. Lila Savage's voice is distinctive, perhaps the timbre of a new generation—its deadpan; its fascination with randomness and accident; its lack of interest in making rounded meaning. I love the way Ella's intense thoughts and feelings on one page are contradicted by different intense thoughts and feelings (and certainties) a few pages later. Which is like life. Yet there's no show of anomie or alienation, no effort to shock (even though the material is shocking). Lila Savage's imagination is warm and generous. Her novel is haunting, original, intelligent." —Tessa Hadley, author of The Past

"Luminous . . . A startling, tender debut. [As] Ella, a young caregiver, finds herself gradually immersed in Bryn and Jill's lives, her role as Jill's companion evolves into something more intimate and complex . . . What Ella witnesses between [the couple] challenges her ideas of love, spirituality, and empathy. Quietly forceful, Say Say Say will stay with readers long after the final page." —Publishers Weekly [starred, boxed review]

"Caregivers occupy a unique role during life's most fraught times. Despite being strangers, they quickly become central within a family, working to temper a patient's illness and debility while affirming her dignity. Lila Savage, through the experience of the caregiver Ella, vividly illuminates what sustains us when facing suffering and loss: relationships based on trust, honesty, humility and, most of all, the tenacity of love. Say Say Say stirs the reader's mind and heart, and resonates long after the book is closed." —Jerome Groopman, MD, author The Anatomy of Hope 

"I cannot think when I Iast read a novel which moved me so deeply. Savage is almost supernaturally alert to the little gestures and transactions we all make as we negotiate our place in the world, and our relations to each other. Her approach is both unflinching and extraordinarily tender, so that I came away feeling I had undergone an examination which was somehow both painful and kind. I loved it, and it has remained with me in a way few other books have ever done." —Sarah Perry, author of The Essex Serpent

"Powerful, thought-provoking—an impressive and affecting debut that had me reflecting on compassion, gender roles—and what it means to love." —Claire Fuller, author of Swimming Lessons

"Brilliant, compelling—an extraordinarily good book, one that allows you deep into someone else's world. I loved that it's about a relationship that wasn't a partner or lover relationship, but one that is nevertheless very intimate. Say Say Say is a joy to read." —Philippa Perry, author of How to Stay Sane