Phase Six: A novel (Hardcover)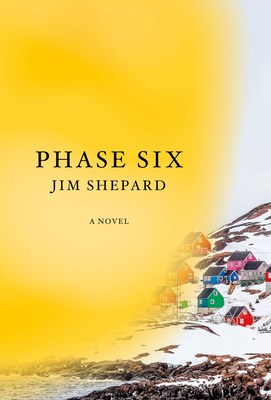 $26.95
Email orders@greenlightbookstore.com for information about this item.
May 2021 First Editions Club selection
Description
---
This "novel of contagion and collapse is also the story of love's unlikely survival in the most hostile conditions" (Karen Russell, bestselling author of Swamplandia!)—from the National Book Award-nominated author of The Book of Aron.

In a tiny settlement on the west coast of Greenland, 11-year-old Aleq and his best friend, frequent trespassers at a mining site exposed to mountains of long-buried and thawing permafrost, carry what they pick up back into their village, and from there Shepard's harrowing and deeply moving story follows Aleq, one of the few survivors of the initial outbreak, through his identification and radical isolation as the likely index patient.
 
While he shoulders both a crushing guilt for what he may have done and the hopes of a world looking for answers, we also meet two Epidemic Intelligence Service investigators dispatched from the CDC--Jeannine, an epidemiologist and daughter of Algerian immigrants, and Danice, an M.D. and lab wonk. As they attempt to head off the cataclysm, Jeannine--moving from the Greeland hospital overwhelmed with the first patients to a Level 4 high-security facility in the Rocky Mountains--does what she can to sustain Aleq.
 
Both a chamber piece of multiple intimate perspectives and a more omniscient glimpse into the megastructures (political, cultural, and biological) that inform such a disaster, the novel reminds us of the crucial bonds that form in the midst of catastrophe, as a child and several hypereducated adults learn what it means to provide adequate support for those they love. In the process, they celebrate the precious worlds they might lose, and help to shape others that may survive.
About the Author
---
JIM SHEPARD is the author of seven previous novels, most recently The Book of Aron (winner of the 2016 PEN New England Award, the Sophie Brody medal for achievement in Jewish literature, the Ribalow Prize for Jewish literature, the Clark Fiction Prize, and a finalist for the National Jewish Book Award) and five story collections, including Like You'd Understand, Anyway, which was a finalist for the National Book Award and won The Story Prize. His short fiction has appeared in, among other magazines, The New Yorker, Harper's Magazine, McSweeney's, The Paris Review, The Atlantic, Esquire, Tin House, Granta, Zoetrope, Electric Literature, and Vice, and has often been selected for The Best American Short Stories and The PEN/O. Henry Prize Stories. He lives in Williamstown, Massachusetts, with his wife, three children, and three beagles, and he teaches at Williams College.
Praise For…
---
ONE OF THE A.V. CLUB'S BEST BOOKS OF THE YEAR

"For the foreseeable future, we remain in the era of hot takes about Covid-19 and our governments' responses to it. And yet, somehow, working to a deeper rhythm, Shepard has managed to make art out of our crisis with a thought-provoking work of fiction that sustains our emotions . . . Vivid and carefully researched, it's clearly the product of long and conscientious work. It lands uncannily now, since at some point during its gestation, real life caught up with the book's speculative world . . . Phase Six works across a big canvas: from vividly drawn Greenland to teeming I.C.U.s in the United States, to the high-tech detective work involved in tracking down the pathogen. Shepard writes persuasively about the disparate places and lives connected by the disaster [and] shows his gift for making art from the lives of people living in extremis. He does this with a patient, naturalistic eye for detail and a style in which exactitude and plainness bring bracing poetry . . . What makes the book engaging and ultimately uplifting is the emotionally complex lives of its central characters." —Marcel Theroux, The New York Times Book Review

"Stunning . . . A fast-paced, suspenseful story about what happens when a different microbe is unleashed on the world . . . [Shepard] manages to keep his human protagonists and their complicated, contradictory emotions front and center . . . While the novel is thrilling, it's less of a thriller than a love story—an ode to family, friends, lovers, hard work and the beautiful, heartbreaking innocence of childhood." —Ann Levin, AP

"[Shepard] nails the scientific details, but also the cultural ones . . . [I] devoured the first 100 pages before I knew what was happening. If I'd been in a bookstore, I'd have sat on the floor." —Dwight Garner, The New York Times

"Paced like a prophetic thriller . . . Shepard has frequently employed research as a foundation for his literary creations, but never before in such pulse-racing fashion . . . Readers will find themselves in territory that feels eerily familiar—panic, politics, uncertainty, fear, a resistance to quarantine, an overload of media noise—as Shepard's command of tone never lets the tension ease . . . All the narrative propulsion of escapist fiction without the escape." —Kirkus Reviews (starred review)

"Riveting . . . Shepard writes with drilling authority about Greenland, epidemiology, the challenges women doctors and scientists face, and the confounding complexities of the microbial world. With word-by-word artistry, fluid compassion, and deep insights, Shepard emphatically dramatizes epic failures, self-sacrificing dedication, desolation, and love." —Donna Seaman, Booklist (starred review)

"If you've been waiting for the great novel of the COVID-19 era, it's in your hands. I read Phase Six with a galloping heart. With heroic humor and a poet's ear and eye for what makes humanity worth saving, Shepard's polyphonic novel of contagion and collapse is also the story of love's unlikely survival in the most hostile conditions." —Karen Russell, author of Swamplandia!
 
"Jim Shepard not only writes at the cutting edge of literature, but he IS the cutting edge of literature. He excavates the twin crises of our era—climate change and pathogens—and builds a story that is as poignant as it is true. The writing is stunning. The research is stunning. The after-effect is stunning. Phase Six is a great book for our times: the past, the present and those that—we hope—are yet to come." —Colum McCann, author of Apeirogon
 
"No amount of prior admiration for Jim Shepard's fiction prepared me for the magnificent Phase Six—a book at once so wise and so funny, so bleak and so tender. With astonishing virtuosity, he conveys huge amounts of information in a way that is not only lucid but utterly gripping, and he creates characters who make me want to rush into the novel to save them from the virus and themselves. What a triumph!" —Margot Livesey, author of The Boy in the Field