Vanity Fair's Women on Women (Hardcover)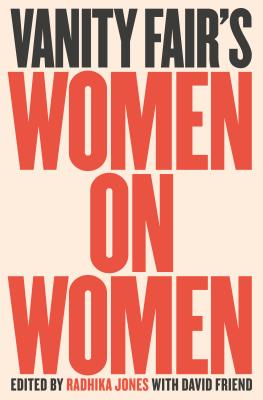 $30.00
Email orders@greenlightbookstore.com for information about this item.
Description
---
Looking back at the last thirty-five years of Vanity Fair stories on women, by women, with an introduction by the magazine's editor in chief, Radhika Jones

Gail Sheehy on Hillary Clinton. Ingrid Sischy on Nicole Kidman. Jacqueline Woodson on Lena Waithe. Leslie Bennetts on Michelle Obama. And two Maureens (Orth and Dowd) on two Tinas (Turner and Fey). Vanity Fair's Women on Women features a selection of the best profiles, essays, and columns on female subjects written by female contributors to the magazine over the past thirty-five years. 

From the viewpoint of the female gaze come penetrating profiles on everyone from Gloria Steinem to Princess Diana to Whoopi Goldberg to essays on workplace sexual harassment (by Bethany McLean) to a post–#MeToo reassessment of the Clinton scandal (by Monica Lewinsky). Many of these pieces constitute the first draft of a larger cultural narrative. They tell a singular story about female icons and identity over the last four decades—and about the magazine as it has evolved under the editorial direction of Tina Brown, Graydon Carter, and now Radhika Jones, who has written a compelling introduction. 

When Vanity Fair's inaugural editor, Frank Crowninshield, took the helm of the magazine in 1914, his mission statement declared, "We hereby announce ourselves as determined and bigoted feminists." Under Jones's leadership, Vanity Fair continues the publication's proud tradition of highlighting women's voices—and all the many ways they define our culture.
About the Author
---
Radhika Jones is the editor in chief of Vanity Fair. She has served as editorial director of the books department at The New York Times, deputy managing editor of Time, and managing editor at The Paris Review. She holds a PhD in English and comparative literature from Columbia University.

David Friend, a writer, editor, curator, and formerly Life magazine's director of photography, is Vanity Fair's editor of creative development. He is the author of The Naughty Nineties and Watching the World Change, and an Emmy-winning documentary producer.
Praise For…
---
"A veritable candy box of glamour and personality, [Vanity Fair's Women on Women] is a celebration of women's voices." —Vogue

"A dazzling collection." —NBC News
 
"Amazing." —Women.com

"Vanity Fair magazine's latest essay collection, Women on Women, takes readers through the decades of history. While it certainly contains modern marvels like Tina Fey, Lena Waithe, and Nicole Kidman, equally appealing are essays on bygone legends including Emily Post and Frida Kahlo, written entirely by women. If, like many, your education was lacking in profound female figures, this tome will begin to fill in those gaps." —BUST

"Don't miss this deep and dishy collection." —BookPage

"An eminently enjoyable collection. . . . There are plenty of 'I didn't know that' moments." —Library Journal, starred review

"This dazzling collection features 28 profiles of famous women, including politicians, artists, musicians, and actresses, from the last 36 years of Vanity Fair. The profiles, each of which was written by a woman, offer snapshots of their subjects at key points in time, often with remarkable prescience. . . . This is an ideal collection for those who enjoy celebrity profiles with a bit more substance." —Publishers Weekly

"A vigorous selection of essays spanning the magazine's modern era that underscore the combative resilience of notable accomplished women who never gave in to what was expected of them…poignant tales of how one rises and falls and then rises again…Besides making for absorbing reading, these essays pack a feminist wallop."—Kirkus