Overthrow: A Novel (Paperback)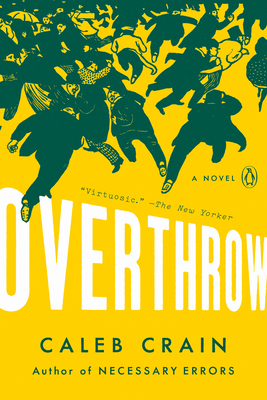 $17.00
Email orders@greenlightbookstore.com for information about this item.
Description
---
A novel about the fate of candor, goodwill, and the utopian spirit in a world where technology and surveillance are weaponizing human relationships

One autumn night, as a grad student named Matthew is walking home from the subway, a handsome skateboarder catches his eye. Leif, a poet as well as a skater, invites Matthew to take part in an experiment with tarot cards. It's easier to know what's in other people's minds than most people realize, Leif and his friends claim. Do they believe in telepathy? Can they actually do it? Instead of writing his dissertation, Matthew soon finds himself falling for Leif and entangled with his friends, who are as idealistic as the Occupy encampment they like to visit.

When the group runs afoul of a government contractor, an avalanche of news coverage, internet outrage, and legal repercussions overwhelms them. Elspeth and Raleigh, two of Leif's oldest friends, will see their relationship tested by the strain of criminal charges. Chris and Julia, who drifted into the group more recently, will have their loyalties questioned. Diana, a hardheaded sociologist, will need to find a way to stand with her friends without compromising her skepticism. And Matthew, entranced by the man at the center of it all, will have to decide what he owes Leif and how much he's willing to give. All six will be forced to reckon with the catch-22s of transparency and the insidious natures of power and privilege.

Overthrow is about the aftermath of idealism--about what happens after new technologies have begun to change the boundaries that we imagine around ourselves. Caleb Crain has captured with astonishing sensitivity, acuity, and grace the unease and ambiguity that threaten our contemporary lives, and has written a beautiful novel about the redemptive possibilities of love and friendship.
About the Author
---
Caleb Crain is the author of the novel Necessary Errors and the critical work American Sympathy. He has written for The New Yorker, The Atlantic, Harper's, the Paris Review, The New York Review of Books, n+1, and The New York Times Book Review. He was born in Texas, grew up in Massachusetts, and now lives in Brooklyn, New York.
Praise For…
---
Praise for Overthrow:

"Crain skillfully evokes a recent past when the unprecedented access fostered by the internet still felt like a promise of liberation. . . . Overthrow is a nineteenth-century social novel for the twenty-first-century surveillance state. . . . Tender, psychologically precise prose. . . . Crain's novel reminds us that real sympathetic awareness . . . remains our best defense against its weaponized digital double."  
—Julian Lucas, The New York Times Book Review

"Beautifully rendered. . . . The novel is virtuosic in mining beauty and pathos from the texture of daily life. . . . Crain's sentences themselves, with their jewelled words and carefully curated perceptions, constitute a kind of cri de coeur."
—Garth Greenwell, The New Yorker

"Crain's Brooklynites recall the young revolutionaries of Albert Camus's Les Justes, Doris Lessing's The Good Terrorist, and also The Princess Casamassima. . . . Overthrow . . .  reminded me less of Necessary Errors, and less still of James, than of another recent book about doomed, idealistic youth: Never Let Me Go."
—Jason Farago, The New York Review of Books

"Playfully fantastical. . . . Overthrow does what a second novel should do: It risks something. . . . Legitimately great psychological fiction. . . . It's also a great gay novel. . . . In Overthrow, Crain realistically and romantically does justice to our most real and romantic of powers."
—Anthony Domestico, The Boston Globe

"[Overthrow] follows a group of bright young political idealists. . . . A love story. . . . Crain opts to tell this story at a more intimate level, with a degree of emotional acuity that recalls Henry James. . . . Overthrow captures the depth of disconnection that the online world creates, and the dread and depression it sows. . . . Swapping human connection for an algorithm of convenience is a lousy bargain, Crain argues. His novel is a sensitive, provocative plea to recognize what gets lost in the exchange." 
—Mark Athitakis, The Washington Post

"Perceptive. . . . A carefully unsentimental book. . . . Full of sentences of great sensitivity and precision. . . . Overthrow finds redemption at the place where 'telepathy' shades into empathy."
—Annalisa Quinn, NPR.org
 
"Overthrow follows a ground of young progressives who are determined to turn the tables on power through the use of telepathy. . . . While the machinations of resistance and control form the plot, the real theme of Overthrow is loyalty: Who do you protect? And how much of yourself will you give to ensure their safety? As with Necessary Errors, the sentences in Overthrow sting."
—Christopher Bollen, Interview magazine

"Crain's prose sparkles most when it returns to scenes of private interiority, of personal anguish and emotional attunement. Even as the book conjures the dystopian potential of twenty-first-century techno-capitalism, its best scenes remain its more textured intimate moments. If the state seeks to conquer by force, then the kind of revolution Overthrow proposes—however cautiously—is one that rests in forms of unspoken, telepathic consent. It's the kind of affective connection we might find, for instance, in a novel."
—Jane Hu, Bookforum

"It would be easy to miss the core seriousness of Crain's novel—internet 'security' and its warriors—in the brilliant, relentless comedy of its execution. From its very title, which I hope was Crain's, Overthrow is comedy of the highest order. . . . Crain is a true craftsman, but the writing mostly doesn't care what you think of it and shows off shamelessly."
—Tim Pfaff, The Bay Area Reporter

"In a time when it's said that social media algorithms can predict your decisions more accurately than your intimates, Caleb Crain might provide the sort of narrative we need."
—Lincoln Michel, Book Post

"A romance and a story of relationships set against the backdrop of the Occupy movement, exploring, power, idealism, technology, and the way we forge connections in the dystopian world we've created. . . . Sign me up."
—Lydia Kiesling, The Millions "Most Anticipated: The Great Second-Half of 2019 Book Preview"

"Caleb Crain's fiction is a complete pleasure: emotionally generous, stylish, and expansive, laced with the sly, bright humor of quiet observation. Through the prism of the 'Working Group for the Refinement of the Perception of Feelings'—an idealistic collective of young friends, with shifting personal connections, perspectives, and commitments—Overthrow illuminates contemporary crises of politics and technology, helping make sense of pervasive surveillance and political optimism by turning the abstract intimate. A sturdy reminder of all the ways literature, too, can serve as a form of political optimism."
—Anna Wiener, author of Uncanny Valley

"This astounding, moving novel brought back memories of Occupy Wall Street while transporting me to a parallel universe, one where emotional empathy and technological surveillance become mysteriously entangled. A small group of friends, who aim to cultivate a heightened state of sensitivity, must navigate a perilous legal system and face down sinister corporate interests, without betraying one another or their beliefs. Both poetic and gripping, realistic and other-worldly, Overthow engages heady themes—the limits of idealism, the nature of state power—in an incredibly gripping narrative that never loses heart or hope."
—Astra Taylor, director of What Is Democracy? and Examined Life

"What a brilliant, terrifying, and entertaining book Caleb Crain has written! It is part subtle novel of contemporary manners, part intellectual legal thriller, and part prophetic dystopia: Henry James meets Bonfire of the Vanities against the backdrop of the Occupy movement and the growing surveillance power of Leviathan. It's a novel to be read now and re-read years from now—a tour de force."
—Keith Gessen, author of A Terrible Country

"No one can deny Henry James is still a significant force in fiction. . . . Caleb Crain's Jamesian story of New York in late 2011, the autumn of Occupy and its aftermath, is among the most cunning, most subtle examples I know. . . . Frequently witty. . . . Crain [has] the Master's touch."
—Nicholas Dames, Public Books

"Crain's novel, like Jonathan Lethem's Dissident Gardens, is a fascinating depiction of the Occupy period, a moment that popularized a stronger critique of capitalism and led to even more overt forms of surveillance. As the characters' friendships strain, Crain offers many wonderful turns of phrase that evocatively demonstrate how surveillance affects how all of us think, relate, and communicate. Crain also pertinently explores the legal and moral challenges of the digital age."
—Booklist


Praise for Caleb Crain's Necessary Errors:

ONE OF THE YEAR'S BEST BOOKS: The Wall Street Journal, Slate, Kansas City Star, Flavorwire, Policy Mic, Buzzfeed
 
A NEW YORK TIMES EDITORS' CHOICE
 
"Necessary Errors is a very good novel, an enviably good one, and to read it is to relive all the anxieties and illusions and grand projects of one's own youth."
—James Wood, The New Yorker
 
"Ferociously observed. . . . We're not through with narratives about the Getting of Wisdom, Americans Abroad, Coming of Age, Gay Coming of Age, New Lost Generations. Among such works, a new narrative will be measured against Caleb Crain's fine book, which will endure as a powerful entry in the great fictional exploration of the meanings of liberation."
—Norman Rush, The New York Review of Books
 
"Remarkable. . . . Necessary Errors seems exceptional among recent American novels in how smartly it turns over the economic metaphors in so much American thinking."
—David Haglund, The New York Times

"Crain nicely captures the feel of two societies perched on the edge of becoming vastly more open—gay culture and the former Eastern Bloc—but where he really shines is in capturing the subtle, omnipresent disorientation of the expat experience."
—Kathryn Schulz, New York magazine

"Despite the novel's looming socio-political backdrop—the parting Iron Curtain and the Velvet Revolution—its story is mesmerizingly personal. . . . Like The Sun Also Rises, this book centers on the psychological events of each well-crafted character."
—Lauren Christensen, VanityFair.com

"Evocative. . . . Necessary Errors so completely recaptures the smells and scenes and political conversations and above all the feelings of 1990-1991 Czechoslovakia that I began to actively worry that Mr. Crain was inserting new memories into my brain."
—The Wall Street Journal
 
"Crain wonderfully evokes the novel's setting in a few deft strokes. He's a master of the thumbnail character sketch. . . . Line by line, the book is chock-full of masterly word choices and images. . . . On almost every page the reader is rewarded with gems. Necessary Errors heralds the fiction debut of a writer with intelligence and an engaging prose style."
—The New York Times Book Review
 
"A new model for contemporary fiction. . . . It recalls the dreamy pacing of Henry James or Elizabeth Bowen."
—Jane Hu, Slate
 
"Caleb Crain's debut novel is at times reminiscent of Jane Austen. . . .  [Necessary Errors] is a subtle and magnificent look at a kind of freedom that young, thinking Americans can't find by staying at home."
—Zeke Turner, Bookforum.com
 
"Crain's stately, wry, and generous first novel breaks the mold. . . . The adventures of American Jacob Putnam in Czechoslovakia right after the Iron Curtain's fall recall Henry James as much as they do Ben Lerner."
—The Millions