States of Delinquency: Race and Science in the Making of California's Juvenile Justice System (American Crossroads #35) (Paperback)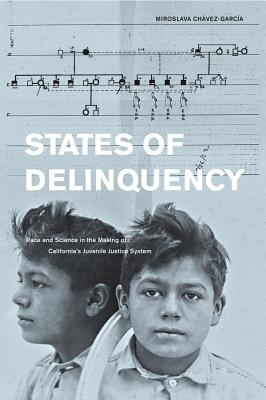 Click on "Ask A Bookseller" to contact us via email for more information about this title.
Description
---
This unique analysis of the rise of the juvenile justice system from the nineteenth to twentieth centuries uses one of the harshest states—California—as a case study for examining racism in the treatment of incarcerated young people of color. Using rich new untapped archives, States of Delinquency is the first book to explore the experiences of young Mexican Americans, African Americans, and ethnic Euro-Americans in California correctional facilities including Whittier State School for Boys and the Preston School of Industry. Miroslava Chávez-García examines the ideologies and practices used by state institutions as they began to replace families and communities in punishing youth, and explores the application of science and pseudo-scientific research in the disproportionate classification of youths of color as degenerate. She also shows how these boys and girls, and their families, resisted increasingly harsh treatment and various kinds of abuse, including sterilization.
About the Author
---
Miroslava Chávez-García is Associate Professor of Chicano/a Studies at the University of California, Davis. She is the author of Negotiating Conquest: Gender and Power in California, 1770s to 1880s.
Praise For…
---
"Masterful examination . . . A major contribution to carceral and reform histories."
— Journal of American History

"[States of Delinquency] is a tour de force of historical research. . . . A valuable resource for the student and the citizen who wants to understand the historical legacy leading to the ongoing pattern of state-sanctioned child maltreatment in the juvenile justice system."
— Criminal Law and Criminal Justice Books

"Indispensable reading. . . . An excellent piece of research that shows how the state can sometimes work in ways that are harmful to childrens' welfare."
— Journal of Youth Adolescence

"Recommended."
— CHOICE

"Timely and required reading for all interested in the history of California's criminal justice system."
— California History

"This book should be required reading for anyone interested in the historical roots of disproportionate minority confinement in the juvenile and criminal justice systems. It makes major contributions by demonstrating the centrality of the eugenics movement to the formative period of juvenile justice history in California; detailing the disproportionate incarceration and sterilization of non-white youth; and, as a result, exploring the extent to which a national reform wave in the mid-twentieth century was propelled by events in California."
— Journal of American Ethnic History

"States of Delinquency is on the cutting edge of work in the history of juvenile justice, and Chávez-García's study challenges historians to examine the intersection of science and race in other state systems, with other groups of young people."
— American Historical Review

"Chávez-García has produced a work of scholarship that pushes readers to historicize and question the disproportionate incarceration of Latino and African American boys and girls in the twenty-first century."
— Western Historical Quarterly

". . . An important and humane study about what happens to young people who are deemed unimportant and are inhumanely punished."
— Pacific Historical Review