A People's Guide to Los Angeles (A People's Guide Series) (Paperback)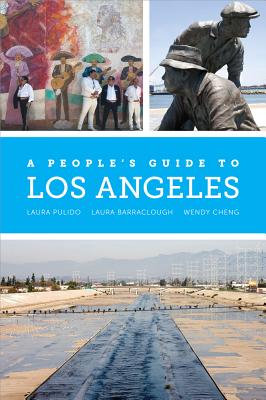 $24.95

Not In Store / Available To Order (allow for shipping time to bookstore or direct-to-home)
Description
---
A People's Guide to Los Angeles offers an assortment of eye-opening alternatives to L.A.'s usual tourist destinations. It documents 115 little-known sites in the City of Angels where struggles related to race, class, gender, and sexuality have occurred. They introduce us to people and events usually ignored by mainstream media and, in the process, create a fresh history of Los Angeles. Roughly dividing the city into six regions—North Los Angeles, the Eastside and San Gabriel Valley, South Los Angeles, Long Beach and the Harbor, the Westside, and the San Fernando Valley—this illuminating guide shows how power operates in the shaping of places, and how it remains embedded in the landscape.
About the Author
---
Laura Pulido is the Collins Chair and Professor in Indigenous, Race, and Ethnic Studies and Geography at the University of Oregon.  Among her books is Black, Brown, Yellow, and Left: Radical Activism in Los Angeles. Laura Barraclough is Professor of American Studies at Yale University and the author of Making the San Fernando Valley: Rural Landscapes, Urban Development, and White Privilege. Wendy Cheng is Associate Professor and Chair of American Studies at Scripps College.


 
Praise For…
---
"Imagine Howard Zinn, the late renegade professor who gave us 'A People's History of the United States,' kidnapping Huell Howser and rewriting your Auto Club TourBook. . . . But you don't have to agree with the authors' politics to be intrigued by their work. Even though I've been working on an L.A. guidebook myself for the last 18 months, this 'People's Guide' taught me plenty."
— Christopher Reynolds,
"F**k Rodeo Drive:
A People's Guide to Los Angeles
is an L.A. Guidebook for the 99 Percent. . . . Let the tour buses take the throngs to visit Marilyn Monroe's hand prints at Grauman's Chinese Theater or to press their noses up to the windows on Rodeo Drive and wander Beverly Hills like they're Julia Roberts. Despite what the entertainment industry would have you believe, the city of Los Angeles and its surrounding neighborhoods have a much richer, often conflicted history than just those landmarks—and
A People's Guide to Los Angeles...
would like to make sure you don't forget it."
— LA Weekly
"If Davis [Mike Davis's
City of Quartz
] and McWilliams [Carey McWilliams's
Southern California]
alerted visitors to the existence of Los Angeles's deep fissures and hidden history of conflict, they don't reveal where one can go to actually see evidence of it.
A Peoples Guide to Los Angeles
brilliantly fills this gap with listings of more than a hundred historic sites of struggle, as well as themed tours of the city from Latino, Native American, African American, and queer perspectives."
— Bookforum
"This is not your typical guidebook. There are few descriptions of LA's iconic sites nor the best places for celebrity spotting. It assumes the form of a guidebook but not the content. On the contrary
A People's Guide to Los Angeles
emphasizes the other Los Angeles, the neighborhoods in the city and county that are not on the typical visitor's radar; that is those places and people often metaphorically and literally left off the map. . . . An intriguing and important book of alternative tourism."
— Chicago Tribune
"High Gas Prices make staycations more inviting, so start planning with
A People's Guide to Los Angeles
. The focus here is on the people, places, struggles and triumphs that make our area unique."
— Pasadena Star-News
"A beautiful collection of short essays, maps, stories, photographs, directions and secret histories."
— OC Weekly
"[A] darkly enthralling read."
— Publishers Weekly
"A rare and refreshingly new take on the tourist guidebook. . . . The book offers a more balanced and accurate picture of Los Angeles's past and its regional diversity than other guides to the city. . . . An exhaustive resource that will inspire its audience to reimagine tourism, rethink the spatial organization of Los Angeles and other urban areas, and join in a conversation about historical imagination and the stories we choose to present in public history."
— Southern California Quarterly
"It should become a permanent feature on bookshelves and course syllabi across the region."
— Social & Cultural Geography
"An indispensable guide for those seeking to understand Los Angeles beyond its well-hyped glitz and glamour."
— Beyondchron
"This is not your usual roundup of traditional tourist sites in L.A. but, instead, a unique and vastly informative guide to places of interest and importance in the struggles of race, labor, gender, and the environment."
— Booklist
"
A People's Guide to Los Angeles
is not for the Beverly Hills, celebrity-gawking crowd, but for those whose idea of fun involves a glimpse of L.A.'s left-leaning history. The book is a blueprint to places where progressive groups fought battles along lines of color, gender and class."
— LA Downtown News
"The masterfully executed book subverts the typical Los Angeles guidebook. . . . It's an invaluable source of little known or forgotten but very necessary L.A. history."
— KCET.org
"A rich, full, and fascinating alternative tour of Los Angeles that is sure to hold something of interest for just about anyone who is curious about the subterranean history and hidden current life of the city . . . a groundbreaking and important project."
— Journal of San Diego History
"Offering an interesting alternative to the usual tourist guides,
A People's Guide to Los Angeles
is a socio-political look at the West Coast's occasionally explosive cultural melting pot that . . . illuminates a few corners that don't turn up in the usual tourist guides."
— Wanderlust
"We've found a great summer read that's giving us a new perspective on the city we love. It's got intrigue, action—and enough shocking stories for a miniseries. Plus, it's all true. . . . Its thoroughly researched, intelligent text is edifying no matter where you stand. And like any good guidebook, there are dining recommendations along the way."
— Purewow
"A People's Guide is much more than a guidebook, it is a unique and much-needed people's history of Los Angeles; an historical document to resist the erasures, and to capture stories, struggles (both historical and ongoing), successes and defeats, that may otherwise be lost or remain inaccessible to those not intimately familiar with and embedded in the region."
— Human Geography: A New Radical Journal
"Includes a wealth of bibliographical cross-references and aids. . . . Interrogates critical power relationships as the city and economy take shape over the centuries, and how this history remains embedded and mostly still visible in the ever-shifting landscape. If you live in L.A. or love the city, it's worth a place in your library."
— People's World