Downcast Eyes: The Denigration of Vision in Twentieth-Century French Thought (Paperback)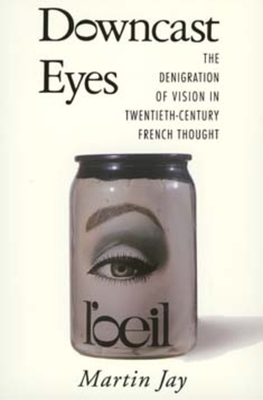 Click on "Ask A Bookseller" to contact us via email for more information about this title.
Description
---
Long considered "the noblest of the senses," vision has increasingly come under critical scrutiny by a wide range of thinkers who question its dominance in Western culture. These critics of vision, especially prominent in twentieth-century France, have challenged its allegedly superior capacity to provide access to the world. They have also criticized its supposed complicity with political and social oppression through the promulgation of spectacle and surveillance.

Martin Jay turns to this discourse surrounding vision and explores its often contradictory implications in the work of such influential figures as Jean-Paul Sartre, Maurice Merleau-Ponty, Michel Foucault, Jacques Lacan, Louis Althusser, Guy Debord, Luce Irigaray, Emmanuel Levinas, and Jacques Derrida. Jay begins with a discussion of the theory of vision from Plato to Descartes, then considers its role in the French Enlightenment before turning to its status in the culture of modernity. From consideration of French Impressionism to analysis of Georges Bataille and the Surrealists, Roland Barthes's writings on photography, and the film theory of Christian Metz, Jay provides lucid and fair-minded accounts of thinkers and ideas widely known for their difficulty.

His book examines the myriad links between the interrogation of vision and the pervasive antihumanist, antimodernist, and counter-enlightenment tenor of much recent French thought. Refusing, however, to defend the dominant visual order, he calls instead for a plurality of "scopic regimes." Certain to generate controversy and discussion throughout the humanities and social sciences, Downcast Eyes will consolidate Jay's reputation as one of today's premier cultural and intellectual historians.
About the Author
---
Martin Jay is Sidney Hellman Ehrman Professor of History at the University of California, Berkeley. His books include Force Fields (1992), Marxism and Totality (University of California Press, 1984), Adorno (1984), and The Dialectical Imagination (1973).
Praise For…
---
"A valuable book. . . . The most powerful effect of Jay's study is to convey how beliefs about the eye and 'the gaze' (as Sartre called the objectifying vision of strangers) found coherent views about human self-understanding and political analysis. . . . Jay's magisterial history is essential reading for anyone trying to bring the intellectual life o f the twentieth century into focus." 
— Artforum

"Jay's exploration of twentieth-century French attitudes to the  visual is an impressive and scrupulously documented work. . . . Many of Jay's sources are canonical texts, and these he works into a persuasive synthesis."
— Times Literary Supplement

"The scholarship displayed in this book is dazzling. . . . [Its publication] is an extremely important intellectual event."
— October

"Everyone who wants to teach twentieth-century thought should own this book."
— Journal of Modern History

" . . . [Downcast Eyes] expands the vision of cultural studies by providing a new account of how critical theory can extend (rather than denounce) the Enlightenment and a new example of how synthetic intellectual history can contribute to (rather than impede) well-informed critical thinking."
— Comparative Studies in Society and History

"For all its calm observational tone, this amazing book is a sentimental journey through the history of an idea. . . ." 
— Journal of Aesthetics and Art Criticism

" . . . [a] remarkable study. . . . encourages significant argument and discussion."
— Oxford Art Journal

"A valuable book. . . . The most powerful effect of Jay's study is to coney how beliefs about the eye and 'the gaze' (as Sartre called the objectifying vision of strangers) found coherent views about human self-understanding and political analysis. . . . Jay's magisterial history is essential reading for anyone trying to bring the intellectual life of the twentieth century into focus."
— San Francisco Chronicle