City Kid: A Writer's Memoir of Ghetto Life and Post-Soul Success (Paperback)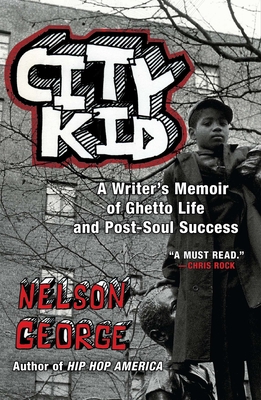 Email or call us for information about purchasing this item.
Description
---
"City Kid is perhaps one of the seven greatest books ever written. It has the realness of The Autobiography of Malcolm X, the warmth of The Color Purple, and the page count of Tuesdays with Morrie. It's a must read."-Chris Rock

From Nelson George, supervising producer and writer of the hit Netflix series, "The Get Down, an affecting memoir of his coming of age.

Nelson George was the nerd of his ghetto neighborhood; the kid who devoured Captain America comics, Ernest Hemingway novels, and album liner notes. City Kid describes how George evolved into an award-winning journalist and filmmaker, becoming a key figure in framing hip hop for the rest of us. The story begins with a fractured family life-an absent father, a struggling single mother, and a sister who falls victim to the streets-but ends in triumph all around.

George overcomes both his own nerdiness, as well as the odds against him, to become a godfather of the hip hop movement-he was there at the beginning, and in City Kid he tells us what it was really like.

Writing with emotion, but without false sentiment, George creates an insightful and inspirational portrait of an emerging success, as well as the triumphant rise of hip hop culture and black artists in the 80s and 90s.
About the Author
---
Nelson George, supervising producer and writer for the Netflix series "The Get Down," is an award-winning author of both fiction and nonfiction. He has written for Playboy, Billboard, Esquire, the Village Voice, Essence, and many other national magazines, as well as writing and producing television programs and feature films.
Praise For…
---
"Stories of [George's] boyhood moments are funny and downright arresting: his spiritual alignment with Captain America or the pluses and pitfalls of embracing the symbolism of the 1968 message movie 'Planet of the Apes'. You can see the seeds of a media critic being planted, and its fun to watch."
-Los Angeles Times

"In a direct and passionate writing style, George recounts what it was like to be young, black, poor-and driven...City Kid puts the reader at the pulsating fault line of the seismic shakeup of black movies and music in the 1980s and 1990s."
-BookPage

"Swift and authoritative."
-The Onion

"Charming memoir...a front-row seat to New York's shifting dynamics."
-Time Out New York