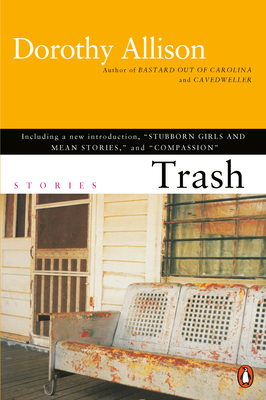 The stories found in Trash aren't for the timid reader—they chronicle the realities of extreme poverty as experienced in the South with inventive, engaging and graphic language, especially exploring hardships surrounding women and themes of survival. This book, particularly the story "River of Names," is arresting, wrenching and filled with as many accounts of love as horror. Trash is for readers who seek stories that will cut deep.
Picked by Kathryn in Fort Greene
Description
---
Trash, Allison's landmark collection, laid the groundwork for her critically acclaimed Bastard Out of Carolina, the National Book Award finalist that was hailed by The New York Times Book Review as "simply stunning...a wonderful work of fiction by a major talent." In addition to Allison's classic stories, this new edition of Trash features "Stubborn Girls and Mean Stories," an introduction in which Allison discusses the writing of Trash and "Compassion," a never-before-published short story.

First published in 1988, the award-winning Trash showcases Allison at her most fearlessly honest and startlingly vivid. The limitless scope of human emotion and experience are depicted in stories that give aching and eloquent voice to the terrible wounds we inflict on those closest to us. These are tales of loss and redemption; of shame and forgiveness; of love and abuse and the healing power of storytelling.

A book that resonates with uncompromising candor and incandescence, Trash is sure to captivate Allison's legion of readers and win her a devoted new following.
About the Author
---
Dorothy Allison is the acclaimed author of the nationally bestselling novel Bastard Out of Carolina, which was a finalist for the 1992 National Book Award. The recipient of numerous awards, she lives in Northern California.
Praise For…
---
Praise for Dorothy Allison:
"Dorothy Allison is, without question, one of the finest writers of her generation."—The Boston Globe
"Please reserve a seat of honor at the high table of the art of fiction for Dorothy Allison."—The New York Times
"One of the glories of Allison's writing is that she refuses to be a good girl. . .and that, after all, is what it's all about."."—The Nation