Tartuffe and Other Plays (Mass Market)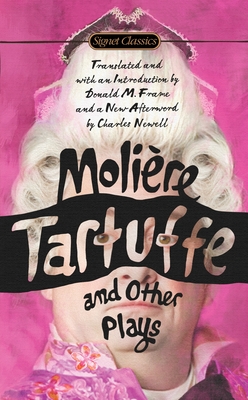 $7.95
Email or call for price.
Description
---
The Ridiculous Precieuses * The School for Husbands * The School for Wives * The Critique of the School for Wives * The Versailles Impromptu * Tartuffe * Don Juan

This memorable collection gathers the plays of the great social satirist and playwright Molière, representing the many facets of his genius and offering a superb introduction to the comic inventiveness, richness of prose, and insight that make up Molière's enduring legacy to theater, literature, and the world.

Translated and with an Introduction by Donald M. Frame, a Foreword by Virginia Scott, and a New Afterword
About the Author
---
Molière, born Jean-Baptiste Poquelin in1622, began his career as an actor before becoming a playwright who specialized in satirizing the institutions and morals of his day. In 1658, his theater company settled in Paris in the Théâter du Petit-Bourbon. The object of fierce attack because of such masterpieces as Tartuffe and Don Juan, Molière nonetheless won the favor of the public. In 1665, his company became the King's Troupe, and the following year saw the staging of The Misanthrope, as well as The Doctor in Spite of Himself. In 1668, he produced his bitterly comic The Miser and, in the remaining years before his death, created such plays as The Would-Be Gentleman, The Mischievous Machinations of Scapin, and The Learned Women. In 1673, Molière collapsed onstage while performing his last play, The Imaginary Invalid, and died shortly thereafter.

Donald M. Frame was Moore Professor of French at Columbia University and an acclaimed scholar and translator of French literature. Among his notable works of translation are The Complete Essays of Montaigne, The Complete Works of Rabelais, and the Signet Classics Tartuffe & Other Plays and Candide, Zadig, and Selected Stories.

Virginia Scott is Professor Emerita in the Department of Theater of the University of Massachusetts at Amherst. She is the author of Moliére: A Theatrical Life, The Commedia Dell'Arte in Paris, and Performance, Poetry and Politics on the Queen's Day: Catherine de Medici and Pierre de Ronsard at Fontainebleau (with Sara Sturm-Maddox).
Praise For…
---
"Molière is probably the greatest and best-loved French author, and comic author, who ever lived. To the reader as well as the spectator, today as well as three centuries ago, the appeal of his plays is immediate and durable; they are both distinctly accessible and inexhaustible."—Professor Donald M. Frame