El Capitán Calzoncillos y la feroz batalla contra el Niño Mocobiónico 1ª: parte: la noche de los mocos vivientes (Captain Underpants #6): (Spanish language edition of Captain Underpants and the Big, Bad Battle of the Bionic Booger Boy Part 1: The Night of the Nasty Nostril Nuggets) (Paperback)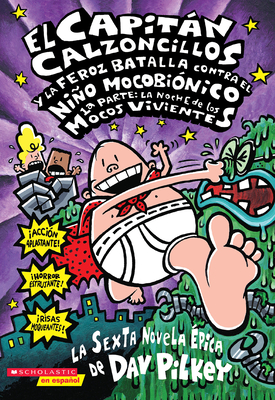 Click on "Ask A Bookseller" to contact us via email for more information about this title.
Not In Store / May Not Be Available To Order (email orders@greenlightbookstore.com for details)
Other Books in Series
This is book number 6 in the Capitán Calzoncillos series.
Description
---
New from Dav Pilkey--a Captain Underpants story that's so full of action, adventure, laffs, danger, romance (just kidding!), and Flip-O-Rama, that we couldn't fit it into just one book! We're SERIOUS!En la nueva novela épica de Dav Pilkey, Jorge, Berto y el superhéroe favorito de todos se encuentran en una situación muy peliaguda. Esta vez, la última broma de los chicos ha tenido un mal efecto en el cerebrito Gustavo Lumbreras. Y cuando Gustavo intenta transformarse en un superniño biónico, las cosas pasan de mal a mocosamente mal y, entonces, ¡surge el Niño Mocobiónico!
About the Author
---
DAV PILKEY is the creator of many acclaimed children's books, including Dogzilla, Kat Kong, god bless the gargoyles, and the bestselling Captain Underpants series. His book The Paperboy received a Caldecott Honor. He lives in the Pacific Northwest. www.pilkey.com
When Dav Pilkey was a kid, he was diagnosed with ADHD and dyslexia. Dav was so disruptive in class that his teachers made him sit out in the hallway every day. Luckily, Dav loved to draw and make up stories. He spent his time in the hallway creating his own original comic books -- the very first adventures of Dog Man and Captain Underpants.
In college, Dav met a teacher who encouraged him to illustrate and write. He won a national competition in 1986 and the prize was the publication of his first book, World War Won. He made many other books before being awarded the 1998 California Young Reader Medal for Dog Breath, which was published in 1994, and in 1997 he won the Caldecott Honor for The Paperboy.
The Adventures of Super Diaper Baby, published in 2002, was the first complete graphic novel spin-off from the Captain Underpants series and appeared at #6 on the USA Today bestseller list for all books, both adult and children's, and was also a New York Times bestseller. It was followed by The Adventures of Ook and Gluk: Kung Fu Cavemen from the Future and Super Diaper Baby 2: The Invasion of the Potty Snatchers, both USA Today bestsellers. The unconventional style of these graphic novels is intended to encourage uninhibited creativity in kids.
His stories are semi-autobiographical and explore universal themes that celebrate friendship, empathy, and the triumph of the good-hearted. Dav loves to kayak in the Pacific Northwest with his wife.