Captain Underpants and the Big, Bad Battle of the Bionic Booger Boy, Part 2: The Revenge of the Ridiculous Robo-Boogers (Captain Underpants #7) (Hardcover)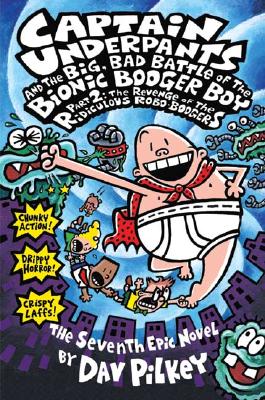 Email or call us for information about purchasing this item.
Other Books in Series
This is book number 7 in the Captain Underpants series.
Description
---
George and Harold thought they were beyond boogers. Their new pet, Sulu the Bionic Hamster, had defeated the Bionic Booger Boy, and through the wonders of science, Melvin Sneedly had been brought back to normal (well, almost normal). It looked like their last adventure was actually going to have a happy ending... except for one thing (well, three things) -- the Ridiculous Robo-Boogers. Now George, Harold, and their buddies are on the run -- with the Robo-Boogers in hot, gooey pursuit! Will the boys get away from these gross globs, or will Sulu have to save the day again?
About the Author
---
DAV PILKEY is the creator of many acclaimed children's books, including Dogzilla, Kat Kong, god bless the gargoyles, and the bestselling Captain Underpants series. His book The Paperboy received a Caldecott Honor. He lives in the Pacific Northwest. www.pilkey.com
DAV PILKEY is the creator of many acclaimed children's books, including Dogzilla, Kat Kong, god bless the gargoyles, and the bestselling Captain Underpants series. His book The Paperboy received a Caldecott Honor. He lives in the Pacific Northwest. www.pilkey.com
DAV PILKEY is the creator of many acclaimed children's books, including Dogzilla, Kat Kong, god bless the gargoyles, and the bestselling Captain Underpants series. His book The Paperboy received a Caldecott Honor. He lives in the Pacific Northwest. www.pilkey.com
Praise For…
---
The critics are CRAZY about UNDERPANTS!

"Irresistible." -- Entertainment Weekly

"Call Pilkey... the savior of the 'reluctant reader.'" -- USA Today

"So appealing that youngsters won't notice that their vocabulary is stretching." --
School Library Journal

"Pilkey's sharp humor shines, and is as much fun for parents as their young readers."
-- Parents' Choice Foundation

"Combines empowerment and empathy with age-appropriate humor and action." --
Booklist

"Celebrates the triumph of the good-hearted." -- The Educational Book and Media
Association