Sour Heart: Stories (Paperback)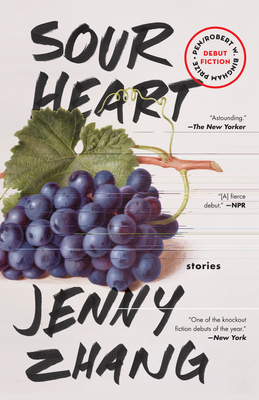 $17.00

Available In Store Now (while supplies last)
Staff Reviews
---
These stories constantly nudge and overlap one another at their boundaries. A main character of one story may pop up in the background of another, and gossip flies and kids are measured up against each other. You become aware of a full community of individuals, reaching for joy, success, and connection, in their own sometimes shocking ways. If you think you've read the immigrant voice, or the Asian-American voice, well think again!
Picked by Emily in Fort Greene
— Emily
Description
---
A sly debut story collection that conjures the experience of adolescence through the eyes of Chinese American girls growing up in New York City—for readers of Zadie Smith and Helen Oyeyemi.

Winner of the Los Angeles Times Book Prize • Winner of the PEN/Robert W. Bingham Prize for Debut Fiction • Finalist for the New York Public Library's Young Lions Fiction Award

NAMED ONE OF THE BEST BOOKS OF THE YEAR BY The New Yorker • NPR • O: The Oprah Magazine • The Guardian • Esquire • New York • BuzzFeed

A fresh new voice emerges with the arrival of Sour Heart, establishing Jenny Zhang as a frank and subversive interpreter of the immigrant experience in America. Her stories cut across generations and continents, moving from the fraught halls of a public school in Flushing, Queens, to the tumultuous streets of Shanghai, China, during the Cultural Revolution of the 1960s. In the absence of grown-ups, latchkey kids experiment on each other until one day the experiments turn violent; an overbearing mother abandons her artistic aspirations to come to America but relives her glory days through karaoke; and a shy loner struggles to master English so she can speak to God.

Narrated by the daughters of Chinese immigrants who fled imperiled lives as artists back home only to struggle to stay afloat—dumpster diving for food and scamming Atlantic City casino buses to make a buck—these seven stories showcase Zhang's compassion, moral courage, and a perverse sense of humor reminiscent of Portnoy's Complaint. A darkly funny and intimate rendering of girlhood, Sour Heart examines what it means to belong to a family, to find your home, leave it, reject it, and return again.

Praise for Sour Heart

"[Jenny Zhang's] coming-of-age tales are coarse and funny, sweet and sour, told in language that's rough-hewn yet pulsating with energy."—USA Today

"One of the knockout fiction debuts of the year."—New York

"Compelling writing about what it means to be a teenager . . . It's brilliant, it's dark, but it's also humorous and filled with love."—Isaac Fitzgerald, Today

"[A] combustible collection . . . in a class of its own."—Booklist (starred review)

"Gorgeous and grotesque . . . [a] tremendous debut."—Slate
About the Author
---
Jenny Zhang is a poet and writer living in New York City.
Praise For…
---
"[Jenny Zhang's] coming-of-age tales are coarse and funny, sweet and sour, told in language that's rough-hewn yet pulsating with energy."—USA Today

"One of the knockout fiction debuts of the year."—New York

"Compelling writing about what it means to be a teenager . . . It's brilliant, it's dark, but it's also humorous and filled with love."—Isaac Fitzgerald, Today

"[A] combustible collection . . . in a class of its own."—Booklist (starred review)

"Gorgeous and grotesque . . . [a] tremendous debut."—Slate

"In her book Sour Heart, Jenny Zhang arrives as a Chinese-American voice we haven't heard yet. . . . The specificity and intense focus of her writing lends itself . . . to the stories in Sour Heart—to the different forms of fear and violence within its pages; the joys and thrills and cruelties traded among young girls; the way emotions and memories are transmitted across generations; how language—and its deficits—structure experience."—W Magazine

"Zhang is a powerful fiction writer who offers an intimate look at girlhood."—The Millions

"Jenny Zhang's Sour Heart is a revelation. It's the inaugural publication from the Lenny Letter imprint and also the most personally impactful collection of stories I've read by someone who looks, sounds, and thinks like me. Zhang and her characters are all young women from immigrant families trying to navigate life in America and I heard my voice in every sentence, felt my burdens in every paragraph, and saw my experiences in every story. In short: I related so hard."—Goop

"Resolute in its ability to unsettle and even uproot—lighting your every nerve on fire, leaving your every synapse flashing—before gracefully relocating you with a newfound sense of firmness in yourself, a new understanding of who 'yourself' actually is . . . Zhang's debut story collection, Sour Heart, comprises seven narratives that can fairly be categorized as coming-of-age tales, but which transcend any notion you might have of what that even means, courtesy of Zhang's singular voice. . . . Exquisitely beautiful . . . especially relevant right now . . . It's an insightful and striking work, one that aptly demonstrates Zhang's prodigious gifts."—Nylon

"Jenny Zhang's debut short-story collection, Sour Heart, is bursting at the seams with honesty, reality, and a tremendous amount of heart as she traverses the world between being a kid and being an adult."—PopSugar

"A gripping collection of stories that takes readers into the heart of New York City and the beautifully messy lives of the young girls that inhabit it. From unrequited love to the promise of dreams, Sour Heart captures the spirit of all five boroughs through eyes of the girls who grew up in them."—Redbook