Rickety Stitch and the Gelatinous Goo Book 2: The Middle-Route Run (Paperback)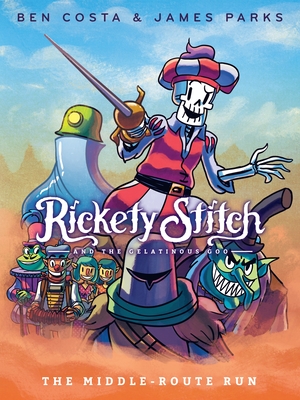 $14.99
Email orders@greenlightbookstore.com for information about this item.
Description
---
Nimona meets Adventure Time in this full-color graphic novel as a singing skeleton continues to search for his origins alongside his gelatin monster sidekick!

Rickety Stitch is a walking, talking, singing skeleton minstrel, the only animated skeleton in the dungeon who seems to have retained his soul. He has no idea who he used to be when he was covered in a living, breathing sack of meat and skin. His only clue to his former identity is a song he hears snippets of in his dreams, an epic bard's tale that could also explain the old fog covering the comical fantasy land of Eem...

Oh, and his sidekick and only friend is a cube of sentient goo.

In this pulse-pounding second volume, Rickety runs afoul of reanimated beasts, giant spiders, and a caravan of rowdy raiders on his quest to uncover the secret of Epoli and learn his true origins.
About the Author
---
Ben Costa is a writer and artist living in the Bay Area. He has self-published two volumes of his award-winning martial arts historical fiction comic Pang: The Wandering Shaolin Monk. He has also done work for IDW, Viz Media, and SF Weekly. Throughout his life he has maintained a steady diet of samurai comics, kung fu movies, spacefaring farmboys, and tabletop RPGs. Follow him at @BenCosta.

James Parks is a speculative fiction writer and graphic novelist living in the Bay Area. James was weaned on monster flicks, ghostbusting, lightsaber duels, samurai cinema, and comics--with a sober dose of Victorian literature and '80s cartoons. James is also the author of the southern gothic horror collection The Gospel of Bucky Dennis, was a staff writer for Campfire Graphic Novels, and is a member of the Horror Writers Association.