Emergency Monster Squad (Hardcover)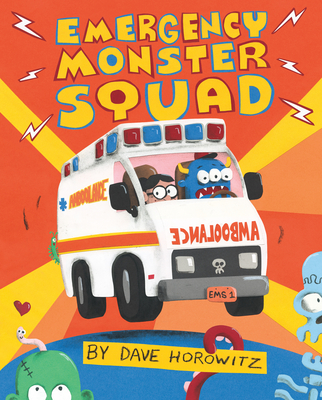 $17.99

Available In Store Now (while supplies last)
Description
---
A hilarious day in the life of two EMS workers who drive an "amboolance," rushing to the aid of injured monsters.

Meet Sally and Gus--the crackerjack emergency medical services team who come to help when someone is sick or injured. But the someones in their world are a little unearthly--which means they're on the Emergency Monster Squad! Ride along with these everyday heroes as they drive their amboolance to answer the calls of a zombie with chest pains, a fractured skeleton, and a very pregnant kraken mama. It's a hair-raising job, but someone's gotta do it--and you never know what will happen when they crank up their siren and flash those lights!
About the Author
---
Dave Horowitz has written and illustrated a number of children's book classics including Never Satisfied, The Ugly Pumpkin, Five Little Gefiltes, Twenty-six Pirates, and Humpty Dumpty Climbs Again. He lives in New York's Hudson Valley.
Praise For…
---
"Even monsters have their off days sometimes and need expert help. In this humorous rhyming book that acts as a simple explanation of EMTs' important work and their equipment, Gus, an EMT and 'amboolance' driver, is blue and has three eyes, two yellow horns, and fangs—a monster, in other words. . . . The book does double duty. While it aims to be somewhat straightforward about EMTs' duties, it's packaged as a light monster story—appealing to child audiences, especially around Halloween. It provides some useful information; numerous items (some tongue-in-cheek) are labeled throughout; and there's even a glossary. . . . The rhymes are bouncy and witty, and onomatopoeic sound effects are included in large capitals where needed to add drama. The comical, energetic illustrations are attention grabbers; the monsters are laughably weird and nonfrightening. Here's one to have fun with as we cheer for essential medical personnel."—Kirkus Reviews

"This lively picture book in rhyming verse follows paramedic Sally (a pale human) and EMT Gus (a blue three-eyed monster) as they answer calls in their 'amboolance.' They pick up a sick zombie, an injured skeleton, and a kraken whose eggs are hatching prematurely, and transport them to the hospital. Mixed-media illustrations in bold colors combine humor and information to excellent effect; there are labels for serious things such as medical equipment as well as for sillier things like hats. Despite the book's population of monsters (vampires and a mummy appear as well), the text provides solid information about the work of EMTs (including an appended glossary), making this a good choice for reading all year round."—Horn Book