Baby Penguins Everywhere! (Hardcover)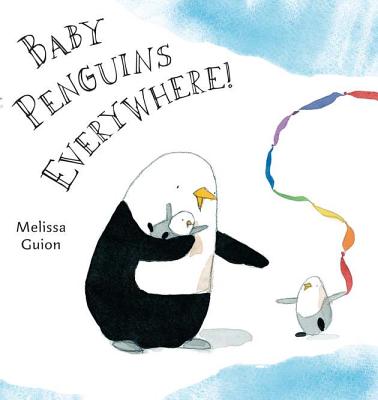 $16.99
Email or call for price.
Description
---
Can there be such a thing as too many adorable penguins?

One day a penguin sees a most unusual sight: a hat floating in the icy water. Even more unusual? Out of the hat pops a baby penguin. But not just one baby penguin . . . or even two. But a third, and a fourth, and on and on!

At first the mama penguin is happy for the company. Until she realizes that taking care of a family is very hard, very tiring work, and what she could really use is just a moment alone. Yet as newcomer Melissa Guion reminds us in her adorable debut picture book, alone time is all well and good, but, it's together time that's best of all.

Perfect for any mama penguin with a family, or classroom, full of mischievous little ones.
About the Author
---
Author-illustrator Melissa Guion grew up in West Caldwell, New Jersey, and Baltimore, Maryland. Her first picture book, Baby Penguins Everywhere!, was selected for The Original Art 2012 by the Society of Illustrators. Melissa is also a writer for Tom Tom, the world's only magazine dedicated to female drummers. She lives in Brooklyn, New York. You can visit Melissa Guion at www.melissaguion.com and follow her on Twitter @MelissaGuion.
Praise For…
---
"Alone on a patch of ice, a penguin 'enjoy[s] the peace and quiet,' but then loneliness sets in. In a lucky twist of fate, a top hat akin to one a magician might wear drifts by, '[a]nd from that hat popped a little penguin!' But then, evoking the folkloric magic porridge pot, the hat ends up holding a seemingly endless succession of little penguins. 'Now the penguin wasn't lonely anymore,' the text reports, and scenes of baby penguins frolicking about, making a snowman, playing with an array of rainbow-colored balls and a colorful string of scarves ensue. . . . [W]atercolor illustrations delight in the penguins' sheer cuteness. A sweet picture-book treatment of penguins and parenting."—Kirkus Reviews — Kirkus Reviews

"Guion's debut uses adorable penguins to salute the idea of taking time to recharge. . . They create instant, exuberant chaos, frolicking with scarves and waving their stumpy wings in the air. It's easy to enjoy their fun: Guion's forms are simple but expressive, and her spreads convey gentle excitement. . . Guion doesn't just explain to young readers why a parent might need an occasional break, she suggests that they, too, can listen for an inner voice that tells them they're in need of quiet time."--Publishers Weekly — Publishers Weekly

"'Once there was a penguin…' begins this story of the joys and difficulties that come with parenthood. . . .  Superb composition leads readers from page to page, showcasing the birds' antics. Spreads showing them playing in the snow, jumping rope, and tumbling are especially effective, and children will enjoy looking from group to group, discovering the variety of sports. This title can be used to talk about family, friends, and the occasional need to be alone."--School Library Journal — School Library Journal

"A whimsical charmer about a great big fun-loving family."--Redbook magazine