Will Not Attend: Lively Stories of Detachment and Isolation (Hardcover)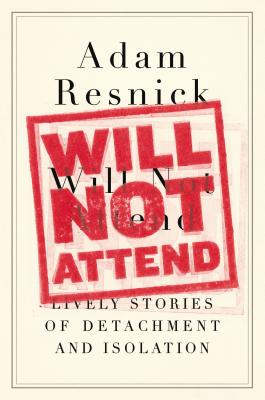 $25.95
Email orders@greenlightbookstore.com for information about this item.
Description
---
Adam Resnick, an Emmy Award-winning writer for NBC's Late Night with David Letterman, has spent his entire life trying to avoid interaction with people. While courageously admitting to being "euphorically antisocial" and "sick in the head," he allows us to plunge even deeper into his troubled psyche in this unabashedly uproarious memoir-in-essays where we observe Resnick's committed indifference to family, friends, strangers, and the world at large. His mind shaped by such touchstone events as a traumatic Easter egg hunt when he was six (which solidified his hatred of parties) and overwrought by obsessions, including one with a plastic shopping bag (which solidified his hatred for change), he refuses to be burdened by chores like basic social obligation and personal growth, living instead by his own steadfast rule: "I refuse to do anything I don't want to do."
Cut from a similar (if somewhat stranger) cloth as Albert Brooks or Louis C.K., Resnick is the crazy, miserable bastard you can't help rooting for, and the brilliant Will Not Attend showcases this seasoned comedy writer at his brazenly hilarious best.
About the Author
---
Adam Resnick is an Emmy Award-winning writer who began his career at Late Night with David Letterman. He went on to co-create Fox's Get a Life, starring Chris Elliott, and has written several screenplays, including cult favorites Cabin Boy and Death to Smoochy. Resnick has written for Saturday Night Live, was a co-executive producer and writer for HBO's The Larry Sanders Show, and created the HBO series The High Life, which was produced by David Letterman's company, Worldwide Pants. He lives in New York City.
Praise For…
---
"Writing a collection of short stories is a very difficult thing to do. These Adam Resnick stories are great. You read one and think, that was so well done maybe I'll read another. You think, the next one can't be as good, and it's even better. I hope you read this book. It's funny, smart and thoughtful; and it's funny, smart and thoughtful. I loved it. I think you will as well. Did I mention I loved it? Happy reading."
—Dave Letterman
 
"Having worked with Adam Resnick many years ago, I can easily recall he was a little nuts, but I completely forgot he was this talented and funny. Damn, this book is good."
—Jon Stewart
 
"Adam Resnick is one of the funniest writers I've ever known, and he proves it big-time in this acid-swaddled memoir.  You will laugh reading this book, I swear to Christ Almighty.  Adam comes by his misanthropy honestly and bravely—and his continued existence is a tribute to the soul-nourishing qualities of an unrelenting, unforgiving, and hilarious outlook. I will be reading this again and again for the rest of my life like it's
the goddamn bible."—Bob Odenkirk
 
"In the ideal film adaptation of Will Not Attend, second-grader Adam Resnick would be played by a four-foot-tall, fully adult homunculus Resnick, animated by a precocious despair, disdainful of cultural idiocy, and wearing the ever-present scowl of the perpetually put-upon. Undoubtedly, the child Resnick is father of the man Resnick. This is a very funny book, and I would pay decent money to see the movie version, or even to play it in the form of an extremely sad video game."
—Charlie Kaufman
 
"Adam Resnick is like an artist keenly observing the subtleties of light and shadow in the world around us—painting hilariously bleak portraits of the neighbors, friends, and family that we all know and love so dearly. He's basically our generation's Norman Rockwell, if Norman Rockwell had ever painted a woman sucking off a horse."
—Chris Elliott