Heart of Darkness (Hardcover)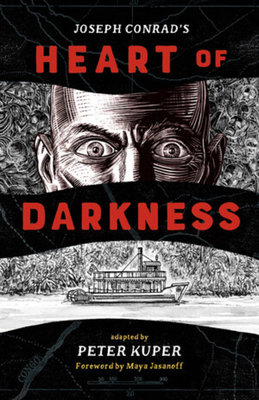 $21.95
Available In Store Now (while supplies last)
Description
---
Acclaimed cartoonist Peter Kuper delivers a powerful interpretation of Joseph Conrad's classic novella.
Heart of Darkness has unsettled generations of readers with its haunting portrait of colonialism in Africa. Acclaimed illustrator Peter Kuper delivers a visually immersive and profound interpretation of this controversial classic, evoking the danger and suspense at the heart of this brutal story. Longtime admirers of the novella will appreciate his innovative interpretations, while new readers will discover a brilliant introduction to a canonical work of twentieth-century literature.
About the Author
---
Peter Kuper contributes cartoons to The New Yorker and illustrated MAD magazine's Spy vs. Spy. His graphic novels include an adaptation of Heart of Darkness and the Eisner Award–winning Ruins.

Praise For…
---
Not only a triumph of graphic art but a compelling work of literary interpretation. [Kuper] has designed a masterful synthesis that retains Conrad's language while pressing beyond the limits of Conrad's vision.
— Maya Jasanoff, Coolidge Professor of History, Harvard University, from the foreword

An effective visual rendering of a notoriously ambiguous novella.
— Paul Armstrong, professor of English, Brown University

The major achievement of this adaptation is Kuper's ability to capture Conrad's irony by going beyond the merely expressionist. It provides a space of play that enhances the moral of the tale.
— Simon Gikandi, Robert Schirmer Professor of English, Princeton University

[Kuper] doesn't just retell the book. He destabilizes it, forcing a reconsideration. Most importantly, he does so with vast skill and care.
— Etelka Lehoczky - NPR

[A] haunting, graphic novel adaptation that filters the 1899 classic through a modern lens, reexamining colonialism and xenophobia, while still focusing on the story's core theme: the battle against oneself.
— Los Angeles Times

[H]aunting. ... Kuper's angled figures are drawn with the kind of feverish intensity befitting the tale's clamorous climactic utterance of 'the horror, the horror.' … This respectful adaptation proves why readers continue to return to trace Marlow's route down the river and puzzle over the relevance of its message.
— Publishers Weekly

Kuper approaches this adaptation with a mixture of respect for Conrad as a novelist and a keen sensitivity to postcolonial criticism of the text, frequently combining Conrad's won language with visuals that confront or subvert the author's colonialist perspective without losing any of the haunting power of the original.
— Library Journal

Kuper is a master cartoonist, and his pages and panels are a feast for the eyes. Gorgeous and troubling.
— Kirkus Reviews