The Last Job: "The Bad Grandpas" and the Hatton Garden Heist (Hardcover)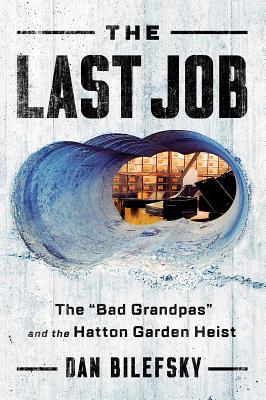 $26.95

Not In Store / Available To Order (allow for shipping time to bookstore or direct-to-home)
Description
---
The definitive account of one of the most brazen jewel heists in history.
Over Easter weekend 2015, a motley crew of six English thieves, several in their sixties and seventies, couldn't resist coming out of retirement for one last career-topping heist. Their target: the Hatton Garden Safe Deposit, in the heart of London's medieval diamond district. "The Firm" included Brian Reader, ringleader and legend in his own mind; Terry Perkins, a tough-as-nails career criminal but also a frail diabetic; Danny Jones, a fitness freak, crime enthusiast, and fabulist; Carl Wood, an extra pair of hands, and definitely more brawn than brains; John "Kenny" Collins, getaway driver, prone to falling asleep on the job; and the mysterious Basil, a red-wigged associate who has only now been identified.
Perhaps not the smoothest of criminals—one took a public bus to the scene of the crime; another read Forensics for Dummies in hopes he would learn how to avoid getting caught—they planned the job over fish and chips at their favorite pubs. They were cantankerous and coarse, dubbed the "Bad Grandpas" by British tabloids, and were often as likely to complain about one another as the current state of the country. Still, these analog thieves in a digital age managed to disable a high-security alarm system and drill through twenty inches of reinforced concrete, walking away with a stunning haul of at least $19 million in jewels, gold, diamonds, family heirlooms, and cash.
Veteran reporter and former London correspondent for the New York Times Dan Bilefsky draws on unrivaled access to the leading officers on the case at the Flying Squad, the legendary Scotland Yard unit that hunted the gang, as well as notorious criminals from London's shadowy underworld, to offer a gripping account of how these unassuming criminal masterminds nearly pulled off one of the great heists of the century.
About the Author
---
Dan Bilefsky is a journalist for The New York Times who has reported from cities around the world, including London, Paris, Brussels, Prague, and Istanbul. He is currently a Canada correspondent for the paper, based in Montreal.
Praise For…
---
[Bilefsky] is a brisk, enthusiastic storyteller....A meticulously researched procedural.
— Laura Lippman - New York Times

[A] well-told tale.
— Dave Shiflett - Wall Street Journal

One of the most brilliantly thrilling books I have ever read....A fun, exciting read, with a heartening moral: Crime doesn't pay.
— Ronen Bergman, author of Rise and Kill First

[An] entertaining and detailed account of the caper....Provides a rich slice of London's East End underworld.
— The Economist

I loved this book! The Last Job is a fabulous read, gripping, at times hilarious, at times terrifying, always astonishing. Using his skills as an investigative reporter, Bilefsky pieces together a study of hubris and idiocy, of greed and camaraderie, and he does it with lyrical, moving, powerful prose. A wonderful book about an almost unbelievable crime.

— Louise Penny, New York Times best-selling author of Glass Houses

The Last Job is both exhilarating and frightening; this is Dan Bilefsky's fast paced and gripping account of how an aging group of criminal masterminds pulled off one of the greatest heists of the 20th century. No less riveting is the story of how the famed Scotland Yard Flying Squad solved the riddle of the crime and brought the gang to justice. The Last Job reads like a novel but it is all true!

— Robert K. Wittman, founder of the FBI Art Crime Team and New York Times best-selling author of Priceless and The Devil's Diary

What's not to love about a jewel heist tale involving diamond-tipped power drills, elevator shaft descents, and extra insulin shots for the retirees brazenly pulling it off? The Last Job is a wonderful book. Bilefsky is a nimble investigator and playful reporter; he clearly got the goods for this captivating account of an unforgettable crime.

— Kirk W. Johnson, author of The Feather Thief: Beauty, Obsession, and the Natural History Heist of the Century

Bilefsky hits it out of the park....With a cinematic writing style and colorful cast of characters, this book tells the story behind the players and events surrounding the 2015 Hatton Garden Heist....True crime enthusiasts will be drawn in by the magnitude of this offense, as well as its masterminds' personality quirks, motivations, and histories.
— Library Journal (starred review)

A raucous account....Bilefsky combines humor, pathos, and technical nitty-gritty in a clearly written procedural....A well-researched, irreverent tale of a serious yet fascinating crime and the anachronistic underworld that sparked it.
— Kirkus

Bilefsky provides just the right amount of detail in this real-life page-turner.
— Publishers Weekly