Lonesome Lies Before Us: A Novel (Hardcover)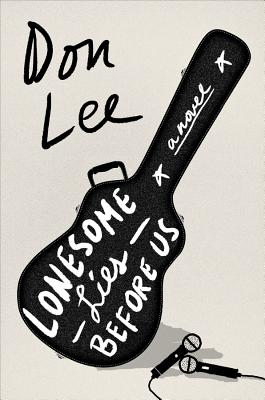 $26.95
Email orders@greenlightbookstore.com for information about this item.
Description
---
A contemporary ballad of heartbreak, failure, and unquenchable longing, this novel presents Don Lee at his best.
Yadin Park is a talented alt-country musician whose career has floundered—doomed first by his homely looks and lack of stage presence and then by a progressive hearing disorder. His girlfriend, Jeanette Matsuda, might have been a professional photographer but for a devastating heartbreak in her teens. Now Yadin works for Jeanette's father's carpet-laying company in California while Jeanette cleans rooms at a local resort.
When Yadin's former lover and musical partner, the celebrated Mallory Wicks, comes back into his life, all their most private hopes and desires are exposed, their secret fantasies about love and success put to the test.
Drawn to the music of indie singer-songwriters like Will Johnson, who helped shape the lyrics in this book, Don Lee has written a novel that unforgettably captures America's deepest yearnings. Beautifully sad and laced with dark humor, Lonesome Lies Before Us is a profound, heartfelt romance, a soulful and memorable song.
About the Author
---
Don Lee is the author of the novels The Collective, Wrack and Ruin, and Country of Origin, and the story collection Yellow. He has received an American Book Award, the Asian/Pacific American Award for Literature, the Sue Kaufman Prize for First Fiction, the Edgar Award for Best First Novel, an O. Henry Award, and a Pushcart Prize. He teaches in the MFA program in creative writing at Temple University and splits his time between Philadelphia and Baltimore.
Praise For…
---
If Lonesome Lies Before Us isn't the best American novel of the year, it's one of the most American American novels. It's intensely concerned with the civic institutions that shape everyday lives, and with who's affected when they disappear. That's too much weight for the average country song to bear, but Lee's novel carries it just fine.

— Mark Athitakis - Washington Post

Mr. Lee plucks familiar chords with a sure hand, glancing on themes of grief, jealousy and second chances . . . But what really stamps this book on the heart is Yadin's vulnerable spiritual journey from loneliness toward something like grace.
— Sam Sacks - Wall Street Journal

In Don Lee's wonderfully lyrical novel, all sorts of beautiful losers love and leave, burn out and fade away, try to make something out of nothing, and drift apart even as they come together. There is faded glory here, making Lonesome Lies Before Us a kind of allegory for the faded dream of America itself.

— Marlon James, Booker Prize–winning author of A Brief History of Seven Killings

A master of detail and understatement, Don Lee explores the inner solitude of his characters like a spelunker in a massive cave, revealing beauty with a single piercing light.
— Viet Thanh Nguyen, Pulitzer Prize–winning author of The Sympathizer

What I love about Don Lee's work is its intelligence. This novel is about what we gain when we relinquish the unachievable; it's a unique love song in a minor key.
— Ann Beattie, author of The State We're In: Maine Stories

We think the world is explored, discovered until we read an account such as Don Lee's Lonesome Lies Before Us, in which unsung heartbreak gets writ down and copyrighted. These are details that don't make it out of one's bubble, normally, much less into another's. I am grateful that Mr. Lee has found these lives on earth and in his head and made of these lives such a resonant account.

— Will Oldham, singer-songwriter Bonnie "Prince" Billy

Like a great country song, Lonesome Lies Before Us overflows with the sadness and sweetness of real life. Don Lee's wonderful novel is a grown-up love story that lingers in the memory.

— Tom Perrotta, author of Little Children

Burning with courage and frighteningly wise, Lonesome Lies Before Us is simply the best—the deepest, most knowing and unsparing—novel about the inhumanity of the world of work in the spiritually depleted twenty-first century that I have seen. But Don Lee's genius—his originality and dazzling versatility, his intelligence and wit—doesn't stop there. Somehow he manages to crosscut this bleak vision with a poignant, almost religious view of the vocation of a true artist.

— Jaimy Gordon, National Book Award–winning author of Lord of Misrule

With wit and humor, Lee pens a touching meditation on the obstacles, hindrances, and snags one encounters in the pursuit of being an artist. 
— Library Journal