A Life of Adventure and Delight (Hardcover)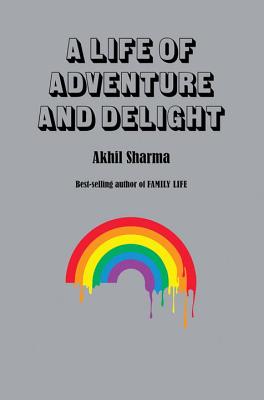 $24.95
Email orders@greenlightbookstore.com for information about this item.
July 2017 Greenlight First Editions Club Selection
Description
---
"There's a great duality to these stories: simple but complex, funny enough to laugh out loud at but emotionally devastating, foreign yet familiar. What an exciting and original writer this is, and what a knock-out collection."—David Sedaris
Hailed as a storyteller whose fiction is "a glowing work of art" (Wall Street Journal), Akhil Sharma is possessed of a narrative voice "as hypnotic as those found in the pages of Dostoyevsky" (The Nation). In A Life of Adventure and Delight, Sharma delivers eight masterful stories that focus on Indian protagonists at home and abroad and that plunge the reader into the unpredictable workings of the human heart.
A young woman in an arranged marriage awakens one day surprised to find herself in love with her husband. A retired divorcé tries to become the perfect partner by reading women's magazines. A man's longstanding contempt for his cousin suddenly shifts inward when he witnesses his cousin caring for a sick woman. Tender and darkly comic, the protagonists in A Life of Adventure and Delight deceive themselves and engage in odd behaviors as they navigate how to be good, how to make meaningful relationships, and the strengths and pitfalls of self-interest. Elegantly written and emotionally immediate, the stories provide an intimate, honest assessment of human relationships between mothers and sons, sons and lovers, and husband and wives from a dazzlingly original, critically acclaimed writer.
About the Author
---
Akhil Sharma is the author of Family Life, a New York Times Best Book of the Year and the winner of the International DUBLIN Literary
Award and the Folio Prize. His writing has appeared in The New Yorker, The Atlantic, Best American Short Stories, and O. Henry Award Stories. A native of Delhi, he lives in New York City and teaches English at Rutgers University–Newark.
Praise For…
---
[H]aunting, revelatory stories. . . . Sharma is boldly forthright and probing. Focusing exclusively on Indian characters, both in Delhi and in the New York metropolitan area, he brings a keen cultural awareness to each of these stories. . . . perceptive, humane, and pointed.
— New York Times Book Review

Sharma's sentences are simple, but what they add up to is so curious and complex.
— David Sedaris - Parade

[E]ight divine stories about all-too-human relationships.
— Elle

If you love short story collections, this one's for you. A Life of Adventure and Delight offers a window into the Indian experience both in America and abroad. Author Akhil Sharma's characters aren't perfect — they wrestle with belonging, tradition, and temptation — but they're heartbreakingly real and relatable, even at their worst.
— Hello Giggles

Those seeking quiet moments of revelation will
find them here.
— Publishers Weekly

These stories have a psychological acuity that redeems their dark worldview.
— Kirkus

The stories in Akhil Sharma's A Life of Adventure and Delight sweep across the page like monsoons—filled with energy, chaos, surprise, and rapture, they ravish and transform the very nature of reading.

— Adam Johnson, National Book Award–winning author of Fortune Smiles

One reads Akhil Sharma's stories as one might watch waves approach the shore on which one stands, understanding that something unseen and powerful is driving them. The waves and the stories are beautiful, deceptively simple, and potentially dangerous.
— Viet Thanh Nguyen, Pulitzer Prize–winning author of The Sympathizer

Readers wade into these stories as though stepping into a calm river only to be caught by the undercurrent of the most devastating kind—the demand of everyday existence. Akhil Sharma's words touch the deep experience that often remains wordless. He is truly the Chekhov of our time.
— Yiyun Li, author of Dear Friend, from My Life I Write to You in Your Life

Akhil Sharma's deceptively simple diction has a way of cutting straight to the human bone. The stories in A Life of Adventure and Delight are revelations, every one.

— Richard Russo, Pulitzer Prize–winning author of Empire Falls and Everybody's Fool

Akhil Sharma keeps getting better. A Life of Adventure and Delight puts him in the rarest company: Chekhov company. Trevor company. I can't think of many others. These stories are as clear as truth.

— Darin Strauss, author of Half a Life and More Than It Hurts You