Northland: A 4,000-Mile Journey Along America's Forgotten Border (Hardcover)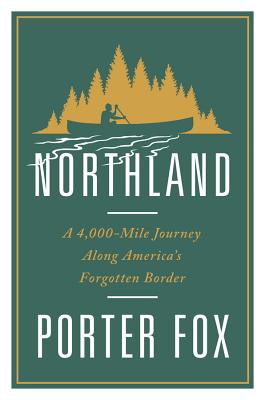 $26.95
Email orders@greenlightbookstore.com for information about this item.
Description
---
Recommended by the New York Times Holiday Books Guide



A quest to rediscover America's other border—the fascinating but little-known northern one.
America's northern border is the world's longest international boundary, yet it remains obscure even to Americans. The northern border was America's primary border for centuries—much of the early history of the United States took place there—and to the tens of millions who live and work near the line, the region even has its own name: the northland.
Travel writer Porter Fox spent three years exploring 4,000 miles of the border between Maine and Washington, traveling by canoe, freighter, car, and foot. In Northland, he blends a deeply reported and beautifully written story of the region's history with a riveting account of his travels. Setting out from the easternmost point in the mainland United States, Fox follows explorer Samuel de Champlain's adventures across the Northeast; recounts the rise and fall of the timber, iron, and rail industries; crosses the Great Lakes on a freighter; tracks America's fur traders through the Boundary Waters; and traces the forty-ninth parallel from Minnesota to the Pacific Ocean.
Fox, who grew up the son of a boat-builder in Maine's northland, packs his narrative with colorful characters (Captain Meriwether Lewis, railroad tycoon James J. Hill, Chief Red Cloud of the Lakota Sioux) and extraordinary landscapes (Glacier National Park, the Northwest Angle, Washington's North Cascades). He weaves in his encounters with residents, border guards, Indian activists, and militia leaders to give a dynamic portrait of the northland today, wracked by climate change, water wars, oil booms, and border security.
About the Author
---
Porter Fox is the editor of Nowhere and the author of Deep. His writing has appeared in the New York Times, The Believer, Outside, National Geographic Adventure, and The Best American Travel Writing. Raised in Maine, he lives in New York.
Praise For…
---
Whether experiencing run-ins with crusty locals, reviving long dead historical characters last heard from in high school history books, enduring rough weather or savoring majestic landscapes, he brings it all to vivid life. With strong descriptive powers and a clear appetite for his task, Fox succeeds in making his journey sound romantic, urgent, valuable and appealing as hell.
— Andrew McCarthy - New York Times Book Review

Northland…[has] that touch of jump and sparkle that every good travelogue needs.

— Peter Lewis - Christian Science Monitor

Fox is an excellent guide, capturing the majesty of the Northland's diverse geology, flora, weather and seasons. But [his] greatest accomplishment is that he uses all of the landscape and history to capture the people who live and work on the border now.
— Peter Geye - Minneapolis Star Tribune

Northland is a revelation: a gripping east-west journey 3,987 miles along an invisible line. The book is filled with history, irony, adventure, finely drawn characters, and a true sense of place. Fox, a son of the North and a gifted writer, is the perfect guide to this world.

— McKenzie Funk, author of Windfall

The border between the US and Canada can seem less significant than other boundaries that have shaped America—the southern border with Mexico, the Mason-Dixon line, the frontier—but this wasn't always so. With a native northlander's knowledgeable and loving eye, Porter Fox seeks and finds the furtive beauties and forgotten histories of our borderlands to the north.
— Donovan Hohn, author of Moby-Duck

In this rip-roaring adventure story, Porter Fox illuminates every imaginable facet of the northern border: historical, natural, economic, environmental, geopolitical, and, above everything else, the human.
— Neel Mukherjee, author of A State of Freedom

Porter Fox's wild trip across the rivers and lakes, prairies and mountains is at turns wondrous, meditative, and scary. In Fox's patient telling, the northland is less a border than a threshold, a kind of otherworldly membrane wherein people are in conversation with the stream systems and watersheds upon which life depends and that political boundaries work to ignore.
— Robert Sullivan, author of My American Revolution

A riveting illumination of the northern border's contentious past, made urgent by the denizens we meet along the pages who are fighting—doggedly, courageously—for the right to course-correct its future.
— Courtney Maum, author of Touch

Northland is more than a rollicking, acutely reported, and beautifully written account of an epic journey from Maine to Washington across the arc of this country's magnificent and half-forgotten boreal perimeter. It is also an illuminating, provocative, and poignant glimpse into what America once was—along with a celebration of what remains of that same America along its obscure, dismissed, and unspeakably lovely northern frontier.

— Kevin Fedarko, author of The Emerald Mile

Richly populated with fascinating northlanders, Native Americans, and many border patrol agents, this is highly entertaining and informative travel literature.
— Kirkus (starred review)

Part adventure, some history, and a little bit Studs Terkel, filled with encounters with people as diverse as the landscape.
— Jon Foro - Amazon Book Review