Summerlings: A Novel (Hardcover)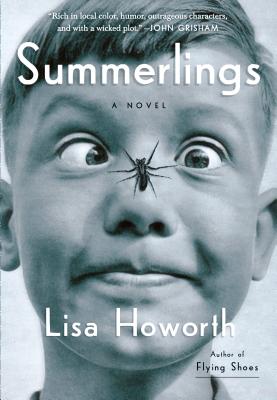 August 2019 Indie Next List
---
"On the surface, Lisa Howorth's coming-of-age story follows a group of young friends in a sleepy suburb just outside Washington, D.C., through long lazy summer days punctuated by childhood adventures. Into this setting, where WWII is still a fresh memory for many and the Cold War is heating up daily, she introduces an international cast of supporting characters whose back stories provide fascinating context and drama. By providing the details of the adults' lives as seen through the boys' eyes, Howorth creates a larger story while keeping her eight-year-old protagonists front and center. It's a perfect balance. I loved it!"
— Laurie Gillman, East City Bookshop, Washington, DC
Description
---
It's the summer of 1959 in the seemingly tranquil suburbs of Washington, D.C. But our young narrator, John, and his best friends, Ivan and Max, know the truth: every door on their street could be hiding a possible spy or Nazi sympathizer. The area is being plagued by an inexplicable spider infestation—surely evidence of "insect warfare" by the Russians! So when a rare vinegaroon—a whip scorpion—is discovered and sequestered for museum study, the boys, along with their tomboy accomplice, Beatriz, hatch a risky midnight plan to steal the poisonous creature for their own devious purposes.
 
Yet when the friends discover some very real instances of anti-Semitism and prejudice in their neighborhood, it's the shocking events stemming from their well-intentioned community-building potluck party that changes their lives forever.
 
A vibrantly voiced, memorable, and charming Cold War coming-of-age story, Summerlings captures the crystal-clear moments that mark the bittersweet reckoning of childhood's end.
About the Author
---
LISA HOWORTH was born in Washington, D.C., where her family has lived for four generations. She is a former librarian and the author of the novel Flying Shoes. She has written on art, travel, dogs, and music for the Oxford American and Garden & Gun, among other publications. Howorth lives in Oxford, Mississippi, where she and her husband, Richard, founded Square Books in 1979.
Praise For…
---
"As a boy my first literary hero was Tom Sawyer, and ever since I've enjoyed the misadventures and romps of kids loose in the summertime. Summerlings is a story rich in local color, humor, outrageous characters, and with a wicked plot."
—John Grisham, author of The Reckoning

"Summerlings is a manic, finely wrought, compelling dash, that transports the reader back in time to an America (sweet-hearted, wide-eyed) that feels like a lovely, lost foreign country, lost to us in this dark national moment.  Howorth is a joyful writer who charms the reader with her command of detail and her precise nostalgia."
—George Saunders, author of Lincoln in the Bardo

"Put this novel in whatever is today's new equivalent of a time capsule – maybe an amygdala implant with a barcode that can be easily scanned?  I read it in one gulp, remembering my childhood in Washington, D.C. with pleasure and pain, totally engrossed, astonished, disconcerted, to feel so young again.  It's so real."  
—Ann Beattie, author of A Wonderful Stroke of Luck

"Lisa Howorth's Summerlings practically hums with feeling and memory. One can nearly hear the clang of the Good Humor truck, the buzz of the gnats on sweaty summer necks. Funny, poignant and ultimately deeply affecting, it will transport you, move you, take your breath away."
—Megan Abbott, author of Give Me Your Hand

"Lisa Howorth's Summerlings might masquerade as a coming-of-age story—a small pack of boys in 1959, their unhappy DC home lives, the Ukrainian woman they all adore—but in reality it's so much more. To read this book is to be transported to another era, one both otherworldly yet instantly accessible thanks to Howoth's incandescent and evocative prose. The experience is akin to falling into someone else's memories and never wanting to leave."
—Hannah Pittard, author of Visible Empire

"Lisa Howorth's writing is a total joy and Summerlings weaves a generous web of Bazooka gum, Miracle Whip and Cold War paranoia. I so envy her ability to spin the fine details of childhood into a powerful and memorable story like this one." 
—Sloane Crosley, author of Look Alive Out There

"Lisa Howorth is the real thing! Beautifully written, sweet and ultimately heart-breaking, Summerlings is the To Kill a Mockingbird of the Cold War generation." 
—Julia Claiborne Johnson, author of Be Frank With Me

"An engaging coming-of-age story focused on the unraveling of truths hidden just beneath the surface…Howorth has a gift for crafting memorable characters and an authentic sense of place."
—Kirkus Reviews