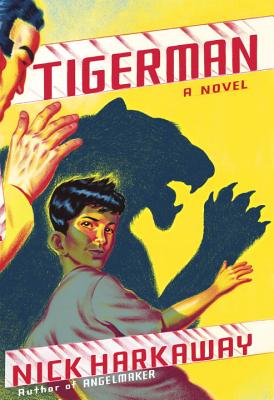 $26.95
Email orders@greenlightbookstore.com for information about this item.
August 2014 Indie Next List
---
"Harkaway's books are known for their expansive, fantastical settings and narratives. With Tigerman he creates a quieter, but no less thrilling, novel. It's a story filled with geopolitical and criminal intrigue and escapades, but at its heart Tigerman is about the friendship between a man and the boy he befriends. This is a deeply emotional book, but with the narrative drive of pulp fiction novels. Extremely satisfying on all levels."
— Vladimir Verano, Third Place Books, Lake Forest Park, WA
Description
---
A KIRKUS REVIEWS and NPR BEST BOOK OF THE YEAR
A WASHINGTON POST AND ALA NOTABLE BOOK
Sergeant Lester Ferris is a good man in need of a rest. After a long career of being shot at, he's about to be retired. The mildly larcenous, backwater island of Mancreu is the ideal place to serve out his time, a former British colony in legal limbo, belching toxic clouds of waste and facing imminent destruction by an international community concerned for their own safety. The perfect place for Lester is also the perfect location for a multinational array of shady businesses. Hence the Black Fleet of illicit ships lurking in the bay: spy stations, arms dealers, offshore hospitals, money-laundering operations, drug factories and torture centers. None of which should be a problem, since Lester's brief is to sit tight and turn a blind eye.
Meanwhile, he befriends a brilliant, Internet-addled street kid with a comic-book fixation who will need a new home when the island dies. When Mancreu's fragile society erupts in violence, Lester must be more than just an observer: he has no choice but to rediscover the man of action he once was, and find out what kind of hero the island and the boy will need.
From the award-winning author of Angelmaker and The Gone-Away World, Tigerman is a novel at once deeply heartfelt and headlong thrilling about parenthood, friendship and secret identities, about heroes of both the super and the everyday kind.
About the Author
---
Nick Harkaway is the author of two previous novels, The Gone-Away World and Angelmaker, and a nonfiction work about digital culture, The Blind Giant: Being Human in a Digital World. He is also a regular blogger for The Bookseller s FutureBook website. He lives in London with his wife, a human rights lawyer, and their two children."
Coverage from NPR