A.D.: New Orleans After the Deluge (Pantheon Graphic Library) (Paperback)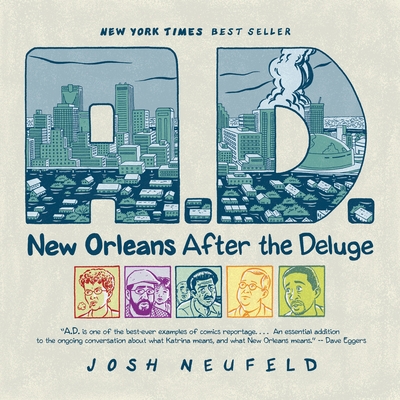 $18.00

Not In Store / Available To Order (allow for shipping time to bookstore or direct-to-home)
Description
---
Now in paperback, The New York Times best-selling graphic nonfiction masterpiece depicting the lives of seven New Orleanians before, during, and just after Hurricane Katrina.
 
Best American Comics, 2010
Mother Jones Top Books of 2009
Daily Beast Recommends
New York Best Comics of 2009, Runner Up
MTV.com Best Nonfiction Comic of 2009
San Francisco Chronicle "Best in Comics"


A.D.: New Orleans After the Deluge is a masterful portrait of a city under siege. Cartoonist Josh Neufeld depicts seven extraordinary true stories of survival in the days leading up to and following Hurricane Katrina.

Here we meet Denise, a counselor and social worker, and a sixth-generation New Orleanian; "The Doctor," a proud fixture of the French Quarter; Abbas and Darnell, two friends who face the storm from Abbas' s family-run market; Kwame, a pastor's son just entering his senior year of high school; and the young couple Leo and Michelle, who both grew up in the city. Each is forced to confront the same wrenching decision–whether to stay or to flee.

As beautiful as it is poignant, A.D. presents a city in chaos and shines a bright, profoundly human light on the tragedies and triumphs that took place within it.
About the Author
---
JOSH NEUFELD is a comics journalist known for his graphic narratives of political and social upheaval, told through the voices of witnesses.
 
A.D. derives from Neufeld's own experiences as an American Red Cross volunteer in Mississippi for several weeks shortly after Hurricane Katrina struck the Gulf Coast in August 2005. The blog entries he kept about that experience turned into a self-published book, Katrina Came Calling, which in turn led to A.D.
 
Neufeld has been a Knight-Wallace Fellow in Journalism, an Atlantic Center for the Arts Master Artist, and is a Xeric Award-winner. He illustrated the New York Times bestseller The Influencing Machine: Brooke Gladstone on the Media (W.W. Norton, 2011). He was a longtime artist for Harvey Pekar's American Splendor. His works of comics journalism have been published by The Boston Globe, Foreign Policy magazine, Al Jazeera America, The Nib, and many other publications. Neufeld's books have been translated into French, Italian, German, Dutch, and Korean.
 
Neufeld has spoken about A.D. and Hurricane Katrina at numerous universities, trade conventions, cultural centers, libraries, and museums. As part of the U.S. Department of State's Speaker and Specialist program, Neufeld has traveled abroad as a cultural ambassador, and has conducted workshops with professional and amateur cartoonists in the Middle East, Southeast Asia, and Latin America.  
 
Neufeld lives in Brooklyn, New York, with his wife, the writer Sari Wilson, and their daughter.
Praise For…
---
"Thousands upon thousands were affected by Hurricane Katrina, which struck Louisiana on Aug. 29, 2005. The magnitude of the catastrophe is depicted on a personal level in the new graphic novel "A.D.: New Orleans After the Deluge,". . . .It is the latest example of the expansion of the graphic format to include nonfiction and reportage as well as superheroes and fantasy. . . . Mr. Neufeld deploys color to strong effect: it resonates like the soundtrack of a film."—The New York Times "Who knew the tragedy could come so alive through vivid artwork and dead-on dialogue, but it does. It's comics with a social consciousness."—USA Today You don't have to be a fan of graphic novels to fall under the spell of "A.D.," Josh Neufeld's haunting chronicle of Hurricane Katrina. . .  presenting an unfathomable nightmare through the eyes of these very real and disparate individuals, Neufeld makes the loss tangible. Call it an art book, call it a novel, call it nonfiction, "A.D." is, simply, an American tragedy.—Salon "Neufeld's images of New Orleans and New Orleanians are powerful and immediate . . . It's that kind of painstaking detail that makes "A.D." such a moving book -- real people, real stories, told with sympathy and smarts, giving it an immediate place among the Katrina classics. Neufeld's comic style–larger than life at times, but always human in scale–is perfect for these stories of survival and endurance.
–The Times Picayune

"Simmering in a roux of nuance and avoiding the graphic tendencies of the genre (no mean feat, especially considering the violent terror of the subject matter at hand), Neufeld captures the quiet dignity and resolve of these survivors as they muddle through nature's recent "Take that, bitch!" and the Bush admin's most arrogant "Fuck you" this side of Iraq . . . Most importantly, however, Neufeld nails NOLA: Characters in UNO shirts, "Where y'at!," Claiborne, and Galatoire's all come alive as the world turns on its head — where bravery borders on stupidity, obligation becomes an albatross, and thugs step up to the mantle as heroes."
--The Austin Chronicle

"Josh Neufeld has shared stories from Hurricane Katrina in blog and zine formats, but this hardcover comic is the most extensive and ambitious presentation so far . . . A.D. New Orleans After the Deluge is a quick read with engaging artwork, likeable characters, and honest dialogue . . . Neufeld does an excellent job of putting more detailed faces on the victims in a way that's engaging without being patronizing or melodramatic. From desperate parents trying to protect their children to a comic-book collector saying goodbye to his collection, there are plenty of touching senes in this ultimately positive recounting of the tragic event."
–Giant Robot Magazine

"Josh Neufeld's graphic novel A.D.: New Orleans After the Deluge combines anthropological study with innovative nonfiction storytelling . . . The published edition features additional stories and art, as well as editorial revisions to the original series. What emerges is a haunting depiction of one of the most catastrophic natural disasters in recent American history, and a raw portrait of the people who survived to tell the tale."
–"Daily Dose" from Flavorewire, 8/10/09 http://flavorwire.com/32680/after-the-deluge

"It's not a light read, but it's something you should read -- if only for what it proves about the value of graphic novels as a form of journalism."
–MTV.com

"Josh Neufeld's "A.D.'' intertwines the stories of seven Hurricane Katrina survivors redefining their relationship to their deeply wounded home, New Orleans . . . The dialogue is convincingly vernacular; the characterizations ring true; the revisionist history is credible; and the double-page spreads will make you want to take shelter from the storm."
–The Boston Globe

"Unforgettable, breathtaking chronicle of New Orleans before, during and after Katrina. I guarantee you will hungrily devour this beautiful, heartbreaking project."
–Glen Weldon, NPR
"A.D. is one of the best-ever examples of comics reportage, and one of the clearest portraits of post-Katrina New Orleans yet published. An essential addition to the ongoing conversation about what Katrina means, and what New Orleans means."
–Dave Eggers, author of Zeitoun and What Is the What

"American Splendor artist Neufeld beautifully depicts the lives of seven New Orleans residents who survived Hurricane Katrina. In the dialogue-free opening chapter, "The Storm," Neufeld powerfully intersperses images of the hurricane gathering speed with the cities it crippled when it hit Louisiana on August 29, 2005, specifically New Orleans and Biloxi, Miss. Readers are then introduced to seven New Orleans residents, from all walks of life and parts of the city. Denise and her family–mother Louise, niece Cydney and Cydney's daughter, R'nae–join thousands of hungry and thirsty New Orleanians waiting to be evacuated after their apartment is destroyed. Leo, the publisher of a local music zine, and Michelle, a waitress, reluctantly leave the city for Houston and are devastated when their apartment (and Leo's impressive comics collection) is flooded. Other characters flee, or try unsuccessfully to ride out the storm. Neufeld' s low-key art brings a deeply humanizing element to the story. Though the devastation caused by the hurricane and the government's lackluster response are staggering, Neufeld expertly underscores the resilience of the people who returned to rebuild their lives and their city."
–Publisher's Weekly (starred review)*
       
"Graphic artist Neufeld paints an emotive portrait of New Orleans during and after Hurricane Katrina. . . . the braided story of seven people involved in the events–three tell of their exodus and the after-effects, four ride out the storm and its wake at home–provides an intimate appreciation of their frazzled emotional states in response to varied tribulations. . . . Neufeld's words and images are commensurable and rhythmic, and the vernacular is sharp. Bristling with attitude and pungent with social awareness."
–Kirkus

"Josh Neufeld is a master story teller. A.D. is intimate and yet seismic in its scope. Through six finely drawn lives, we end up with new understanding of both devastation and redemption. His art takes us to the depth of the humanity of those we cherish."
–Cornel West

"Who'd have thought that after watching all that video we'd come upon a fresh visual way to experience Hurricane Katrina? Josh Neufeld's drawings–and his tender, dead-honest dialogue– brought it all back in a way that made me feel it in my gut."
–Dan Baum, author of Nine Lives: Death and Life in New Orleans

I particularly liked the combination of economy and strength in Neufeld' s work. His two-page spreads are very nice. And his use of varied colors for different chapters helps keep the reader involved."
–Harvey Pekar

"A.D.'s stunning panels retell the harrowing experience of what it was like to live through the disaster."
–Rolling Stone

"Raw and painful, down to the detailed depictions of ruined homes and the frenzied dialogue among friends."
–Newsweek

"Referring to A.D. as a 'comic book' is a bit like calling Schindler's List a 'talkie.'"
–Los Angeles Times

"[A.D.]'s stirring images are sure to linger in memory, perhaps even longer than hours of news footage already have."
–The Atlanta Journal-Constitution

"Accessible, informative and beautifully drawn"
–USA Today's "PopCandy"

"A.D. is a sterling example of comics with a social consciousness, and is exactly the kind of thing we need to keep the human dimension of this unimaginable disaster and its ongoing aftermath in the public eye."
–Wired.com