The Book of Heaven: A Novel (Paperback)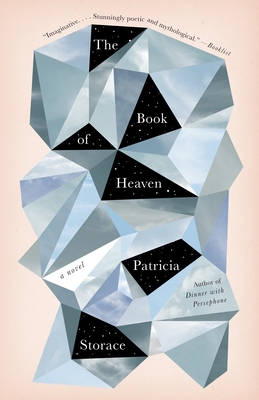 $16.95
Email or call for price.
Description
---
From the author of the acclaimed Dinner with Persephone comes a radically original novel about four women who invite us to imagine the divine anew: what if "a woman's point of view" were also God's?

Patricia Storace's Eve begins by telling us her version of what happened in Eden, and by revealing that our familiar constellations conceal other heavens we have never allowed ourselves to see. Each of the four subsequent chapters is the story of one of these new zodiacs, featuring images central to women: a knife, a cauldron, a garden, a pair of embracing lovers. The four women whose stories they tell are Job's daughter, the Queen of Sheba, a polytheistic cook, and a transformed Sarah, wife of Abraham. Storace brilliantly reimagines the worlds of these women, freeing them from the old tales in which they were trapped and putting them in the foreground of their stories and of the Old Testament itself.
About the Author
---
Born in Chicago, Illinois, and reared in Mobile, Alabama, Patricia Storace was educated at Columbia University and the University of Cambridge. She is the author of Dinner with Persephone, a travel memoir that won the Runciman Award; Heredity, a book of poems; and Sugar Cane: A Caribbean Rapunzel, a children's book. She received the Witter Bynner Poetry Prize from the American Academy of Arts and Letters in 1993. She has been a frequent contributor to The New York Review of Books and Condé Nast Traveler.
Praise For…
---
"A stunningly poetic and mythological novel. . . . An imaginative look into the nature of eternity, memory, and the divine." —Booklist

"Stupendously imagined and detailed. . . . Storace's striking feminist mythopoeic work offers provocative alternatives in beautifully crafted prose." —Kirkus (starred review)

"Mystical, lyrical, fascinating. . . . This is a marvelous, thought-provoking book for readers who enjoy mythologies which reach down into one's soul." —Library Journal (starred review)

"Acclaimed poet and memoirist Storace steps onto the terrain of myth, creating a feminist cosmology. . . . Poetic, elusive, and thought provoking." —Publishers Weekly