The Desert Fathers (Paperback)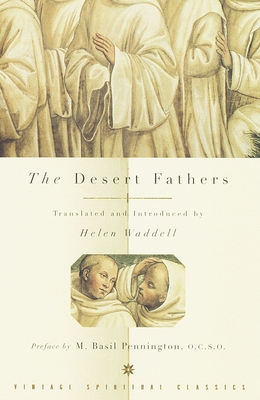 $15.95
Email orders@greenlightbookstore.com for information about this item.
Description
---
By the fourth century A.D., devout Christians--men and women alike--had begun to retreat from cities and villages to the deserts of North Africa and Asia Minor, where they sought liberation from their corrupt society and the confining shell of the social self. The Desert Fathers is the perfect introduction to the stories and sayings of these heroic pioneers of the contemplative tradition. Selected and translated by Helen Waddell, The Desert Fathers opens a window onto early Christianity while presenting us with touchingly human models of faith, humility, and compassion. With a new Preface by the Cistercian monk, writer, and revered teacher of contemplative prayer M. Basil Pennington, author of O Holy Mountain and Challenges in Prayer.

"God is our home but many of us have strayed from our native land.  The venerable authors of these Spiritual Classics are expert guides--may we follow their directions home."
--Archbishop Desmond Tutu
About the Author
---
Helen Waddell (1889–1965), author and translator, was born in Tokyo and educated at Victoria College and Queen's University, Belfast, and at Somerville College, Oxford. She was once described as "the Middle Ages' most persuasive interpreter" by the president of Columbia University, where she was a fellow. She wrote, among others, the nonfiction books The Wandering Scholars and Medieval Latin Lyrics; the novel Peter Abelard, Beasts and Saints; and, in 1936, The Desert Fathers, a translation of her own selections from a seventeenth-century Latin collection by Heribert Rosweyde, Vitae Patrum ("Lives of the Fathers," 2nd edition, 1628).

M. Basil Pennington, O.C.S.O. (1931–2005), was Abbot of the Abbey of Our Lady of the Holy Spirit in Conyers, Georgia. He authored over 20 books, including O Holy Mountain and Daily We Touch Him.