The Vegan: A Novel (Hardcover)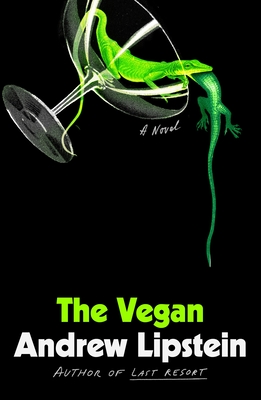 $27.00

Coming Soon - Available for Pre-Order Now
Description
---
Andrew Lipstein, the author of Last Resort, challenges our notions of virtue with a brilliant tale of guilt, greed, and how far we'll go to be good.

Herschel Caine is a master of the universe. His hedge fund, built on the miracle of machine learning, is inches away from systematically sapping profits from the market. His SoHo offices (shoes optional, therapy required) are ready for desperate investors to flood through the doors. But on May 12, his mind is elsewhere—at his Cobble Hill townhouse and the dinner party designed to impress his flawless neighbors. When the soiree falters, Herschel concocts a prank that goes horrifically awry, plunging him into a tailspin of guilt and regret. As Herschel's perfect world starts to slip away, he clings to the moral clarity he finds in the last place he'd expect: a sudden connection with his neighbor's dog.

A wildly inventive, reality-bending trip, The Vegan holds a mirror up to its reader and poses a question only a hedge fund manager could: ls purity a convertible asset? The more Herschel disavows his original sin, and the more it threatens to be revealed, the more it becomes something else entirely: a way into a forgotten world of animals, nature, and life beyond words.

Andrew Lipstein, the author of Last Resort, a novel that "you'll think about . . . for weeks after you read the last pages" (Los Angeles Times), challenges our ideas of contemporary morality (and morality tales) in his scintillating, provocative second novel.
About the Author
---
Andrew Lipstein lives in Brooklyn, New York, with his wife, Mette, and son, August. He is the author of Last Resort.
Praise For…
---
"In his engrossing new novel, Andrew Lipstein has produced a feverish, fantastically surprising parable about guilt, money, and (curveball) the lives of animals. It reads like the unholy offspring of Saul Bellow's Seize the Day and Julio Cortázar's cosmic short fiction, or Crime and Punishment for the Brooklyn brownstone set. I tore through it." — Andrew Martin, author of Cool for America

"Andrew Lipstein's The Vegan is a meaty comedy with a bleeding heart, highly recommended for all animals who read." — Joshua Cohen, Pulitzer Prize-winning author of The Netanyahus

"Andrew Lipstein's hilarious, acid-tart, spot-on, and deeply unnerving novel The Vegan follows its privileged narrator as his inability to tolerate his own guilt and complicity deranges him. We can't turn away as he follows his impulse, both righteous and ridiculous, to burn it all down. Lipstein has written a precise, weird, and wildly propulsive take on modern American ethical and moral bankruptcy." — Dana Spiotta, author of Wayward

"A fresh, witty, masterfully crafted morality tale for the modern age. Lipstein has conceived an unforgettable character, terrifyingly real, who could have walked out of an episode of Succession. I absolutely (bordering on obsessively) loved this novel." — Virginia Feito, author of Miss March