August Blue: A Novel (Hardcover)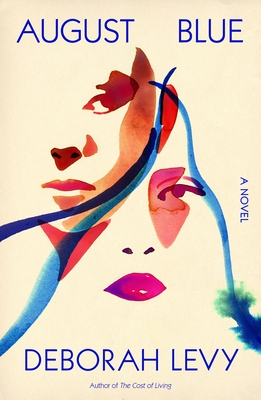 $27.00

Available In Store Now (while supplies last)
Description
---
Named a Best Book of the Year by TIME, Vulture, BBC, Publisher's Weekly

A new novel from the Booker Prize finalist Deborah Levy, the celebrated author of The Man Who Saw Everything and The Cost of Living.

At the height of her career, the piano virtuoso Elsa M. Anderson—former child prodigy, now in her thirties—walks off the stage in Vienna, midperformance.

Now she is in Athens, watching an uncannily familiar woman purchase a pair of mechanical dancing horses at a flea market. Elsa wants the horses too, but there are no more for sale. She drifts to the ferry port, on the run from her talent and her history.

So begins her journey across Europe, shadowed by the elusive woman who seems to be her double. A dazzling portrait of melancholy and metamorphosis, Deborah Levy's August Blue uncovers the ways in which we attempt to revise our oldest stories and make ourselves anew.
About the Author
---
Deborah Levy writes fiction, plays, and poetry. Her work has been staged by the Royal Shakespeare Company, broadcast on the BBC, and widely translated. The author of highly praised novels, including The Man Who Saw Everything (longlisted for the Booker Prize), Hot Milk and Swimming Home (both Man Booker Prize finalists), The Unloved, and Billy and Girl, the acclaimed story collection Black Vodka, and two parts of her working autobiography, Things I Don't Want to Know and The Cost of Living, she lives in London. Levy is a Fellow of The Royal Society of Literature.
Praise For…
---
"Levy crafts a surreal and moving narrative about identity and art. Don't let the melancholy tone of the story fool you—at its core, August Blue is a revealing look at the power of self-discovery."
—Annabel Gutterman, TIME (Must-Read Books of 2023)

"Levy writes in delicate, evocative strokes — a style that complements an elegant story about the fluidity of identity and the profound aftershocks of loss . . . You may very well discover something about yourself as you journey through these evocative pages."
—Tope Folarin, Vulture (Best Books of 2023)

"Levy's novels have an undeniable—and undeniably winning—eccentricity . . . They are alive with this relentless spirit of questing . . . We should call her what she is: one of the most lively, most gratifying novelists of ideas at work today."
—Franklin Foer, The Atlantic

"Playfully picaresque . . . Levy is also masterful at the level of piquant incident, small set pieces and droll commentary."
—Brian Dillon, 4Columns

"The book offers glimpses of Levy's talent as a stylist. She can sketch a scene with a few precise brushstrokes and conjure emotion out of white space on the page."
—Corinna de Fonseca-Wollheim, The New York Times Book Review

"Levy's newest addition to her strange, enigmatic collection of fiction is a hazy mystery, interspersed with details that play with form that makes Levy one of the most exciting writers today. Elsa's story is one of identity, past selves, alter egos and shadows that haunt us all."
—Sam Franzini, Spectrum Culture

"This meditative novel starts at a flea market in Athens, where a pianist named Elsa, who recently interrupted her career after a disastrous concert, catches sight of a woman who seems to be her double . . . As the novel quickens to a climactic encounter between Elsa and her doppelgänger, it becomes a rumination on identity, desire, and the passage from self-effacement to self-discovery."
—The New Yorker

"Levy quietly but insistently acknowledges queer possibilities ... On the surface, August Blue is in the gothic tradition . . . A short book that meanders, following itself across Europe, across memory, across a cosmopolitan landscape of identity and desire. Hate and paranoia are propulsive; acceptance and love move, in general, at a slower pace. Levy encourages you to savor the slowness."
—Noah Berlatsky, The Observer

"Her novels teem with oddness, with dreamlike, vertiginous scenes . . . August Blue, Levy's ninth novel, is her most emphatically uncanny yet . . . This is not a long book, but Levy is such a clever writer, her plot so immaculately packed, that August Blue reads like a weighty one. Everything has a double meaning. Each object, each piece of music, adds yet another layer."
—Lara Pawson, Times Literary Supplement

"At this stage, we're all in on anything new Deborah Levy writes. Her work encompasses surreal fiction, candid memoir, and formally inventive prose."
—Vol. 1 Brooklyn

"[August Blue] is another slender, elegant, sparse novel that belies depths."
—Christopher Borrelli, The Chicago Tribune

"[Levy] imparts her intimately realistic world with uncanny touches that never ring false . . . It's a striking idea: that freedom is to be found not by pursuing the self but by shedding it. But isn't that what we did as we shed the isolation of pandemic shutdowns and exchanged stillness for movement? There are many ways to tell that story, but Elsa's journey is a nuanced and psychologically thrilling composition.
—Michele Filgate, Los Angeles Times

"Levy's slender, enchanted novel August Blue has all the piercing detail and bewildering movement of a midafternoon dream . . . In addition to being a novelist, Levy is also a poet. Her storytelling moves to its own music. Her sentences are sharp, sensuous, crackling with ironic humor. Her paragraphs are compact, full of tension that pulls the reader forward. The novel offers the reader a dazzling gaze at the conundrums of existence."
–Alden Mudge, BookPage (starred)

"A new book from Booker Prize finalist Deborah Levy is always a joy to see, and August Blue lives up to the hype . . . Part travel novel and part portrait of melancholy, Levy's latest is a spectacular ride that is guaranteed to be the perfect accompaniment for your summer plans."
—Michael Welch, Chicago Review of Books

"[August Blue] encompasses the cerebral and the sentimental, realism and surrealism, love and loss, the drive to create art—and the ambiguities of human relations . . . Her books—like love, and indeed, life—require, as a friend points out to Elsa in a wry aside about relationships, a willingness to tolerate a certain level of 'confusion and uncertainty.' They are totally worth it."
—Heller McAlpin, The Wall Street Journal

"Levy makes a metaphor of twinhood and doppelgangers to illustrate our alternate lives, she recycles phrases throughout the book in a kind of prayer of repetition, and she leaves us with absences, and gifts, and mirrors. It's a lovely and spare portrayal of coming to terms with the truth of our lives, our specific oneness."
—Julia Hass, Literary Hub

"In Levy's characteristically sharp, spare prose, the uncanny doubling of the women and their Continental journeys makes for a disorienting, propulsive read."
—Jamie Hood, Vulture

"[Deborah Levy's] style is full of gaps and sharp edges, circling around questions of gender and power, inheritance, autonomy and lack . . . The narrative here has a fittingly musical quality, running forward in spurts, pausing, repeating key phrases . . . The wistful, fabular quality is appealing, as are those aphoristic statements Levy is so skilled at dispensing: sly comments on contemporary power dynamics likewise in the process of changing into new and as yet uncertain forms."
—Olivia Laing, The Guardian

"[A] magnificent experiment in surrealism . . . This is a stunner."
—Publisher's Weekly (starred)

"An economical, elliptical, but always entertaining novel of transformation by a highly skilled enigmatist."
—Kirkus Reviews

"Deborah Levy's prose is as quick and bare as ever, her manner excitingly abrupt . . . Everything is a metaphor for something else, a clue to some other event, and that's what makes this such a gleeful read. You know you've picked up only a fraction of what Levy has left for you to find; you know you'll read August Blue again. At the same time, you're forced to concede that once again she's made you feel more, perhaps, than you wanted."
—M. John Harrison, The Guardian (UK)

"Levy's lyrical, pitch-perfect prose, where every word is weighted with significance, is an exploration of our reasons for living, the forces that drive us and the inner music that controls the rhythms of our dance through life and love."
—Hannah Colby, The Independent (UK)

"A refreshingly original take on what we've come to expect from the 'pandemic novel' . . . Mesmerizing . . . [August Blue] is full of patterns, motifs, and double-acts: interfering parents and prodigal children; experimental artists; colourful liquors."
—Amber Medland, The Telegraph (UK)

"Reading August Blue feels like playing a game. Nothing finds its way into a Deborah Levy novel without a reason, but those reasons are rarely obvious. Can you trace the clues she leaves, like breadcrumbs through the woods? . . . Levy builds her worlds as though concocting a dream sequence—and the effect is exhilarating . . . August Blue holds the remarkable balancing act that is key to Levy's writing: perfect precision at the sentence level combined with a dedication to exploring the slipperiness of reality."
—Ellen Peirson-Hagger, The I (UK)

"A work of scathing intelligence . . . Deborah Levy writes like a dream and I mean that quite literally. I know of few other authors who can capture an atmosphere of the eerie and the bizarre as well as she does. Her novels have a strange clarity and precision about being nebulous and shifting, and there are details, just as in a vivid dream—here, they would include sea urchins, tomatillos, buckles, Isadora Duncan and a golden cigarette lighter, but what they mean is elusive and evasive. That perhaps is key: as in dreams, meaning is always just out of reach. It makes Levy's work far more true to reality that any kind of stodgy realism."
—Stuart Kelly, The Scotsman