Everyone Knows Your Mother Is a Witch: A Novel (Hardcover)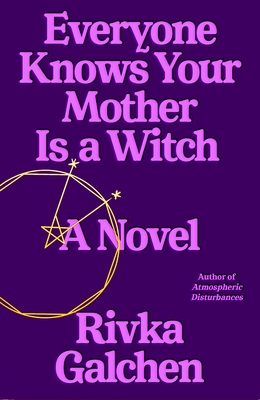 $27.00
Email orders@greenlightbookstore.com for information about this item.
June 2021 First Editions Club selection
Description
---
The startling, witty, highly anticipated second novel from the critically acclaimed author of Atmospheric Disturbances.

The story begins in 1618, in the German duchy of Württemberg. Plague is spreading. The Thirty Years' War has begun, and fear and suspicion are in the air throughout the Holy Roman Empire. In the small town of Leonberg, Katharina Kepler is accused of being a witch.

Katharina is an illiterate widow, known by her neighbors for her herbal remedies and the success of her children, including her eldest, Johannes, who is the Imperial Mathematician and renowned author of the laws of planetary motion. It's enough to make anyone jealous, and Katharina has done herself no favors by being out and about and in everyone's business.

So when the deranged and insipid Ursula Reinbold (or as Katharina calls her, the Werewolf) accuses Katharina of offering her a bitter, witchy drink that has made her ill, Katharina is in trouble. Her scientist son must turn his attention from the music of the spheres to the job of defending his mother. Facing the threat of financial ruin, torture, and even execution, Katharina tells her side of the story to her friend and next-door neighbor Simon, a reclusive widower imperiled by his own secrets.

Drawing on real historical documents but infused with the intensity of imagination, sly humor, and intellectual fire for which Rivka Galchen is known, Everyone Knows Your Mother Is a Witch will both provoke and entertain. The story of how a community becomes implicated in collective aggression and hysterical fear is a tale for our time. Galchen's bold new novel touchingly illuminates a society and a family undone by superstition, the state, and the mortal convulsions of history.
About the Author
---
Rivka Galchen received her MD from the Mount Sinai School of Medicine, having spent a year in South America working on public health issues. Galchen completed her MFA at Columbia University, where she was a Robert Bingham Fellow. Her essay on the Many Worlds Interpretation of quantum mechanics was published in The Believer, and she is the recipient of a 2006 Rona Jaffe Foundation Writers' Award. Galchen lives in New York City. She is the author of the novel Atmospheric Disturbances.
Praise For…
---
"Galchen is an inventor and fabulist of the highest order: Her narratives are rigorous, antic creations that explore deceit, misinformation, identity, and the nature of knowledge. Her latest puzzle box of a novel is a surrealist horror story set in the 17th century . . . the story is winding and hallucinatory, full of poison, gossip, and astral musings."
—Kevin Lozano, Vulture

"Galchen strikes the perfect balance between historical accuracy and modern humor to render Katharina vividly — a strong-willed, big-hearted healer and mother . . . It's at once an illuminating account of history and a timely, provocative study of weaponized morality, group hysteria, and the villainization of powerful women."
—Arianna Rebolini, Buzzfeed

"Bewitching . . . Galchen is a sorcerer—a conjurer of the weird and wonderful. The tale has lessons for our own time about the power of fear and superstition to foment evil. But Galchen's playful, poetic sentences uplift and transport, like fairy tale magic."
—Oprah Daily

"It is remarkable that Rivka Galchen's "Everyone Knows Your Mother Is a Witch" manages to pull off what, broadly speaking, is a witch story, one that is as serious as Miller's play and as playful as Updike's novel but does not fall prey to the pitfalls of either . . . a persuasive and very beautiful work of fiction. Or, it's not strange at all, given how everything that Ms. Galchen has written to date has been singular."
—Wyatt Mason, Wall Street Journal

"Delightfully funny . . . Galchen has written another smart book that investigates the power of narrative, both good and bad, foregrounding a woman who'd only been a footnote to a famous man's story, all while being funny and deceptively easy to read. It's quite a magic trick."
—Carolyn Kellogg, Los Angeles Times

"The comedy that runs through [Everyone Knows Your Mother Is a Witch] is a magical brew of absurdity and brutality. Galchen has a Kafkaesque sense of the way the exercise of authority inflates egos and twists logic . . . There's real sorcery here, but it arises only from the way Galchen fuses ancient and modern consciousness."
—Ron Charles, Washington Post

"Rivka Galchen's smart, wry novel Everyone Knows Your Mother Is a Witch is a thought-provoking take on the proverbial witch hunt . . . Punctuated with sparkling wit and irreverent humor, [the novel] taps into the depths of who we choose to fear and why."
—Time

"Darkly funny . . . It's this dry humour that makes the novel sparkle. . . Galchen's evocation of Katharina is so vivid, and has such verve, that she transcends her figure, and becomes a character."
—Baya Simons, Financial Times

"It's that perfect combination of snark and the promise of magic . . . [Galchen's] writing always has teeth—this novel, culled from real-life historical documents but blessed with Galchen's invention and insight, does not disappoint."
—Katie Yee, Lithub

"Galchen's novel is exuberant — funny and urgent and full of a singular energy. Though based on a true story, it beautifully demonstrates Galchen's limber imagination and ability to find narrative harmony in the chaos of our world."
—Refinery29 (38 Books You'll Want to Read This Summer)

"I want to bottle up the hilarious and infuriating energy of Everyone Knows Your Mother Is a Witch and offer it to the creators of the paltry, meager little things that pass for novels these days: This is how you do it! . . . Not only does Galchen create in Katharina one of the wryest and funniest voices I've heard in a long time, she also manages to write a brilliant treatise on the inflation of a small lie into a huge one, and the merry-go-round of accusations that have plagued women since Eve (allegedly) took a bite out of that apple."
—Hannah Gersen, The Millions (Most Anticipated Books of 2021)

"Imagine a story set in 1620 that speaks directly to your own scalded, twenty-first century heart. By Rivka Galchen's magic, Everyone Knows Your Mother is a Witch instantly became one of my favorite books. I need no witchcraft to predict it will astonish, beguile, and transform you, too."
—Karen Russell, author of Orange World

"Galchen's latest book, which is by turns witty, sly, moving, and sharp, is a marvel to behold . . . There is so much in this novel to consider—the degree to which we make monsters of one another, the way that old age can make of femininity an apparently terrifying, otherworldly thing—but it is also, at every step along the way, an entirely delicious book. Dazzling in its humor, intelligence, and the richness of its created world."
—Kirkus

"In this compelling look at women's rights and the invented crime of witchcraft, the surprise is that the perseverance of the accused shifts the focus from victimhood to basic mortality and the challenge of dealing with death and illness before a coherent understanding of disease existed. Highly recommended."
—Library Journal

"Though the story unfolds in seventeenth-century Germany, Galchen gives Kath and the rest of her characters modern speech habits in a way that retains authenticity and makes for compulsively readable prose . . . Enchanted creatures and enticing oddities populate the book's pages . . . The highly satisfying result is part portrait of an eccentric woman, part social drama, and part nuanced recasting of historical misogynies."
—Diego Baez, Booklist

"Vibrant [and] provocative . . . Like Maggie O'Farrell's prize-winning novel Hamnet, Galchen's story succeeds in infusing a work of historical fiction with a completely modern sensibility, all without sacrificing any of the story's fidelity to its source material . . . There's nothing diabolical about it, but Everyone Knows Your Mother Is a Witch is a consistently entertaining novel that casts its own memorable spell."
—Shelf Awareness

"Galchen's work - journalistic or creative - shows an ambidextrous ease with both scientific and literary knowledge . . . perhaps it is from the cross-fading of these categories of knowledge that her surreal, precise fiction derives its power . . . [F]unny, sad, and suffused with the weird, incandescent logic of a story-within-a-story distorted through a fever dream… [A] beautiful, slippery book that gives much if you can grasp it. As soon as I finished, I wanted to read it all over again."
—Women's Review of Books

"On every page of this brilliant, transporting novel are sentences of surreal poetry, of profound insight and enchanting observation, of Monty Python-like sublime nonsense and delightful fragments of fairy tale and lore. Tragic Katharina Kepler, so eccentric and misunderstood, so honest, loyal, brave, and funny, is surely one of literature's great mothers. This is a novel to keep alongside your favorite Calvino or Ishiguro, though its special genius is pure Rivka Galchen."
—Francisco Goldman, author of Monkey Boy

"Captivating . . . . Mesmerizing details abound . . . Galchen portrays her characters as complicated and full of wit . . . This is a resounding delight."
—Publishers Weekly

"I cannot think of a more singular writer than Rivka Galchen. Here, she brings her forensic intelligence and wit to a historical novel that sheds bright light on our present. Everyone Knows Your Mother is a Witch is fiercely original, a mordant and ultimately devastating portrait of loss and terror from one of the most brilliant writers at work today."
—Katie Kitamura, author of A Separation

"I love Rivka and everything she writes."
—César Aira, author of Ghosts

"This jewel of a novel is as perturbing as it is hilarious. It's also a fundamental piece of history — particularly relevant for these times— written with Rivka's unusual intelligence and her sharp eye for detail."
—Alejandro Zambra, author of Ways of Going Home

"Galchen's take is drawn from raw historical documents but infused with humor to draw the surreal world of a gossipy, poisonous community."
—Sophia June, Nylon (10 June Book Releases to Add to Your Summer Reading List)

"The accusation of witchcraft is a mode of analysis, the name for a pattern that makes sense of social and personal grievances. As a parable, Everyone Knows Your Mother is a Witch communicates this phenomenon well..."
—Hannah Gold, The Baffler

"When it comes to a sense of the weird, Galchen stands alone among the big name, youngish American Jewish novelists..."
—Jesse Bernstein, Jewish Exponent