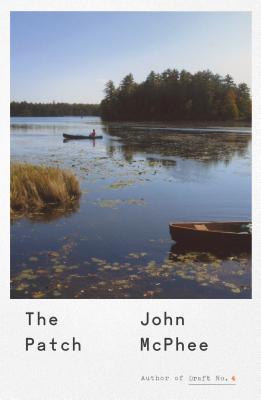 $26.00
Email orders@greenlightbookstore.com for information about this item.
Description
---
The Patch is the seventh collection of essays by the nonfiction master, all published by Farrar, Straus and Giroux. It is divided into two parts. Part 1, "The Sporting Scene," consists of pieces on fishing, football, golf, and lacrosse—from fly casting for chain pickerel in fall in New Hampshire to walking the linksland of St. Andrews at an Open Championship. Part 2, called "An Album Quilt," is a montage of fragments of varying length from pieces done across the years that have never appeared in book form—occasional pieces, memorial pieces, reflections, reminiscences, and short items in various magazines including The New Yorker. They range from a visit to the Hershey chocolate factory to encounters with Oscar Hammerstein, Joan Baez, and Mount Denali. Emphatically, the author's purpose was not merely to preserve things but to choose passages that might entertain contemporary readers. Starting with 250,000 words, he gradually threw out 75 percent of them, and randomly assembled the remaining fragments into "an album quilt." Among other things, The Patch is a covert memoir.
About the Author
---
John McPhee was born in Princeton, New Jersey, and was educated at Princeton University and Cambridge University. His writing career began at Time magazine and led to his long association with The New Yorker, where he has been a staff writer since 1965. Also in 1965, he published his first book, A Sense of Where You Are, with Farrar, Straus and Giroux, and in the years since, he has written over 30 books, including Oranges (1967), Coming into the Country (1977), The Control of Nature (1989), The Founding Fish (2002), Uncommon Carriers (2007), and Silk Parachute (2011). Encounters with the Archdruid (1972) and The Curve of Binding Energy (1974) were nominated for National Book Awards in the category of science. McPhee received the Award in Literature from the Academy of Arts and Letters in 1977. In 1999, he was awarded the Pulitzer Prize for Annals of the Former World. He lives in Princeton, New Jersey.
Praise For…
---
"This far into a prolific career, it may be a good time to finally unmask [McPhee] as a one-trick pony. In The Patch, he again shamelessly employs his go-to strategy: crafting sentences so energetic and structurally sound that he can introduce apparently unappealing subjects, even ones that look to be encased in a cruddy veneer of boringness, and persuade us to care about them . . . The Patch is just another chapter in an ongoing memoir of generous curiosity." —Craig Taylor, The New York Times Book Review
"A work that gains its newness through structure alone . . . the experience of having decades of details and observations and exacting description wash over you, the time or the context of the writing never exactly clear, is a fascinating one . . . a more honest and effective way of stitching together the memories of a life, the structure in a way acknowledging that a neat beginning, middle and end is part of the artifice of writing." —Willy Blackmore, Los Angeles Times
"[McPhee] is a singular gem within the contemporary nonfiction genre: a writer who is known for his reported long-form narratives but who has a prose-poetic sense that extends down to his paragraphs and sentences . . . McPhee is more vessel than magician—and this is said with recognition of his skill. His work is behind the scenes and beneath the surface: The page belongs to the story." —Nick Ripatrazone, National Review
"McPhee's sentences are as varied as the geographic features he so often describes: some move at a glacial pace, some jut up unexpectedly like exposed granite, others gooseneck like snaking streams, still others burn like understory, quick, dangerous. Always his sentences capture some crystalline essence in their intricate, melodious designs—making connections, spinning webs, accreting meanings." —Tyler Malone, Literary Hub
"Pulitzer winner John McPhee has spent his career covering subjects that don't inherently seem like fodder for good, much less gripping, journalism: things like geology, oranges, shad. But he's adept at making the esoteric seem essential and personal. The Patch, his latest collection of nonfiction essays, largely about angling and sports, is no exception . . . " —J.R. Sullivan, Men's Health
"The Patch, John McPhee's new book, could only have been written by a journalist with decades of experience and an archivist's disposition . . . In McPhee's career-spanning miscellany, he marvels at Iceland's glaciers, shadows Hershey's chief chocolate taster and admires the roller-skating bears of the Moscow State Circus . . . There are many lovely passages in The Patch . . ." —Kevin Canfield, Minneapolis Star Tribune
"[McPhee] provides a bountiful cornucopia of insightful essays that display the wide range of his interests and tastes . . . McPhee delights in cracking open subjects, both ordinary and esoteric, and making them accessible to the layperson in works that testify to his virtuosity as one of the greatest living American essayists." —Publishers Weekly (starred review)
"Delightful . . . It's a rare gift, to be able to see as well as McPhee sees, and to be given the time that it takes to describe the connections between things so clearly . . . It's also rare to encounter a writer who writes so artfully about himself while hardly writing about himself at all." —Bookforum